Eric Strebel hacks an old extruded aluminum Dell heatsink to mount onto the back of his Panasonic Lumix GF7 camera, which he says was overheating enough during extended photo shots that it would turn itself off.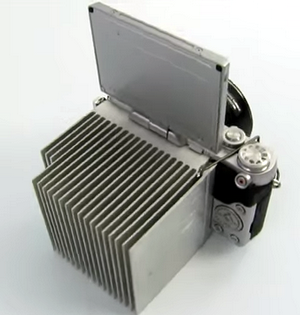 It's a simple approach using the materials available on hand, so I don't want to come across as overly critical here.... but
- Thermal gap filler would help bridge the void between the plastic(?) shell of the Lumix GF7 camera and the extruded aluminum heatsink base. Arctic make a 50x50mm thermal pad for $12 that would work well in this application. Not a fan of Amazon at all, but you can find it there.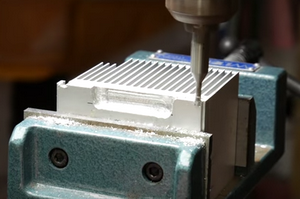 - Using a drill press as a cheap milling machine. I've tried this with a X-Y vise stage too... what ends up happening is the side-load forces from the milling cutter loosen the drill chuck's morse taper to the point the entire chuck and endmill falls out of the drill press. If this is your only option, stop every now and then and re-seat the chuck firmly with a wooden block. Only take very light cuts.