| | |
| --- | --- |
| Mon: 11/12/2018 | Topic: Cooling / Heatsinks PermaLink |
Thermaltake launches the Pacific V-RTX 2080 Plus (ASUS ROG) and Pacific V-RTX 2080Ti Plus (ASUS ROG), especially designed for ASUS ROG STRIX RTX 2080 and ASUS ROG STRIX RTX 2080Ti Graphic Cards. The new RGB water blocks are the latest additions to the Thermaltake Pacific V-RTX 2080 Plus Series which combine style with functionality. The new water blocks are designed with a software-controllable 16.8 million colors LED strip that allows users to customize the lighting effects through our patented TT RGB PLUS Software via the TT AI Voice Control function and Amazon Alexa Voice Service. The waterblocks can also synchronize with ASUS, GIGABYTE, MSI, and ASRock 5V motherboard RGB software. The 0.5mm internal fin construction and high-flow water block enables the coolant to flow directly over all critical areas, and the CNC machined copper base fully prevents corrosion to achieve unparalleled cooling performance. The Pacific V-RTX 2080 Plus and Pacific V-RTX 2080Ti Plus deliver the ultimate cooling results for gaming, overclocking, and other GPU intense tasks.
Controlled by the patented TT RGB PLUS Software and the app, the built-in LED strip features great light coverage, uniform color and brightness, and 12 addressable LEDs that can paint your build with 16.8 million colors.
Monitor the fan performance, adjust the fan speeds, and customize the lighting effects for Thermaltake Plus RGB liquid cooling products with the patented TT RGB PLUS Software and an exclusively designed mobile app. Choose a function from below and scroll down to read the details.
All Thermaltake TT RGB PLUS products support Amazon Alexa Voice Service, allowing you to control the lights or fan speeds by talking to the Alexa-enabled device. With the support of Amazon Alexa, TT RGB PLUS products also offer an additional visual cue for checking current weather condition in your location or anywhere in the world. All you have to do is simply starting the sentence with "Alexa, tell Thermaltake", then the lighting color will correspond to the weather condition in the location.
Designed to synchronize with ASUS Aura Sync, GIGABYTE RGB Fusion, MSI Mystic Light Sync and AsRock Polychrome. The water blocks support motherboards that have a 5V addressable RGB header, allowing you to control the lights directly from the above-mentioned software without installing any extra lighting software or controllers.
The controller is designed with a DIP switch on the back. Hence, you can set a number for each controller easily. You can add up to 5 devices to one lighting controller and up to 16 controllers to the software. The controller and the coding guide are included in all packs.
The coolant flow path includes all critical components. Proper cooling of these components contributes to overclocking stability and reliable operation. The block covers the entire PCB, leaving no components exposed to possible damage during handling.
Featuring a compact form factor with 0.5mm micro-channel fin construction guarantees optimal clearance and extreme heat dissipation. The copper base is compatible with most G1/4 fittings.
---
| | |
| --- | --- |
| Sun: 11/11/2018 | Topic: Cooling / Heatsinks PermaLink |
Today we look at the Akasa Vegas AR7 RGB, a 120mm case fan with several addressable RGB LEDs built into the frame. RGB lighting is supported by Gigabyte's RGB Fusion, ASUS Aura Sync, MSI Mystic Light Sync and ASRock RGB LED. The fan also features anti-vibration mounting for quiet operation.
---
| | |
| --- | --- |
| Sat: 11/10/2018 | Topic: Cooling / Heatsinks PermaLink |
"When it comes to M.2 solid state drives there are some out there that will run hot and possibly throttle. That means that the controller gets too hot and the performance degrades to keep temperatures in check. This could mean that a drive that is say rated for 1000 MB/s writes might only perform to half that capacity. This means transfers will talk longer and no one wants to wait around. Well ADATA has a nifty solution in their XPG Storm M.2 cooler, which is a M.2 heatsink with an integrated fan as well as RGB lighting. Let's slap this thing on our M.2 drive and see if it can stop it from throttling!"
---
| | |
| --- | --- |
| Fri: 11/09/2018 | Topic: Cooling / Heatsinks PermaLink |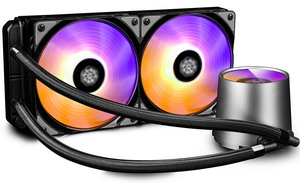 Deepcool Gamerstorm, leading brand in the designing and manufacturing of CPU cooling systems for more than 20 years, is always seeking innovative breakthrough to provide the finest PC DIY solution for the worldwide customers. Building on the successful achievements in its previous AIO liquid coolers, today Deepcool Gamerstorm launches a brand new CPU liquid cooling line that comes in 240mm and 280mm sizes- CASTLE 240/280RGB.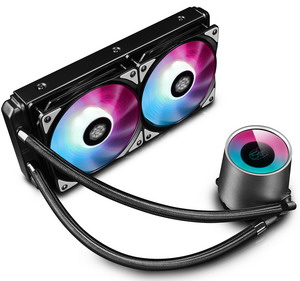 CASTLE 240/280RGB featured brand new water-block comes with double window panes and an immersive ambient lighting design which provides a perfect display of aesthetic illumination. Furthermore, 16.7M true color lighting system comes in 5 built-in effects (dynamic, static, breathing, comet, and fashion collision) and with 36 interchangeable lighting modes. The synchronized RGB lighting system of water blocks and fans can be easily controlled by a wired controller (included) or the addressable RGB function via the motherboard.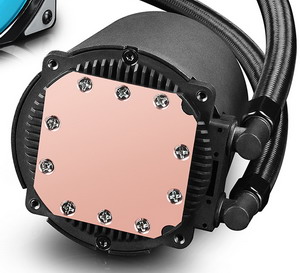 Comes with the latest 120mm RGB case fans provide a flowing lighting effect, designed for builders with addressable RGB-enabled PCs to match your system's style perfectly, meanwhile exhaustive damping technologies successfully minimize noise while maximizing airflow.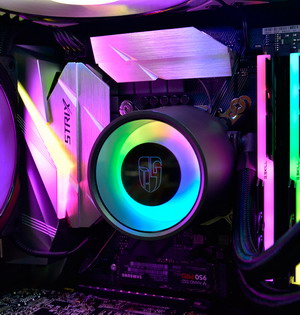 Equipped with the ultra-large, pure copper CPU block and optimized E-shaped micro water channel, CASTLE 240/280RGB effectively enhance heat circulation, and hence meeting users' needs for high performance and aesthetics. Especially Castle RGB series seamlessly supports the TR4/AM4 and mainstream Intel & AMD socket types.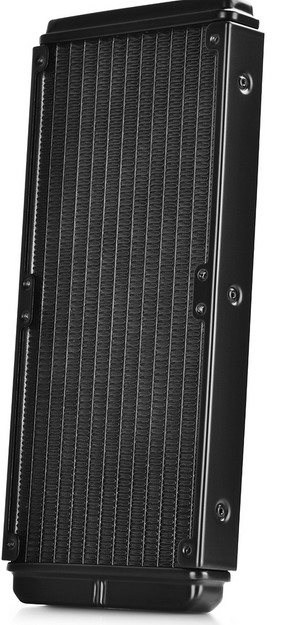 ---
| | |
| --- | --- |
| Fri: 11/09/2018 | Topic: Cooling / Heatsinks PermaLink |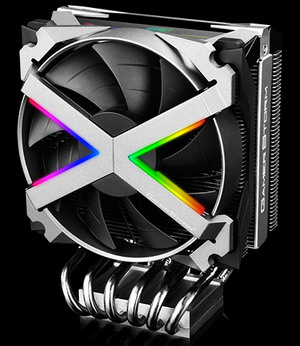 Deepcool Gamerstorm, leading brand in the designing and manufacturing of CPU cooling systems for more than 20 years, is always seeking innovative breakthrough to provide the finest PC DIY solution for the worldwide customers. Today Deepcool Gamerstorm launches Threadripper Cooler- FRYZEN, specially designed for the AMD Ryzen™ Threadripper™ series processor, and supports the TR4/AM4 and mainstream AMD socket types.
It features an ultra large copper base has 100% coverage for AMD Ryzen™ Threadripper™ processors. A parallel arrangement of 6 boot-shaped heatpipes ensures extreme heat dissipation performance. The all-aluminum housing with inverse double-bladed fans offers twice the air pressure for twice the performance.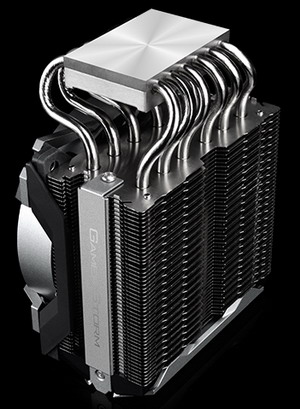 Built-in 16.7M true color RGB flowing light series with 5 effects (dynamic color, static, breathing, comet and fashion collision) for the top cover and fans provide up to 36 different modes and easily controlled with a wired controller (included) or motherboards with synchronized lighting control via an addressable RGB function.
FRYZEN has zero interference for various high memory rigs and display options. MSRP: $89.99 USD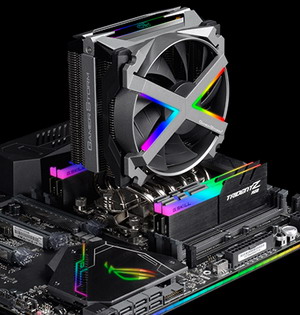 ---
| | |
| --- | --- |
| Fri: 11/09/2018 | Topic: Cooling / Heatsinks PermaLink |
ID-COOLING a cooling solution provider focusing on thermal dissipation and fan technology research and production for over 10 years, announced DASHFLOW 360 AIO water cooler, featuring an ever enhanced pump and RGB lighting on both the pump and fans at the same time synchronizing with motherboard RGB control.
The newly developed pump is designed to provide extreme cooling performance with 450L/H water flow and 3m flow lift. Metallic pump cover with the linear cuttings allows amazing RGB lighting through. A big copper base contacts CPU to help the heat transfer. Micro fin submerged design increases the heat dissipation surface.
Premium coated G1/4 fittings are equipped on both ends of the premium sleeved tubing, more reliable & performance efficient. Inside the tubing is self-contained highly efficient and eco-friendly liquid coolant. Users are not suggested to twist the fittings unless you know how to work with customized water cooling kits.
A newly developed square radiator has bigger heat dissipation area to support the superb cooling of DASHFLOW 360. Equipped with a set of RGB DF-12025-RGB-TRIO high airflow fans, DASHFLOW 360 is able to cool down 400W TDP processors. Fan speed is PWM controlled from 900 to 2000RPM, pushing max. airflow of 56.5CFM each. On four corners are mounted with rubber dampeners to absorb operating vibration. Each fan has 9 LEDs around the motor center. Fan blades and frame are made of lighting emitting materials to help an evenly spread RGB lighting.
The lighting from the pump and fans are connected to a RGB Splitter which then connects to motherboard 12V-G-R-B header to get the software control. Users can set the whole PC lighting using the built-in motherboard RGB control panel. For those who use a non-RGB motherboard, an remote RGB controller can also provide various RGB lighting effect.
Universal mounting brackets are included. The latest AMD Ryzen processors are supported. DASHFLOW 360 is compatible with Intel LGA2066/2011-3/2011/1366/1150/1151/1155/1156 & AMD AM4/FM2+/FM2/FM1/AM3(+)/AM2(+). MSRP for DASHFLOW 360: 160USD.
---
| | |
| --- | --- |
| Thu: 11/08/2018 | Topic: Cooling / Heatsinks PermaLink |
The Orcus 240 is also maintainable, with an inlet for topping up the coolant which really sets it apart from the competition but following similar current trends still comes complete with RGB fans, and RGB LEDs built into the CPU block. Priced at £89.99 you do seem to get quite a bit of bang for your buck, but it will be really interesting to see if these unique features actually aid in performance or functionality, or if there's a reason Raijintek is the only manufacturer implementing them.
---
| | |
| --- | --- |
| Thu: 11/08/2018 | Topic: Cooling / Heatsinks PermaLink |
The award winning Hydro Series of AIO Liquid CPU Coolers by CORSAIR is back this time with high-performance RGB magnetic levitation fans and 16 multi-zone RGB LEDs located at the top of the pump.
---
We saw the Cooler Master MasterCase SL600M at Computex 2018 and described it as 'A lot more case than it appears'. The case admittedly exudes a certain designer chic thanks to its aluminium front and top panels but at first glance, you may think that Cooler Master has designed an oven, rather than an enclosure for a PC. The front of the case has zero in the way of intakes for cool air, however the SL600M is considerably more sophisticated than it appears and Cooler Master has this covered.
---
After roughly 2 full years in the market the award winning Dark Base Pro 900 XL-ATX Tower was beginning to show its age so taking it back to the drawing board and outfitting it with it some extra goodies to keep up with the competition was the next logical step for be quiet!.
---
| | |
| --- | --- |
| Tue: 11/06/2018 | Topic: Cooling / Heatsinks PermaLink |
The H100i RGB Platinum adds to the previous iteration in several ways, including a more pronounced presence of RGB lighting, with multi-zone LED lighting on the pump housing, with 16 individual LEDs, as well as ML120 RGB fans on the radiator. We also see an improved radiator core and copper cold plate which increases surface area and therefore performance.
---
| | |
| --- | --- |
| Tue: 11/06/2018 | Topic: Cooling / Heatsinks PermaLink |
In this review we take a look at the Raiju ultimate controller. A wireless PS4 controller that will also work with your PC. Features include a different ergonomic shape, interchangeable parts, its own app and of course RGB lighting. I put it through its paces in a 2 in 1 review complete with unboxing and live stream style game play. Could it be worth the whopping £200 price tag?
---
| | |
| --- | --- |
| Sun: 11/04/2018 | Topic: CPU / Processors PermaLink |
How does a 12 core processor with 24 threads sound at a price of 649 USD? Yeah, it might be a mighty compelling product. AMD is back at it again in their Core wars as they release the Threadripper Gen2 based 2920X with a base clock of 3.5 GHz and Turbo to 4.3 GHz, this is a seriously threading processor.
---
| | |
| --- | --- |
| Sun: 11/04/2018 | Topic: Cooling / Heatsinks PermaLink |
The Reeven Ouranos RC-1401 is a well-designed and well-built CPU cooler that can deliver good cooling performance while keeping the noise level decently low.
---
| | |
| --- | --- |
| Fri: 11/02/2018 | Topic: Cooling / Heatsinks PermaLink |
RGB is no longer a unique selling point these days. Thermaltake tries to set itself apart with addressable RGB lighting from the mass and sets up with the Pacific W4 Plus a very chic water cooler, which we will take a closer look today. Of course again with a video in the OCinside YouTube Channel.
---
| | |
| --- | --- |
| Thu: 11/01/2018 | Topic: Cooling / Heatsinks PermaLink |
We review a new premium cooler from Corsair, the Corsair Hydro Series H115i Platinum. The Platinum edition is a dual-fan 280mm model of the AIO Liquid cooler series that Corsair releases. Corsair has paired the kit with their very best ML PRO Series RGB magnetic levitation PWM fans and a new Multi-zone RGB Backlit pump.
---
| | |
| --- | --- |
| Thu: 11/01/2018 | Topic: Cooling / Heatsinks PermaLink |
Corsair's new H115i RGB Platinum is one of the best AIO coolers on the market."
---
| | |
| --- | --- |
| Thu: 11/01/2018 | Topic: Business / Industry PermaLink |
Just updated the Frostytech Heatsink Manufacturer Index for Fall 2018 - it lists every known heatsink and thermal solution manufacturer with an online presense, for quick reference. This resource is intended to assist OEMs, distributors and industry buyers. Manufacturers which are no longer in business have been crossed out.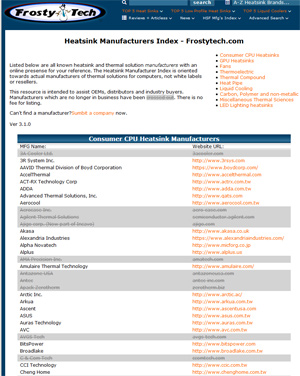 ---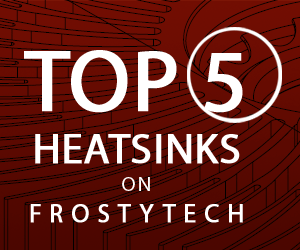 | | |
| --- | --- |
| Tue: 10/30/2018 | Topic: Cooling / Heatsinks PermaLink |
ID-Cooling has set the Zoomflow 240 and its addressable RGB LEDs on stun. Featuring clean looks, decent performance, and all the illumination you can handle, it might be one of the better values for enthusiasts wanting to shed some light on their custom-built systems.
---
| | |
| --- | --- |
| Tue: 10/30/2018 | Topic: Cooling / Heatsinks PermaLink |
The GAMMAXX GT TGA is another product in the ASUS TUF Gaming Alliance, a product line that has been set up between many manufacturers to offer great value and excellent performance, durability and stability for PC gamers. There's a range of motherboards and memory modules to help colour coordinate your system build, which the Deepcool should match perfectly.
---