| | |
| --- | --- |
| Fri: 10/19/2018 | Topic: Cooling / Heatsinks PermaLink |
"The Raijintek ORCUS 360 RBW Liquid CPU Cooler gives off quite an amazing light show, check out our thoughts on the other aspects of it here."
---
| | |
| --- | --- |
| Thu: 10/18/2018 | Topic: Cooling / Heatsinks PermaLink |
"The RGB craze doesn't seem to go away, just when you've thought you've RGB'd out everything in your system Cooler Master brings out the MasterAir MA410M CPU Cooler, which has addressable RGBs built into it. This creates a very cool effect inside your system, but on top of that this cooler should do a good job keeping your CPU nice and cool. It is a single tower cooler with 4 heatpipes that make direct contact with your CPU and is ventilated by two of Cooler Master's own MF120R cooling fans. Should you consider picking up this cooler for your system? Read on as we find out!"
---
| | |
| --- | --- |
| Tue: 10/16/2018 | Topic: Cooling / Heatsinks PermaLink |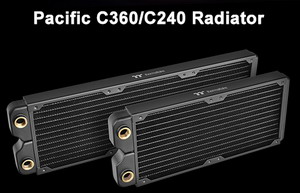 Thermaltake launches Pacific C and CL Plus RGB Copper Radiators Series today as additions to the TT Pacific radiators family. Pacific C360 and C240 Radiators are ultra-thin radiators engineered with 27mm thickness radiators along with 12-set flat tube designs and brass tanks, feature unique stainless steel side panels that guarantee durability as well as reduce the weight of the radiator. Also made with copper fin design, Pacific CL360 Plus RGB Radiator is a high-performance 360mm copper radiator with high-density copper fin design, brass tank and a software-controllable 16.8 million colors LED strip that supports TT RGB PLUS software, TT AI Voice Control, and Amazon Alexa Voice Service. All the Pacific copper radiator series utilize soldering processes to efficiently pulling heat away from the power-dissipating components thus achieving maximum heat dissipation at both low and high airflow operations. The radiator comes with a digital lighting controller which allows users to easily set up the radiator. The Pacific CL360 Plus RGB Radiator and Pacific C360/ C240 Radiators cool your systems with style.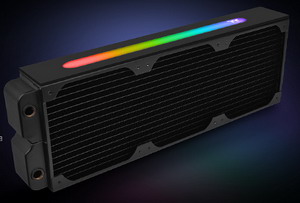 TT RGB PLUS Ecosystem is the intelligent lighting system for PCs that combines the most advanced addressable LED lighting with Thermaltake's patented TT RGB PLUS Software and Amazon Alexa Voice Service. TT RGB PLUS ecosystem provides nearly unlimited possibilities for playing with colors, synchronizing lights to games, music, CPU temperatures and other TT RGB PLUS products, including case fans, CPU/VGA water blocks, AIO CPU coolers, PSUs, LED strips, gaming keyboards, headsets, mice and mouse pads. The patented TT RGB PLUS software allows users to change the light modes, colors, speeds, brightness, fan speeds via TT AI Voice Control and Amazon Alexa Voice Service.
Thermaltake Pacific C360 Copper Radiator
Thermaltake Pacific C240 Copper Radiator
---
| | |
| --- | --- |
| Tue: 10/16/2018 | Topic: Cooling / Heatsinks PermaLink |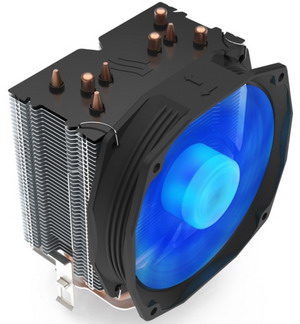 The European brand SilentiumPC presents the new Spartan 3 PRO RGB HE1024 as a cost-effective alternative to stock CPU coolers, which is intended for professional system builders and DIY projects on a budget. This extremely compact and lightweight cooler utilizes four 6 mm Heatpipes and aluminum heatsink for excellent cooling performance and oversized Sigma PRO RGB 100 PWM-controlled fan for quiet operation.
Its new RGB Illumination system lights up the fan with stunning yet discreet colors and effects. All the major motherboard RGB systems are supported, including Asus™ Aura, ASRock™ RGB LED, EVGA™ RGB and MSI™ Mystic Light as wells as manual control via the included Nano RGB controller, making the Spartan 3 PRO RGB a ready-to-go RGB solution.
In spite of its compact size and lightweight at 476 g, efficient heat transfer and dissipation is assured. This has been achieved thanks to its four high performance Heatpipes with 6 mm diameter and by implementing the HE technology, where the Heatpipes are in direct contact with the CPU heat-spreader.
SilentiumPC offers the Spartan 3 PRO RGB with a pre-installed Sigma Pro RGB 100 mm fan. Being a PWM-controlled fan, it is able to operate at a wide fan speed range from 800 to 2.000 RPM. This feature allows the users to tweak the fan curve using the motherboards towards full performance or silence.
Installation of the CPU cooler is extremely easy and does not require any tools during the process. All that has to be done, is simply to apply included high-conductivity Pactum PT-1 thermal compound on the CPU, put the mounting bracket into the motherboard and lastly clip the Spartan 3 PRO RGB on.
The new Spartan 3 PRO RGB HE1024 is going to be available in the next days at 23,90 EUR (MSRP, incl. VAT) in Europe.
---
| | |
| --- | --- |
| Fri: 10/05/2018 | Topic: Cooling / Heatsinks PermaLink |
Our first review of the Enermax LiqTech TR4 cooler was great, and in fact, I highly recommended it as a great option for Threadripper systems. However, shortly before I began this review, some news reached me of premature failures and even leaks, along with an online statement from Enermax. "We are fully aware of the leaking issue and have stopped …
---
| | |
| --- | --- |
| Thu: 10/04/2018 | Topic: Cooling / Heatsinks PermaLink |
When building a new system, you have either the choice of the stock Intel or AMD cooler (if provided), or travel down the aftermarket route. This can open up a host of options. Air or liquid, size and price all need to be considered and it can be tricky to peg down the one most suited for your chosen need. Antec has attempted to address this with a competitively priced 240 mm AIO liquid option – the Kühler H2O K240. This cooler supports a multitude of different CPU sockets but does look less flashy than the host of available RGB LED options. At £59.99 it looks to be offering good value for money, but today we find out if that is the case.
---
| | |
| --- | --- |
| Wed: 10/03/2018 | Topic: Cooling / Heatsinks PermaLink |
The C7 Cu by CRYORIG takes the C7 and makes it better by using an all-copper design. When it comes to Mini-ITX heatsinks, this one sits at the top in terms of weight at 675 g. The copper not only adds a great deal of weight but also increases performance and makes it feels like a premium heatsink.
---
| | |
| --- | --- |
| Tue: 10/02/2018 | Topic: Cooling / Heatsinks PermaLink |
"Cooling module maker Chaun-Choung Technology (CCI) has disclosed that Japan-based Nidec is planning to acquire up to a 48% stake in the company through a tender offer at NT$108 (US$3.50) per share.

As clients are having stricter demands on cooling products' specifications, Nidec is looking to form a partnership with CCI, which has advanced technologies for heat pipe, heat sink and vapor chamber products, by taking a major stake."
---
| | |
| --- | --- |
| Mon: 10/01/2018 | Topic: Cooling / Heatsinks PermaLink |
EK Water Blocks has released their newest CPU block four years after the EK-Supremacy EVO came out. The new EK-Velocity attempts to not only bridge the gap of these past years, but also work for the next few by streamlining the cooling engine for higher flow, adding more customization options, including two different RGB lighting effects, and retaining popular features.
---
| | |
| --- | --- |
| Sat: 09/29/2018 | Topic: Cooling / Heatsinks PermaLink |
After the big CPU cooler comparison 2018, where we tested numerous coolers on an AMD AM4 system, we would like to present another cooler test overview on OCinside.de today. In the second part of the cooler chart there is now an overview with selected CPU coolers from Antec, Arctic, Cooler Master, Cryorig, Enermax, Intel and LEPA that have been tested on an Intel Core i5 PC system. So you can easily find the right air cooler or AIO water cooler for the Intel PC or AMD PC and get a quick comparison of the cooler test results.
---
| | |
| --- | --- |
| Fri: 09/28/2018 | Topic: Cooling / Heatsinks PermaLink |
Not only does the H7 Quad Lumi improve several aspects of the original H7 but it's also one of the best looking CPU coolers released by CRYORIG to date.
---
| | |
| --- | --- |
| Wed: 09/26/2018 | Topic: Cooling / Heatsinks PermaLink |
"We are back with another RGB review! RGB accessories have really taken over this past year and one of the most popular RGB accessories has to be RGB fans. Raijintek's first RGB fan offering, the AURAS 12 RGB did not impress us that much, but they are back with the Iris 12 RGB. These 120 mm fans feature multiple RGB LEDs in the O-type fan frame, which is diffused to create a really great look. On top of that these fans come with a 6-channel controller and remote to easily switch between the 20 different LED modes. Are these the ultimate RGB fans? Read on as we find out!"
---
| | |
| --- | --- |
| Wed: 09/26/2018 | Topic: Cooling / Heatsinks PermaLink |
Today we are reviewing the Masterliquid ML240R RGB AIO. This is a new AIO cooler from Cooler Master, and we have a bit of a Guru3D.com edition to show off today. Known for their specialization in cooling and illuminated cases for the PC enthusiast. We received the 240 mm one.
---
| | |
| --- | --- |
| Wed: 09/26/2018 | Topic: Cooling / Heatsinks PermaLink |
Cooling fan supplier Yen Sun Technology will see its new plants in Taiwan and China start commercial runs by the end of 2018 and in early 2019, respectively, boosting its overall production capacity by at least 50% to meet ever-increasing demand from automakers, according to Robert Liu, general manager of the company's electronic cooling division.
---
| | |
| --- | --- |
| Wed: 09/26/2018 | Topic: Mobile Devices PermaLink |
Here are the leaked HUAWEI Mate 20 specifications, features and details, including new photos and details of its graphene cooling technology and new camera features!
---
| | |
| --- | --- |
| Mon: 09/24/2018 | Topic: Cooling / Heatsinks PermaLink |
Have you always liked Noctua CPU Coolers but you couldn't bring yourself to like their color combination/theme? The Chromax line of accessories by Noctua could be the solution to that (alas a somewhat expensive solution).
---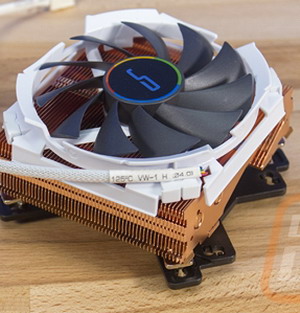 Okay, I can admit it, I might love Small Form Factor builds a little more than I should. But I have yet to find the perfect setup, the smaller they get the harder it is to pack all of the hardware need into them, especially for a gaming-focused LAN rig. When I did my original SFF Ryzen cooler testing last year I realized some a few hard truths (okay I knew them, but it cemented them). No matter what you do, a larger cooler is going to perform better and if you can wedge water cooling in a SFF build that will work even better. But to get the really small and portable rigs those aren't an option. For cases like the GEEEK A30 or the In Win Chopin you really only have a few options and even the Wraith Stealth isn't possible in some cases. So the Cryorig C7 and the Noctua L9 series have been the main options. Noctua has been bringing out new options including an AM4 specific model that I recently reviewed, but Cryorig hasn't been leaving things alone as well. They have the C7 Cu, Cu is the periodic table symbol for copper. That is because they have taken the already popular and powerful C7 design and made the same cooler out of the much more efficient material. So today I'm going to put it through the same tests as before and see just how well the new cooler performs. You guys ready? Cu after the page break…
---
| | |
| --- | --- |
| Mon: 09/24/2018 | Topic: Cooling / Heatsinks PermaLink |
After recently testing Arctic's Twin Turbo II on OCinside.de, we are now focusing on the successor Arctic Accelero Twin Turbo III. According to Arctic, it should offer the same cooling performance as its predecessor, but without the use of thermal glue. You can read in the following review whether Arctic has managed this and if you have to make compromises.
---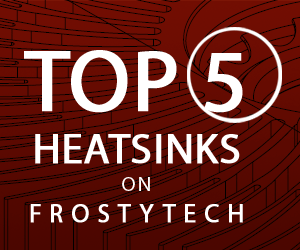 | | |
| --- | --- |
| Sun: 09/23/2018 | Topic: Cooling / Heatsinks PermaLink |
The Corsair Crystal 280X RGB takes the idea behind the Air 240, and the classy looks and material mix of the Crystal family, and marries them in an even more compact, powerful, and beautiful enclosure that includes not only better liquid-cooling compatibility but also features Corsair's retail-grade LL120 RGB fans and the Lightning Pro Node.
---
| | |
| --- | --- |
| Thu: 09/20/2018 | Topic: Cooling / Heatsinks PermaLink |
With so many AIO liquid coolers currently available, both in 120mm and 140mm dimensions it can be difficult to separate yourself from the competition. The new Gamer Storm Castle 240 RGB cooler looks relatively standard in terms of specification with a 27mm thick 240mm radiator, and two fans included as standard. Where it differs is the inclusion of addressable RGB lighting throughout and this includes the rather good looking CPU block/pump. With a UK launch price of £109.99 (we have seen it on sale for £95.99) there is a lot of competition for a 240mm liquid cooling solution, but does the addressable LED lighting offer enough of an aesthetic boost to make the Castle 240 RGB the next cooler for your CPU?
---