| | |
| --- | --- |
| Tue: 03/26/2019 | Topic: Cooling / Heatsinks PermaLink |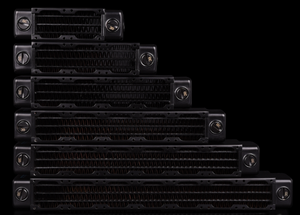 "Alphacool is an internationally renowned company in the field of watercooling solutions for both industrial and end customer. Constantly innovating and improving both server and home solutions, Alphacool strives to create the perfect solution.
Perfect for workstations and servers The 40 mm NexXxoS radiators are specially designed for server racks and workstations. Due to their low height of only 40mm and the special M3 mounting holes on the top and bottom, they're perfect for 1U server racks. Alternatively, the radiators can also be mounted in the classic way using the mounting locations of the fans. M3 screws are also required here.
Alphacool always uses copper in its NexXxoS radiators. Alphacool is the only manufacturer that uses pure copper for all water-bearing components. Starting with the end chambers, the water channels and the cooling fins, everything is made of pure copper. Only the connecting threads are made of brass, as pure copper would be too soft for the threads and would give way over time.
There are several approaches that Alphacool uses to increase the cooling capacity. Using copper ensures the best properties to dissipate the heat. Aluminium, which is often used in low-cost products, is not as good as copper in terms of heat capacity and thermal conductivity.
Compared to some other manufacturers, the copper fins are only thinly painted. This means that the cooling performance isn't affected at all unlike a thick coating of paint which would act as a insulator. The fin spacing is 10 FPI for optimal performance. This means that the fins are close enough together to create a large surface, but also far enough apart not to obstruct the air flow. In addition, all fins are designed to provide controlled air turbulence. This means that the air flowing through the fins is more efficient and is directed exactly where it is needed.
The water flow in classic PC radiators is U-shaped. This means that the water inlet and outlet are on the same side on the radiator. This has certain advantages in the normal PC, however, it is difficult to set up a reasonable cooling loop like this in an extremely flat server. Due to the X-Flow technology, the input and output are located on the opposite sides. This makes it very easy to create a loop in the server rack. For example, you could go out from one side, directly into a CPU, then into one or more graphics cards and the pump, then back to the radiator on the other side.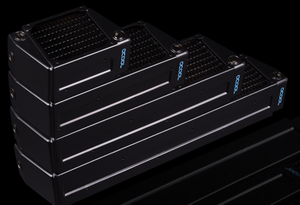 Each NexXxoS 40 mm X-Flow radiator has 3 ports on each end of the radiator. This means that almost any conceivable mounting position can be achieved. The connections are located on each side in the opposite position and then one at the head ends of the radiators. Alphacool has developed special patented stop plugs that are flush with the radiator to avoid them fouling the case. Previous solutions always exceeded the length or width of the radiator because they were not countersunk."
---
| | |
| --- | --- |
| Tue: 03/26/2019 | Topic: Cooling / Heatsinks PermaLink |
With the ever increasing core count and TDP of mainstream processors these days, cooling has never been more important to your system. Although there are some seriously beefy air coolers on the market today, liquid cooling is still the best way to cool your system. That being said, even with most companies offering some kind of full loop kits, custom …
---
| | |
| --- | --- |
| Mon: 03/25/2019 | Topic: Cooling / Heatsinks PermaLink |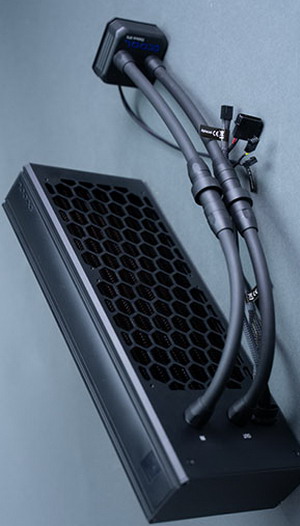 "A brief listing of items too large to fit in the top of a Phanteks full tower chassis. Small cars. Small children. Large cats. Baby Elephants. Adult Elephants. Alphacool's Eisbaer Extreme. All joking aside this thing is huge! Alphacool doesn't mess around when it comes to system cooling and the Eisbaer Extreme "AiO" cooler is no exception. Designed around a standard NexXxoS 280mm radiator, this cooler is custom watercooling streamlined into an elegant prefilled loop, ready to go, out of the box. Follow along as we find out just how well this loop keeps our CPU cool and whether it's the right fit for you!"
---
| | |
| --- | --- |
| Mon: 03/25/2019 | Topic: Cooling / Heatsinks PermaLink |
Today we look at the Eisbaer LT, the 2nd generation of semi-customisable watercooling loop from Alphacool. Featuring an all-copper radiator, with twice the heat capacity of aluminium for better cooling, performance should be good, and pairing that with a cross slot structured cooler and pump, we should be on to a winner here.
---
| | |
| --- | --- |
| Sun: 03/24/2019 | Topic: Cooling / Heatsinks PermaLink |
The Noctua NT-H2 and NA-SCW1 are effective solutions in keeping the CPU cool and clean, respectively.
---
| | |
| --- | --- |
| Fri: 03/22/2019 | Topic: Cooling / Heatsinks PermaLink |
While the ARCTIC Freezer 33 eSports Edition CPU Cooler may look quite aesthetic, it unfortunately falls short of our recommendation. Find out why here"
---
| | |
| --- | --- |
| Sun: 03/17/2019 | Topic: Cooling / Heatsinks PermaLink |
We reviewed the Scythe Ninja 4 a couple of years ago and recommended it. Not hard really, Skythe are an old-school PC cooling and accessory company who have been around since the start of the modern enthusiast's system building era. Scythe sent the Scythe Ninja 5 CPU Cooler to review and we are more than happy to oblige.
---
| | |
| --- | --- |
| Fri: 03/15/2019 | Topic: Cooling / Heatsinks PermaLink |
Digitimes reports a substantial shift in business from one of the largest heatsink manufactures... "Asia Vital Components (AVC), which specializes in thermal solution products, expects demand for smartphones to boom when 5G devices become commercially available.

AVC has shifted its thermal product focus to handset use, said the company, adding that demand for 5G smartphones is set to surge. AVC has long focused on PC- and notebook-use thermal solutions.

Meanwhile, AVC will be improving the cost structure of its system assembly and chassis making business through optimizing automation equipment, the company continued. AVC expects its overall profit increase to outperform revenue growth this year.

AVC reported consolidated revenues grew 7.2% to NT$29.07 billion (US$941.1 million) in 2018. Of the total revenues, sales of its thermal parts accounted for 58% followed by its system assembly business with 20% and chassis revenues with 16%. AVC also provides peripheral products such as camera modules and bearings, which account for the remaining 6%."
---
| | |
| --- | --- |
| Thu: 03/14/2019 | Topic: Cooling / Heatsinks PermaLink |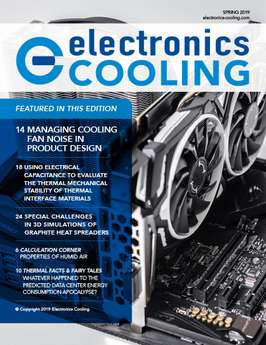 The Spring 2019 Edition of Electronics Cooling includes articles on:
Managing Cooling Fan Noise in Product Design
Using Electrical Capacitance to Evaluate the Thermal Mechanical Stability of Thermal Interface Materials
Special Challenges in 3D Simulations of Graphite Heat Spreaders
Download a digital copy while you can, the article on Thermal Mechanical Stability of Thermal Interface Materials is interesting research.
---
| | |
| --- | --- |
| Wed: 03/13/2019 | Topic: Cooling / Heatsinks PermaLink |
"Competition drives change, and the Mugen 5 (Rev. B) shows how improvements over time result in a great cooler. Each generation of the Mugen builds on the foundation of the previous generation. This version of the Mugen brings much to the table including coverage for the latest AMD and Intel sockets, a fast, easy installation (with the included screwdriver) and plenty of room for RAM with tall heat spreaders. The 120mm Kaze Flex fan is about as quiet as it gets and it moves plenty of air through the fins stack, effectively removing heat from the CPU."
---
| | |
| --- | --- |
| Mon: 03/11/2019 | Topic: Cooling / Heatsinks PermaLink |
"Akasa released an addressable RGB LED aluminium heatsink cooling vest for RAM: it both conveniently cools and colours, adding style and a dazzling light display to existing PC RAM.
The Vegas RAM Mate is compatible with a wide range of PC memory including double/single sided DIMM and DDR RAM (DDR/DDR2/DDR3/DDR4), and low profile memory - VLP DIMM. The kit is easy to set up and comes with two thermal pads, a stabiliser pad, two gap filler pieces for VLP RAM and a small screwdriver.
It plugs into either 3 pin or 4 pin 5V digital addressable LED motherboard headers and is compatible with 5V ASUS Aura addressable headers, 5V Gigabyte digital pin headers, 5V MSI JRainbow headers and 5V ASRock addressable RGB LED headers."
---
| | |
| --- | --- |
| Mon: 03/11/2019 | Topic: Cooling / Heatsinks PermaLink |
Thermaltake has released the all-in-one liquid cooling product– Water 3.0 ARGB Sync Edition Series.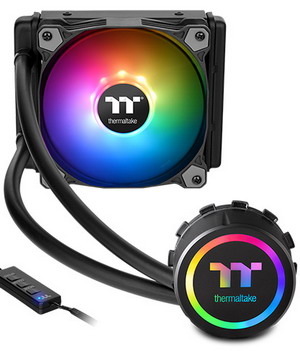 Water 3.0 ARGB Sync Edition Series comes with three different versions including 120 ARGB Sync Edition with one 120 mm fan, 240 ARGB Sync Edition with two 120 mm fans, and 360 ARGB Sync Edition with three 120 mm fans. A large surface radiator, high performance water block and pump for ultimate CPU cooling all embedded in Thermaltake Water 3.0 ARGB Sync Edition Series. The built-in Pure ARGB fan features compression blades, hydraulic bearing, and 16.8 million colors LEDs that is ready to sync with 5V RGB capable motherboards from Asus, Gigabyte, MSI and ASRock. Users can easily switch RGB lighting effects using the ARGB controller that is included in the packet, or by ASUS Aura Sync, GIGABYTE RGB Fusion, MSI Mystic Light Sync and AsRock Polychrome software. Thermaltake Water 3.0 ARGB Sync Edition Series allows users to enjoy better cooling performance and greater CPU protection!
---
| | |
| --- | --- |
| Mon: 03/11/2019 | Topic: Cooling / Heatsinks PermaLink |
Thermaltake, released the latest coolant products– P1000 Pastel Coolant Series and T1000 Transparent Coolant Series which reportedly offer superb protection for Copper, Nickel, Brass, and Aluminum.
Thermaltake P1000 Pastel Coolant Series and Thermaltake T1000 Transparent Coolant Series are both designed with TT latest formula to be used as anti-corrosion protection fluid and heat-transfer medium for PC water-cooling. With the new liquid surface tension optimizer added to the formula, P1000 Pastel Coolant Series has minimized the risk of airlock and made filling up your system easy! The new formula also provides P1000 Pastel Coolant Series with color saturation and stability, as well as low viscosity that enables effective flow. Thermaltake P1000 Pastel Coolant Series is formulated to impress and simplify the process of setting up your water loop! Coming in five non-transparent colors; red, blue, white, green, and yellow, Thermaltake P1000 Pastel Coolant Series gives PC builders plentiful options to develop their unlimited creativity. Thermaltake T1000 Transparent Coolant Series allows users to create unique colors by adding the TT Premium concentrate. The new formula provides T1000 Transparent Coolant Series with color stability and low viscosity that enables effective flow. Thermaltake T1000 Transparent Coolant Series encourages users to create your own colors for your system with seven options of red, blue, purple, orange, acid green, green, and yellow.
---
| | |
| --- | --- |
| Fri: 03/08/2019 | Topic: Cooling / Heatsinks PermaLink |
"Noctua today announced that all of its current multi-socket desktop CPU coolers, such as the popular NH-D15, NH-U14S and NH-U12S, now also include installation hardware for the AM4 socket of AMD's Ryzen processors. Although Noctua introduced its dedicated SE-AM4 models in early 2017 and has provided free-of-charge upgrade kits ever since the launch of the AM4 platform, the updates of the existing multi-socket models now allow customers to install them on all current mainstream sockets without ordering extra mounting kits. As suggested retail prices remain unchanged, the updates come at no extra cost to the customers.

"We've supported AMD's Ryzen platform with our SE-AM4 models and free-of-charge mounting upgrades from the very beginning", says Roland Mossig (Noctua CEO). "As with Intel's LGA115x and 20xx platforms, our customers have greatly appreciated our free upgrade policy. We've provided many thousands of free mounting kits and quite a few customers have migrated 10-year-old heatsinks they had already used on several socket generations. This means a lot to us and we'll continue to offer the free kits of course. However, with AM4 becoming more and more popular, we think it is time to also include the mountings with our existing models so that customers have everything at hand when they purchase new coolers."

The following CPU cooler models have been updated and now also include SecuFirm2™ mounting hardware for AM4: NH-C14S, NH-D15, NH-D15S, NH-D9L, NH-L9x65, NH-U12S, NH-U14S, NH-U9S. In addition to AM4, the coolers continue to include mounting hardware for Intel LGA2066, LGA2011, LGA1156, LGA1155, LGA1151, LGA1150 as well as the previous generation AMD platforms (AM2/AM2+/AM3/AM3+/FM1/FM2/FM2+). As a result, they are now compatible with all current mainstream platforms out of the box.

Noctua has been shipping the updated versions with AM4 support for several months, so the stock that is in stores now already includes AM4 hardware. In the unlikely event that customers who buy new coolers should still receive old stock without AM4 mountings, they can still order free upgrade kits via Noctua's website.

The manufacturer's suggested retail prices (MSRPs) for all models remain unchanged despite the update. At the same time, Noctua will continue its free upgrade policy of offering AM4 upgrade kits to customers who have purchased eligible cooler models without AM4 support prior to this announcement."
---
| | |
| --- | --- |
| Fri: 03/08/2019 | Topic: Cooling / Heatsinks PermaLink |
Offering higher cooling efficiency compared to its predecessor at the same price point the brand new AuraFlow X 240 is everything its predecessor should had been.
---
| | |
| --- | --- |
| Fri: 03/08/2019 | Topic: Cooling / Heatsinks PermaLink |
If you like black, no noise, and don't mind not seeing much of the top half of the motherboard, the Scythe Ninja 5 is your CPU cooler"
---
| | |
| --- | --- |
| Thu: 03/07/2019 | Topic: Cooling / Heatsinks PermaLink |
Enermax have already released the 240mm version of the LIQFUSION RGB but today we delve into the ins and outs of the 360mm, featuring a patented RGB water block with flow indicator, three 120mm RGB PWM fans and a tube-mounted pump for quiet operation.
---
| | |
| --- | --- |
| Thu: 03/07/2019 | Topic: Cooling / Heatsinks PermaLink |
"Arctic states that this liquid cooler is designed for processor heat loads of up to 250W TDP, which seems like a lot for the compact heat exchanger it's equipped with. In any event, Frostytech will stress the Arctic Liquid Freezer 120 self contained CPU water cooling system with a 200W heat load using our Intel LGA2011 synthetic thermal test platform and find out what thermal performance it's really capable of."
---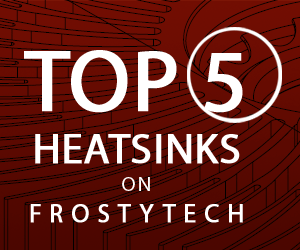 This time we're checking out the new Phanteks Eclipse P600S mid-tower PC chassis. The Dutch company is keeping up the pace, as this is another new product after the Phanteks Enthoo Evolv X, which we reviewed at the end of October 2018.
---
| | |
| --- | --- |
| Tue: 03/05/2019 | Topic: Cooling / Heatsinks PermaLink |
The Noctua NF-A12x25 fan has been one of the most anticipated products to come from Noctua in recent times. We, like many of you were really eager to get our hands on the new design of fans and put them to good use. To Noctua's credit, they sent some over, along with some NF-P12 Redux fans (review publishing shortly). We have had these for a while now and decided a slightly different route for this review.
---