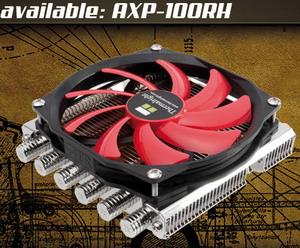 With the AXP-100RH we present a slightly higher version of the popular HTPC cooler to match the AXP-100H Muscle. We would also like to use the opportunity to introduce the Silver Arrow ITX-R, which will become available at the beginning of March.
The AXP-100RH has been designed for users who are looking for maximum cooling capacity at minimal dimensions. The adjustment in height became necessary to match the higher VRM cooler of the most recent ASUS "Republic of Gamers" MAXIMUS motherboard series.
The black and red design of the original AXP-100R was meant as a homage to the "Republic of Gamers" series. In order to use the cooler on the new Mini-ITX motherboards, the height was increased by 7 mm. With its 51 mm (65 mm with the fan), it is the perfect cooler for compact home theater/multimedia systems or minimalistic work stations with a limited height.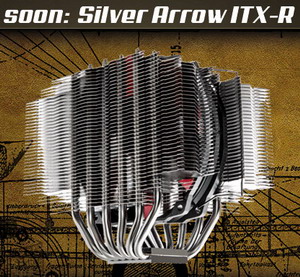 The AXP-100RH is equipped with six 6 mm heatpipes, finished with high-end heatpipe caps. The cooler uses the well-known T-shaped "down draft" design, in which the air flow is directed perpendicular to the mainboard, which allows the cooling of the surrounding motherboard components at the same time. Included is the well-known TY 100R fan.
The included "Enhanced Fan Mount" of the AXP-100RH allows maximum flexibility when installing fan, in order to make best use of the available space in HTC-cases. In addition, the "Enhanced Fan Mount" allows the easy installation of larger fans with 120 mm mounting holes (like the TY 147B) on the cooler.
The Silver Arrow ITX-R succeeds the Silver Arrow ITX and is much more compact than its predecessor. The twin-tower cooler impresses with its reduced dimensions and fits in a lot more Mini-ITX cases, but will also excel on Micro-ATX or ATX systems.
An eye catcher is without a doubt the black high-gloss nickel plating of the heatsink, which in combination with the black and red TY-129 fan underlines the high-quality processing. The fan is installed between the two cooling towers, in order to avoid collisions with RAM modules or VRM coolers.
The cooler comes with six powerful 6 mm copper heatpipes. They are tightly integrated into the nickel-plated cooper base, to allow the most effective heat dissipation. The included TY 129 PWM-fan rotates between 300 and 1,300 rpm. This means during standard operation the fan is virtually unnoticeable from the outside. The air flow of the silent optimized fans ranges from 21.9 and 94.8 m³/h, at a noise level between 21 and 33 dB(A).
The AXP-100RH and the Silver Arrow ITX-R come with the latest universal mounting kit, which allows the installation of the cooler on all current Intel- and AMD-CPU's. Both coolers are explicitly compatible to the new AM4 processors from AMD.