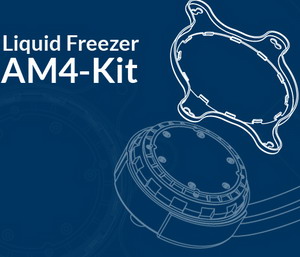 AMD Socket AM4 mounting kitds for Liquid Freezers can now be requested free of charge from ARCTIC support.
The new retention module allows users to upgrade their existing Arctic all-in-one-water coolers to AMD's Ryzen AM4 socket.
For the all-in-one water coolers Liquid Freezer 120, Liquid Freezer 240 and Liquid Freezer 360, ARCTIC now offers a retention ring for the new AMD Ryzen processors with AM4 socket. Therefore all already acquired Liquid Freezers can be upgraded with the AM4 kit. The retention module can be ordered directly from ARCTIC support (eng@support.arctic.ac) and is free of charge upon presentation of the invoice copy.
The bulk of our CPU-coolers, including the new Freezer 33 series, is already compatible to the AM4-socket and needs no further adaption. An overview is available on our website.