| | |
| --- | --- |
| Tue: 01/09/2018 | Topic: Cooling / Heatsinks PermaLink |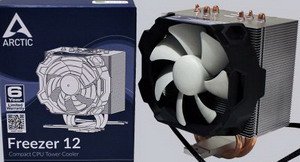 For the slim purse and/or slim case, Arctic offers the Freezer 12, a compact heat pipe cooler with 92mm fan tower design. We test the cooling performance and will check today on OCinside.de with the new AM4 test system, whether reserves for overclocking remain.
---
| | |
| --- | --- |
| Tue: 01/09/2018 | Topic: Cooling / Heatsinks PermaLink |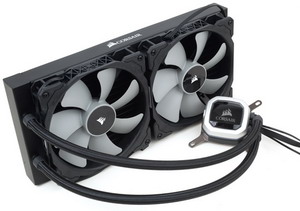 Corsair's H115i Pro and H150i Pro closed-loop liquid coolers represent the biggest change to the company's popular liquid-cooling hardware in quite some time. We put one of the hottest CPUs around underneath these coolers to see whether Corsair's update was a success.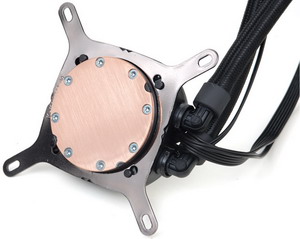 ---
| | |
| --- | --- |
| Tue: 01/09/2018 | Topic: Cooling / Heatsinks PermaLink |
Corsair looks to reassert their dominance in the all-in-one liquid cooler market with the launch of the H150i Pro. Taking the "go big or go home" approach, it packs an RGB pump block and 360 mm radiator. The cherry on top is the inclusion of Corsair's much vaunted ML series fans.
---
| | |
| --- | --- |
| Sun: 01/07/2018 | Topic: Cooling / Heatsinks PermaLink |
With Nvidia and AMD both expected to unveil their next-generation GPUs in 2018, Taiwan-based cooling fan maker Power Logic chairman Wen-Fang Hsu expects the company's shipments of cooling fans to expand significantly in the coming year as consumers are expected to purchase more cooling fans to upgrade their gaming devices.
---
| | |
| --- | --- |
| Sat: 01/06/2018 | Topic: Cooling / Heatsinks PermaLink |
When it's -19C outside and the water pipes are frozen solid, one often looks for creative ways to safely thaw the pipes. Frostytech knows heatsinks, not plumbing, so we'd approach this kind of engineering question from a bit of a unique perspective. If a freezing cold copper water pipe could be turned into a massive heatsink... heat energy would gradually be conducted along the copper pipe wall and melt the frozen water inside, right?
Attaching a CPU to a 1/2" diameter copper waterpipe is of course impractical, the heat source really needs to conform to the circumference of the metal to get good thermal conduction... so, how about a low voltage, polyimide thermofoil heater wrapped helically around the pipe? Could that work?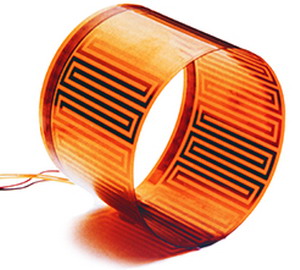 While looking up part numbers for some salvaged Minco polyimide thermofoil heaters, I just happened to stumble upon this awesome little video produced by Minco's summer interns in 2015. It's campy, but earnest, and nice to see an engineering company not take itself too seriously. :-)
---
Fractal Design is going for the Define as today they released their new flagship Define R6 chassis. opens a new design era for FS, a very enticing chassis shows nice aluminum elements, tempered glass, a power supply compartment to hide your PSU, hidden drive and SSD cages and the ability to mount the most extravagant 420mm liquid cooling solutions.
---
| | |
| --- | --- |
| Fri: 01/05/2018 | Topic: Cooling / Heatsinks PermaLink |
"At Computex 2017, Be Quiet introduced to the press an upcoming addition to their Silent Loop AIO series, the 360 model, featuring as you could have guessed a massive 360 radiator. The new flagship should top the cooling performance of the 240 and 280 model. Be Quiet has received many awards over the last decade and has established itself as one of the market leaders in quiet, yet powerful power supplies and processor cooling gear, especially their Silent Wings fan series are loved by watercooling purists as these Fans feature an excellent combination between airflow/pressure and silent operation. Time to open the box Be Quiet send to the MadShrimps lab. We were keen to test the new 360 Silent Loop version; it might not be the most commonly used as it can only be matched with a high end enclosure."
---
| | |
| --- | --- |
| Fri: 01/05/2018 | Topic: Cooling / Heatsinks PermaLink |
If you just bought a brand new mid/full-tower with many water cooling mounts and you're looking to outfit it with a powerful AIO model then you're in luck since the Liquid Freezer 240 by ARCTIC is right up your alley.
---
| | |
| --- | --- |
| Mon: 12/25/2017 | Topic: Cooling / Heatsinks PermaLink |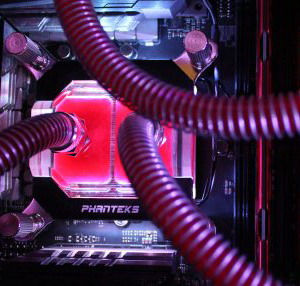 RGB lighting is in vogue. Phanteks therefore offers a premium RGB illuminated water cooler that combines the look of flowing water with light effects. The review includes a video of the Phanteks Glacier C350i in the OCinside YouTube channel.
---
| | |
| --- | --- |
| Fri: 12/22/2017 | Topic: Cooling / Heatsinks PermaLink |
Corsair finally added RGB lighting to their excellent ML fans, and with it added, we possibly have the best balance of performance, noise, and aesthetics. Featuring a magnetic levitation bearing, a fine-tuned rotor for high static pressure applications, and four addressable RGB LEDs.
---
In Win's POLARIS Silent RGB PWM case fans deserve your attention? Why? Read on and find out."
---
| | |
| --- | --- |
| Tue: 12/19/2017 | Topic: Cooling / Heatsinks PermaLink |
The key thing about the Arctic Freezer 33 TR is the TR suffix stands for Thread Ripper. That's right, this diminutive 120mm tower cooler claims to have the ability to deal with AMD's mighty Threadripper that has up to 16 hardware cores and a TDP of 180W. The secret is that Freezer 33 TR has a larger base than the basic Freezer 33 that is better suited to the enormous AMD Threadripper CPU and this increases the TDP capability from 150W to 200W. As a neat touch Arctic has chosen a red and black colour scheme that is evocative of the traditional ATi/AMD colours.
---
| | |
| --- | --- |
| Tue: 12/19/2017 | Topic: Cooling / Heatsinks PermaLink |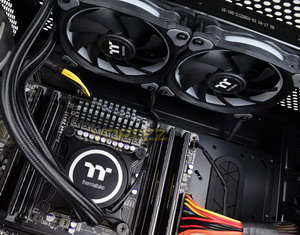 The latest all-in-one CPU cooler that we're looking at today is the Thermaltake Floe Riing RGB 240 TT Premium Edition. The name is quite a mouthful, granted, but it explains everything you need to know about the product in one fowl swoop. The RGB CPU cooler arrives in 3 different flavours, depending on the size of the radiator that you choose; 240mm (2x 120mm), 280mm (2x 140mm) or 360mm (3x 120mm).
---
| | |
| --- | --- |
| Tue: 12/19/2017 | Topic: Cooling / Heatsinks PermaLink |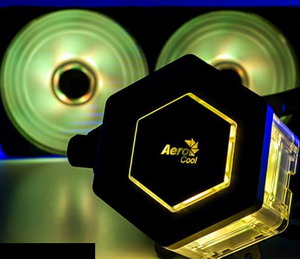 While we have seen a few different Project 7 cases from Aerocool, the P7-L240 is actually the first CPU cooler from Aerocool's exciting new range. With a strong emphasis on RGB lighting, the P7-L240 comes with two RGB fans, as well as an RGB-illuminated pump/waterblock to really give your rig some bling. Priced at £99.99, it is also well priced for a high-end 240mm liquid cooler – is everything as good as it seems?
---
| | |
| --- | --- |
| Tue: 12/19/2017 | Topic: Cooling / Heatsinks PermaLink |
Today we released a video in German with English subtitles about the ASRock X299E-ITX/ac motherboard with a Bitspower Leviathan Xtreme All In One 240 water cooling on OCinside.de. The water cooling has been specially adapted to the ASRock motherboard and cools not only the Intel Core i9 LGA2066 processor, but also the motherboards voltage regulators and power chokes. The detailed review of the new ASRock ITX motherboard and the water cooling review will follow soon.
---
| | |
| --- | --- |
| Fri: 12/15/2017 | Topic: Cooling / Heatsinks PermaLink |
We review three Noctua CPU coolers designed for Ryzen Threadripper / X399 motherboards with Socket TR4/SP3. All three coolers tested have recently been introduced into the channel with kicks performance and versus some really nice airflow, PWM controlled fan. Noctua is re-using their older model NH-U9 - NH-U12S NH-U14S, however, revamped base cooling base plate and the mounting mechanism to fully cover the Threadripper heat spreader.
---
| | |
| --- | --- |
| Wed: 12/13/2017 | Topic: Cooling / Heatsinks PermaLink |
In this review I'm taking a look at the new BioniX fans. These were introduced a couple of months ago and they're positioned as this new flagship fans from Arctic. As the names suggest, the BioniX F120 is a 120mm model, while the Bionix F140 has a diameter of 140mm. These fans were designed to offer a low noise level, low vibration and high airflow output.
---
"be quiet! is a company that when we were introduced to them mainly made power supplies, CPU coolers, and fans. Not that long ago they started to venture into cases and actually made a pretty good name for themselves in that area. Today we have the pleasure of checking out their flagship PC case, the Dark Base Pro 900. This massive case has room inside for some of the most insane setups, comes with three of be quiet's own SilentWings 3 PWM fans, has a removable motherboard tray and modular internal design, two included LED strips, and even an integrated wireless charger for Qi enabled devices. It seems like be quiet! has though of everything possible with this case. Let's jump in and see if that is true!"
---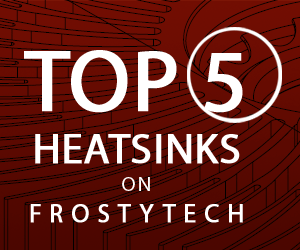 | | |
| --- | --- |
| Tue: 12/12/2017 | Topic: Business / Industry PermaLink |
Taiwan-based cooling fan maker Power Logic is scheduled to be listed on Taiwan Stock Exchange (TSE) on December 28, according to company chairman Hsu Wen-fang.
---
| | |
| --- | --- |
| Mon: 12/11/2017 | Topic: Cooling / Heatsinks PermaLink |
All-in-one coolers have found their way into domestic PCs for several years and we were already able to test dozens of them. Most AIO designs are very similar. Antec is trying to set some accents in the Mercury series with some eye-catching attachments and a very special lighting. We tested the model with the 120mm radiator and show in the current Antec Mercury M120 review how the new CPU cooler performs.
---