| | |
| --- | --- |
| Wed: 09/26/2018 | Topic: Mobile Devices PermaLink |
Here are the leaked HUAWEI Mate 20 specifications, features and details, including new photos and details of its graphene cooling technology and new camera features!
---
| | |
| --- | --- |
| Mon: 09/24/2018 | Topic: Cooling / Heatsinks PermaLink |
Have you always liked Noctua CPU Coolers but you couldn't bring yourself to like their color combination/theme? The Chromax line of accessories by Noctua could be the solution to that (alas a somewhat expensive solution).
---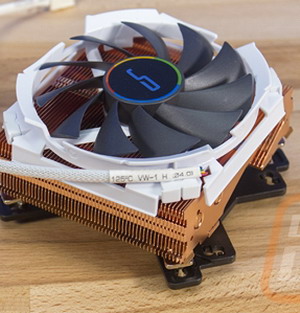 Okay, I can admit it, I might love Small Form Factor builds a little more than I should. But I have yet to find the perfect setup, the smaller they get the harder it is to pack all of the hardware need into them, especially for a gaming-focused LAN rig. When I did my original SFF Ryzen cooler testing last year I realized some a few hard truths (okay I knew them, but it cemented them). No matter what you do, a larger cooler is going to perform better and if you can wedge water cooling in a SFF build that will work even better. But to get the really small and portable rigs those aren't an option. For cases like the GEEEK A30 or the In Win Chopin you really only have a few options and even the Wraith Stealth isn't possible in some cases. So the Cryorig C7 and the Noctua L9 series have been the main options. Noctua has been bringing out new options including an AM4 specific model that I recently reviewed, but Cryorig hasn't been leaving things alone as well. They have the C7 Cu, Cu is the periodic table symbol for copper. That is because they have taken the already popular and powerful C7 design and made the same cooler out of the much more efficient material. So today I'm going to put it through the same tests as before and see just how well the new cooler performs. You guys ready? Cu after the page break…
---
| | |
| --- | --- |
| Mon: 09/24/2018 | Topic: Cooling / Heatsinks PermaLink |
After recently testing Arctic's Twin Turbo II on OCinside.de, we are now focusing on the successor Arctic Accelero Twin Turbo III. According to Arctic, it should offer the same cooling performance as its predecessor, but without the use of thermal glue. You can read in the following review whether Arctic has managed this and if you have to make compromises.
---
| | |
| --- | --- |
| Sun: 09/23/2018 | Topic: Cooling / Heatsinks PermaLink |
The Corsair Crystal 280X RGB takes the idea behind the Air 240, and the classy looks and material mix of the Crystal family, and marries them in an even more compact, powerful, and beautiful enclosure that includes not only better liquid-cooling compatibility but also features Corsair's retail-grade LL120 RGB fans and the Lightning Pro Node.
---
| | |
| --- | --- |
| Thu: 09/20/2018 | Topic: Cooling / Heatsinks PermaLink |
With so many AIO liquid coolers currently available, both in 120mm and 140mm dimensions it can be difficult to separate yourself from the competition. The new Gamer Storm Castle 240 RGB cooler looks relatively standard in terms of specification with a 27mm thick 240mm radiator, and two fans included as standard. Where it differs is the inclusion of addressable RGB lighting throughout and this includes the rather good looking CPU block/pump. With a UK launch price of £109.99 (we have seen it on sale for £95.99) there is a lot of competition for a 240mm liquid cooling solution, but does the addressable LED lighting offer enough of an aesthetic boost to make the Castle 240 RGB the next cooler for your CPU?
---
| | |
| --- | --- |
| Thu: 09/20/2018 | Topic: Cooling / Heatsinks PermaLink |
We have tested numerous coolers on OCinside.de during the last 18 years. Today we would like to present in the new CPU Cooler Chart 2018 a roundup with selected CPU coolers from AMD, Antec, Arctic, Cooler Master, Cryorig, and Noctua that have been tested on an AMD AM4 system. So you can quickly find the right air cooler or AIO water cooler for the AMD Socket AM4 PC and compare the test results.
---
| | |
| --- | --- |
| Tue: 09/18/2018 | Topic: Cooling / Heatsinks PermaLink |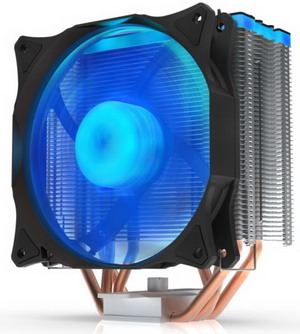 Silentium Fera 3 RGB HE1224 heatsink brings highly anticipated RGB illumination while still providing the ultimate blend of compact dimensions, high efficiency at an competitive price. In other words, the versatility that Fera users praised so much.
Newly implemented illumination system lights up the fan and the top plate with stunning yet discreet colors and effects. Supporting all major motherboard RGB systems such as Asus™ Aura as wells as manual control via the included Nano RGB controller, the Fera RGB is a ready-to-go RGB solution on a budget.
Based on a proven thermal platform, the Fera 3 RGB utilizes an asymmetrical heatsink design with four 6 mm high performance copper heatpipes with HE technology - direct contact with the CPU for fast and efficient heat dissipation. To ensure the cooler is as quiet as it is efficient, it was paired with the Sigma HP RGB 120 mm PWM-controlled fan. Optimized blade design significantly reduces noise while providing sufficient airflow at 1.600 RPM, allowing the cooler to work even with high TDP processors.
Its super-slim profile combined with only 146 mm of height means the cooler fits about everywhere and doesn't interfere with other components such as RAM modules.
Fera 3 RGB features proven multi-socket mounting mechanism for secure and intuitive installation process on both Intel™ and AMD™ platforms. It is also bundled with the enthusiast-grade Pactum PT-2 thermal compound and the additional pair of mounting clips for an optional 120 mm fan.
The new Fera 3 RGB HE1224 is available from today at 36,90 EUR (MSRP, incl. VAT) in Europe.
---
If you're in the market for a compact mATX/mITX tower ready with its very own AIO liquid CPU cooler, stylish liquid flow meter and RGB lighting then the latest Baronkase Liquid Cooling Case by Deepcool is certainly worth your attention.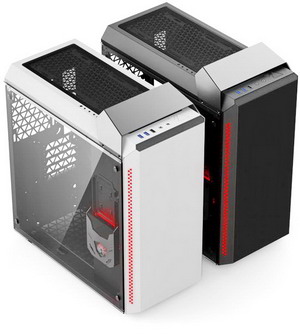 ---
The Cooler Master MasterCase H500 has some excellent features -- namely cooling -- but is it worth the frustration?
---
| | |
| --- | --- |
| Mon: 09/17/2018 | Topic: Cooling / Heatsinks PermaLink |
"Peer pressure is real and often times very useful. For some it pushes them to do things they shouldn't, just as often it can be the catalyst that pushes you to achieve goals and do things you would have never otherwise attempted. Whether it be personal or professional, peer pressure can be a tool of great power. In tech we see it most often resulting in imitation and trend following typically resulting in better products and technologies for the end user. This year we have seen the bar raised in AiO coolers; both aesthetically and in cooling performance. After massive innovations in their pump tech last year, Cooler Master is back this year with a big step up into the 360mm rad category. The MasterLiquid ML360R RGB is equipped with a big ol' 360mm radiator and a huge side serving of RGB lights to boot. But how well does the ML360R RGB do at following this trend? Follow along as we put this cooler through its paces."
---
| | |
| --- | --- |
| Sat: 09/15/2018 | Topic: Cooling / Heatsinks PermaLink |
You may have seen the previous Antec Mercury 240 with its blue, green or red lighting; this time around we get a full complement of colours, 256 to be exact, which illuminate the pump and both 120mm fans. The RGB can be controlled manually using an in-line remote or via the motherboard header to sync up multiple products within your case.
---
| | |
| --- | --- |
| Thu: 09/13/2018 | Topic: Cooling / Heatsinks PermaLink |
The be quiet! Dark Base Pro 900 Rev.2 is the newest member of the be quiet! mid-tower chassis family. This mid-tower case sports a tempered glass side panel, a fully modular design, and an abundance of water cooling support. The REV.2 part of the name represents some minor upgrades be quiet! has made to the chassis. The Dark Base Pro 900 Rev.2 comes in three trim colors: Orange, Silver, and Black. Benchmark Reviews will be inspecting the black trimmed variant of this case, model BGW15.
---
| | |
| --- | --- |
| Thu: 09/13/2018 | Topic: Cooling / Heatsinks PermaLink |
XSPC decided that they could do more than just compete for that extra decimal point of thermal performance improvement and have introduced an ultra-thin radiator with their new TX series. Measuring in at just 20.5 mm thick, it provides a compact heat dissipation solution for watercooled SFF builds.
---
be quiet! tells us the Silent Base 601 is a reworking of the original Silent Base 600 that we reviewed back in October 2015. This may well be true, up to a point, however we feel the Silent Base 601 has been changed from end-to-end and is effectively a new case. Primarily the case has lost the optical drive bays and gained a power supply cover but we feel it is best to approach the 601 as a new model rather than a 600 Rev. 2.
---
| | |
| --- | --- |
| Tue: 09/11/2018 | Topic: Cooling / Heatsinks PermaLink |
Today we are reviewing the new Deepcool Gamerstorm Castle 240 RGB AIO. This is the latest AIO cooler from the Beijing company known for their specialization in water-cooled and illuminated cases for the PC enthusiast. There's also a 280 mm version available, but we received the 240 mm one. RGB has become one of the most important factors currently accentuated by manufacturers.
---
| | |
| --- | --- |
| Mon: 08/27/2018 | Topic: Cooling / Heatsinks PermaLink |
EDITOR's Note - these fans are for industrical applications and not for CPU cooling. CPU heatsink fans run on 12V DC."Noctua today expanded its line-up of premium-grade quiet 5V fans with new 200, 140, 120, 92, 80 and 40mm models. The new 5V versions of the existing award-winning NF-A20, NF-A14, NF-A12x25, NF-F12, NF-A9, NF-A8 and NF-A4x10 designs will be available both in 3-pin and 4-pin variants, the latter supporting PWM-based speed control. All fans include a USB power adaptor cable that allows them to run on USB host devices, power banks or USB power supplies.

"We've seen a growing demand for 5V fans from our industrial clients, the 3D printing community and DIY customers who seek to replace noisy 5V fans in devices such as DVRs or network and storage solutions," explains Roland Mossig (Noctua CEO). "Several years ago, 5V was a niche market, but today there are more and more devices using 5V fans and our PWM-enabled 5V fans give engineers unique options to increase customer satisfaction by using sophisticated speed control in order to achieve quieter operation."

While the existing NF-A4x10 5V and NF-A4x10 FLX (12V) models have become a popular choice for 3D printer hot-end cooling and are now used in the latest Prusa i3 MK3 3D printer, the new 5V PWM and PWM (12V) versions are ideal for 3D printers that offer PWM-based speed control as well as all other 40mm applications with PWM support. By contrast, the new 5V and 5V PWM versions of the award-winning NF-A8 (80mm), NF-A9 (92mm), NF-A12x25 (120mm), NF-F12 (120mm), NF-A14 (140mm) and NF-A20 (200mm) are larger than any of Noctua's previous 40 and 60mm size 5V offerings and thus aim to open up new markets that range from bigger devices and home appliances all the way to cabinet cooling, green walls and room ventilation.

"With the abundance of power banks and compact USB power supplies for smartphones, using one of these to power a 5V fan has become one of the easiest ways to tackle your everyday cooling needs," says Roland Mossig (Noctua CEO). "Some extra ventilation for your A/V cabinet to protect that expensive home cinema receiver? Some extra airflow on your desk or in your bedroom? These are the everyday applications where our new, larger 5V fans step in!"

All of the new 5V models include a USB power adaptor cable that allows the fan to run on devices with USB host ports, power banks or USB power supplies such as those used by smartphones. When replacing existing 5V fans, the supplied OmniJoin™ adaptor set makes it possible to connect the new models to proprietary fan headers and, thanks to the integrated polarity protection, there's no risk of damaging them due to reverse polarity.

Like all Noctua fans, the new 5V and 5V PWM models feature an MTTF rating of more than 150,000 hours and come with a full 6-year manufacturer's warranty."
---
| | |
| --- | --- |
| Tue: 08/21/2018 | Topic: Cooling / Heatsinks PermaLink |
Cooler Master seeks to light up your life with their MasterLiquid ML360R RGB. This latest 360 mm all-in-one liquid cooler sets itself apart by offering addressable RGB LEDs on the pump and fans, with software and hub controller giving users complete control over their ARGB experience.
---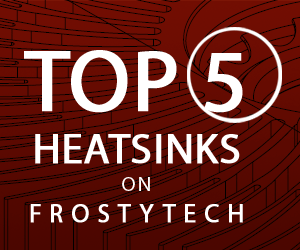 | | |
| --- | --- |
| Mon: 08/20/2018 | Topic: Cooling / Heatsinks PermaLink |
Digitimes gives us some insight into the state of the thermal solutions market with this interview of manufacturer Auras:

"Cooling module maker Auras Technology expects its third-quarter-2018 revenues to grow 15-20% sequentially with gross margin to also increase to 14-16%, up from second-quarter's 10%, thanks to robust demand for server and graphics card cooling solutions, according to company chairman Steven Lin.

Lin is also optimistic about the upcoming demand for smartphone cooling solutions as smartphones with 5G network support could consume up to 10-15W of power and generate a lot heat.

For this type of cooling need, the traditional graphite sheet solutions are able to dissipate heat via graphite's high thermal conductivity, but they are not able to decelerate the heat generation.

Heat pipes and vapor chambers are the most commonly use cooling solutions and vapor chambers' better heat dissipation ability has made the solution a popular design choice among smartphone vendors for their 5G devices, said Lin, adding that China-based Huawei is the most aggressive vendor adopting vapor chambers for its 5G smartphones.

However, vapor chambers are 300-500% more expensive than heat pipe solutions and therefore most vendors will only adopt the solution for their high-end 5G smartphones. With the 5G network estimated to begin operation in 2020, Lin expects vapor chamber demand to begin increasing in the second half of 2019.

As for competitions, Auras has advantages in technology, allowing it to be able to produce vapor chambers with a thickness of only 0.4mm.

Lin also noted that many server vendors have begun adopting Intel's Purley platform for their new systems in the third quarter and expects the platform to achieve a penetration rate of over 50% during the period.

Auras is expected to see rising demand for heat pipe solutions from the server industry in the third quarter as vendors are able to efficiently dissipate heat using vapor chambers for systems adopting Intel's previous-generation Grantley platform, but for the Purley platform, vendors are required to use heat pipes due to the platform's larger size.

As for Intel's next-generation Whitley server platform, which is estimated to be released in 2020, Lin expects demand to grow more significantly.

Nvidia is expected to unveil its new GPUs at the end of August and a new wave of demand for next-generation graphics cards is expected to benefit Auras' performance as demand from the gaming market is still growing strongly, Lin said."
---
| | |
| --- | --- |
| Mon: 08/20/2018 | Topic: Cooling / Heatsinks PermaLink |
The Corsair H100i Pro RGB is a self-contained water-cooling solution for those with a smaller case or less power-hungry CPU, with the intention of reduced temperatures and less noise.
---