| | |
| --- | --- |
| Mon: 10/02/2017 | Topic: Cooling / Heatsinks PermaLink |
Antec may have chosen to put silence above raw cooling efficiency but thanks to its affordable price, 50.000 hours lifetime, LED lights and still very good performance across the board the latest Mercury 360 AIO Liquid CPU Cooler is a solid product worthy of your attention.
---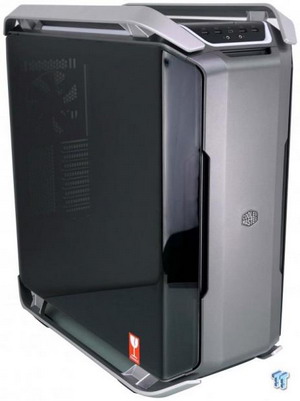 Cooler Master's Cosmos C700P E-ATX full-tower chassis is easily one of the best, if not the best, computer cases we have ever reviewed."
---
Cooler Master Cosmos has an epic legacy that stretches back 25 years so it pleases us hugely to see the Cosmos C700P uses aluminium rails top and bottom that instantly remind us of the original design classic.
Naturally enough Cooler Master has brought the design screeching up to date with a tempered glass panel and a bunch of RGB lighting features. No high end case is complete without glass and RGB in 2017 however that is only the beginning of Cooler Master's ambitions. There are two main thoughts behind the design of the Cosmos C700P that cause a certain amount of conflict. On the one hand it has interior panels that cover the drives and cables to keep the build immaculate and to focus your eyes on the motherboard, CPU, RAM and graphics. Balanced against that you can flip the interior over to enhance the cooling so your motherboard is mounted on the left side of the case and the GPU ends up above the CPU.
---
| | |
| --- | --- |
| Sat: 09/30/2017 | Topic: Cooling / Heatsinks PermaLink |
Reeven has been around only for a few years however that doesn't stop them from slowly growing their line up for the consumers. Their first attempt at liquid cooling solutions for the computer enthusiasts is called the Naia 240. The Reeven Naia 240 is an all-In-one liquid CPU cooling system that has some pretty unique features such as drainable CPU …
---
| | |
| --- | --- |
| Tue: 09/26/2017 | Topic: Cooling / Heatsinks PermaLink |
Today, we test several brand new RGB products from Cooler Master. We examine the Cooler Master MasterFan Pro 120 and 140 Airflow RGB fans as well as the Cooler Master MasterFan Pro 120 Air Balance RGB 3 in 1 Kit including the new Cooler Master RGB LED controller. In the following review we compare the cooling performance of the fans in several constellations and with over 50 pictures as well as 2 videos we show a lot of details and the great effects that Cooler Master has successfully implemented.
---
| | |
| --- | --- |
| Tue: 09/26/2017 | Topic: CPU / Processors PermaLink |
"We spend time investigating and testing AMD's various hardware modes for its Threadripper CPU to see what difference they make it performance."
---
| | |
| --- | --- |
| Mon: 09/25/2017 | Topic: Cooling / Heatsinks PermaLink |
Today we are reviewing the Scythe Mugen 5 CPU Cooler, the eighth revision of a Scythe mainstay. We reviewed the Scythe Mugen MAX CPU Cooler and it scored highly. We respect Scythe, they have been around cooling for enthusiasts from the very beginning of the modern worlds view of PCs. These days, if it doesn't have any RGB lighting or rocket thrusters, it's not up to date.
---
| | |
| --- | --- |
| Mon: 09/25/2017 | Topic: Cooling / Heatsinks PermaLink |
ID-COOLING had announced the new SE-207 Twin Tower Air cooler, featuring a black nickel plated Top Cover, twin tower heatsinks and two cooling fans included.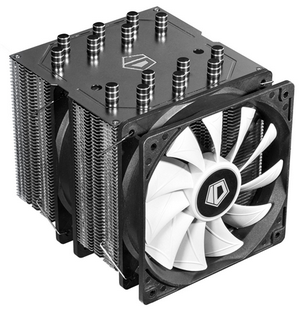 The full cooler is made of 7pcs of heatpipes soldered to the copper base, two sets of aluminum fins, which all covered by a nickel plated top cover, and decorated by uniquely designed heatpipe caps.
Heat dissipation is provided by one 120mm intake fan running at 1300rpmand one PWM 120mm fan (700-1800rpm) in the middle.
Fan splitter is included to support 3 fans setup. Extra fan clips are provided too in the box.
Universal mounting brackets are included. The latest AMD Ryzen processors are supported. SE-207 is compatible with Intel LGA2066/2011/1366/1150/1151/1155/1156 & AMD AM4/FM2+/FM2/FM1/AM3(+)/AM2(+).
MSRP for SE-207: $59.99USD/EURO.
---
| | |
| --- | --- |
| Mon: 09/25/2017 | Topic: Cooling / Heatsinks PermaLink |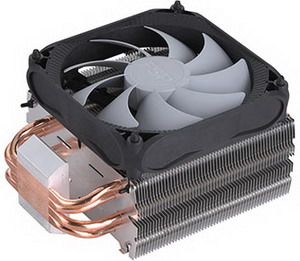 FSP looks to break into the entry level cooling market with the Windale 4. This simple tower cooler may appear bland, but don't let it fool you: It packs a huge punch in terms of price to performance.
---
| | |
| --- | --- |
| Mon: 09/25/2017 | Topic: CPU / Processors PermaLink |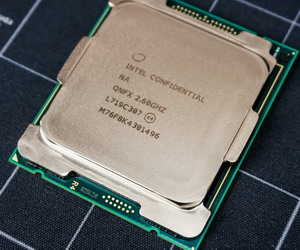 Back when Intel announced their Core-X Series high-end desktop (HEDT) processors one really stood out. It was at the top of the product stack, having more cores and threads than any other Intel consumer desktop processor before it and with its price tag it is the most expensive Intel consumer desktop processor as well. The processor I am talking about is of course the Core i9-7980XE. It is Intel's flagship Core-X series processor packing in 18-cores, 36-threads with 27.45 MB of L3 cache. The chip has a base clock of 2.6 GHz with a boost clock of 4.2 GHz, and two cores reaching up to 4.4 GHz with the new Turbo Boost 3.0 technology. This chip like the 14 and 16 core chips in the Core-X series has a higher TDP of 165W. If you are building an X299 system this will be the ultimate processor to get, but is it worth its $1999 price tag? Read on as we find out!"
---
| | |
| --- | --- |
| Mon: 09/25/2017 | Topic: Cooling / Heatsinks PermaLink |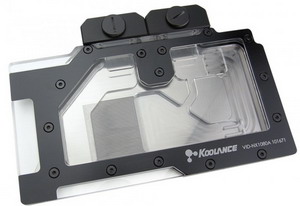 The Koolance VID-NX1080 GPU water block offers two top options - acetal and acrylic - with excellent build quality, good value for your money, and an optional backplate that puts most others to shame. It does fall short on relative performance, but will be a very strong consideration for those on a budget.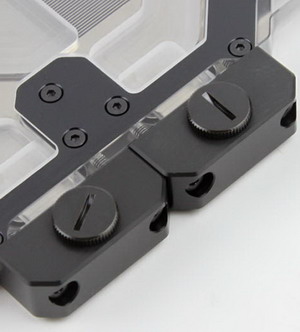 ---
"Our AMD X399 TR4 Threadripper motherboard buyer's guide will guide you through the various options to consider when picking a product."
---
| | |
| --- | --- |
| Sun: 09/24/2017 | Topic: Cooling / Heatsinks PermaLink |
HardwareOverclock.com has just posted another review. Last week we have tested the Noctua NH-D15 SE-AM4 cpu cooler on a Ryzen 7 1700. The SE-AM4 version is a dedicated special edition for AMD's AM4 (Ryzen) platform featuring the latest SecuFirm2 mounting system for AM4.
---
"Here at ThinkComputers we've been fans of Raijintek cases for quite some time. They offer some really unique designs and they are one of the only case makers coming out with all aluminum cases on the regular. Even better they price these cases pretty competitively. That is exactly what they've done with the case we are taking a look at today. It is an all aluminum ATX chassis with dual 3mm-thick tempered glass side panels for just $89.99! The Thetis also has some pretty unique features and has one of the smallest footprints for an ATX case so let's jump in and take a look!"
---
| | |
| --- | --- |
| Fri: 09/22/2017 | Topic: Cooling / Heatsinks PermaLink |
The manufacturer Antec from California is a real industry size in the PC world. One of the trends nowadays is to offer so-called all-in-one water coolers. Antec not only manages to access products from well-known OEM producers, but also develops corresponding coolers. With the Antec cooler H2O H1200 Pro, we have the latest and biggest variant available for testing.
---
| | |
| --- | --- |
| Fri: 09/22/2017 | Topic: CPU / Processors PermaLink |
When der8auer SANDED DOWN the CPU dies inside his AMD Ryzen Threadripper, what he discovered confirmed that the Threadripper is an EPYC CPU in disguise!
---
| | |
| --- | --- |
| Fri: 09/22/2017 | Topic: Cooling / Heatsinks PermaLink |
My interest in Small Form Factor builds has grown over the years as my office space has slowly filled up and had less space and each time I take a PC to a LAN event. We have built our Lunchbox project builds all the way back to when nothing was available but that isn't the case anymore. There are countless case options, tiny power supplies, ITX motherboards with full sized features, and even video cards that will fit in tight spaces. Most recently with the AM4/Ryzen introduction, I was extremely excited to finally have the chance to run an ITX build with a proper high-end AMD CPU. Up until recently, you could really only do it with their APUs. Well even months after the Ryzen launch ITX boards were basically not available, but that is all starting to change with boards getting in stock from Gigabyte, Asrock, and Biostar. Well to celebrate that I decided to bring together a collection of at least most (I'm sure someone will contact me asking for X brand) of the ITX sized coolers that currently have AM4 support. A few of the coolers I got in are pushing the limits of ITX. But today I'm going to check each of them out, make sure they fit an AM4 ITX board (and ram), and test each cooler for noise and temperatures using Ryzen CPUs from the R7, R5, and R3 platforms. Hopefully, we will get a better idea of what fits, what doesn't, what looks amazing, what is quiet, and what will work with each level of performance. It's a lot to take in so let's go ahead and get started.
---
| | |
| --- | --- |
| Fri: 09/22/2017 | Topic: Cooling / Heatsinks PermaLink |
"With the ten-core / 20-thread Core i9 7900X CPU having a 140 Watt TDP, it's a lot to keep cool with air cooling. Even more, with the soon-to-launch new Core i9 models, you really need a beefy heatsink fan if wishing to avoid water cooling. In this article are some tests with different Noctua heatsinks. Besides being able to cool these 2017X processors, the other requirement too is that they fit within 4U space requirements. The heatsinks benchmarked today included the Noctua NH-C14S, NH-U9S, Noctua NH-D9L, NF-A9 PWM fan, and NF-A14 PWM fan."
---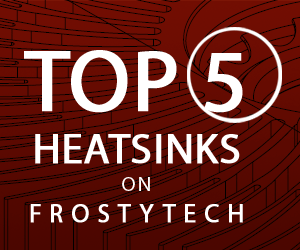 | | |
| --- | --- |
| Fri: 09/22/2017 | Topic: Cooling / Heatsinks PermaLink |
"We recently looked at several Noctua cooler options for Intel's Core X-Series while today the tables have turned and we tried out Noctua's TR4-SP3 heatsink that is capable of cooling the high-Wattage Threadripper and EPYC processors with air cooling."
---
| | |
| --- | --- |
| Mon: 09/18/2017 | Topic: Cooling / Heatsinks PermaLink |
Man destroys his aluminum heatsink by applying Coolabratory Liquid Pro thermal interface material.... Always good to read instructions, this TIM contains Gallium which is incompatible with aluminum.
---