| | |
| --- | --- |
| Thu: 11/29/2018 | Topic: Cooling / Heatsinks PermaLink |
The most notable change the LP MK.2 sees, however, is on the switch front. As the LP MK.2 is a lot slimmer, Corsair couldn't exactly install the regular switches Cherry make, so instead, they've selected Cherry's new low profile switch, will this have a negative impact on the performance?
---
| | |
| --- | --- |
| Wed: 11/28/2018 | Topic: Cooling / Heatsinks PermaLink |
"Small form factor builds are more popular than ever, especially with many people building these little powerful LAN rigs. The one issue when it comes to all small form factor builds is space. You are only going to have so much space inside that mini-ITX case and you might not be able to fit that AiO or large tower cooler in there. Don't worry though, Cryorig has you covered with their C7 low-profile CPU cooler. Recently they released a Cu or Copper version of this cooler that features an all-copper heatsink design, which they say gives the cooler 15% improved performance over the normal C7. Is this the cooler you need for your mini-ITX build? Read on as we find out!"
---
| | |
| --- | --- |
| Wed: 11/28/2018 | Topic: Cooling / Heatsinks PermaLink |
"A lot of times when it comes to small form factor systems you want a small air cooler to cool off your CPU. While tower cooler have become extremely popular, there are not that many C-type coolers out there. Well Reeven has one in their Brontes CPU cooler, which is specifically made for small form factor systems with its 59 mm height, 4 heat pipes, and 100 mm fan. Should this be the cooler you get for your new small form factor build? Read on as we find out!"
---
| | |
| --- | --- |
| Tue: 11/27/2018 | Topic: Cooling / Heatsinks PermaLink |
After the Thermaltake Pacific W4 Plus and the Enermax NEOChanger review we publish today the Vlog for the installation of water cooler components, which we had recently streamed in full length on a partner twitch channel.
---
| | |
| --- | --- |
| Mon: 11/26/2018 | Topic: Cooling / Heatsinks PermaLink |
Deepcool is a company that was built with the vision of providing the finest PC DIY solution for worldwide customers by constantly seeking innovative breakthroughs. To serve the gaming community with brand new air cooling experience, Deepcool brings out GAMMAXX GT TGA. As a member of TUF GAMING ALLIANCE, GAMMAXX GT TGA featuring sleek RGB lighting and optimized cooling performance provides gamers with all-new air cooling experiences. It's not just cooling. It's DEEP, high quality CPU-cooling for optimal heat dissipation while fulfilling your desires for that spectacular RGB gaming rig.
If your motherboard supports RGB lighting, then you can use software control by simply plugging in the RGB connector (included) into the RGB Header on your motherboard.
Premium all-aluminum housing featuring hi-tech visuals and RGB lighting. Provides a definitive visual element for your gaming rig.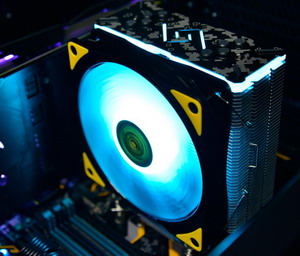 Provided with highly durable and enhanced backplate and clips and an all-new optimized mounting kit, allowing easy step-by-step installation. GAMMAXX GT TGA msrp: $44.99 USD
---
| | |
| --- | --- |
| Mon: 11/26/2018 | Topic: Cooling / Heatsinks PermaLink |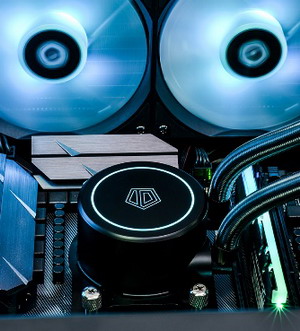 ID-COOLING a cooling solution provider focusing on thermal dissipation and fan technology research and production for over 10 years, announced AURAFLOW X 240 AIO water cooler, featuring the newly developed powerful pump and 12V RGB lighting on both the pump and fans at the same time synchronizing with motherboard RGB control.
AURAFLOW X 240 is equipped with the newly developed powerful pump which has the flow rate reaching up to 106L/H, lift range 1.3m H2O. The pump block has a micro-fin copper base to ensure the best cooling performance. Power connector is 3pin with a 3pin to Molex adapter to help ensure 12V constant input to ensure maximum cooling performance. It also comes with a standard 12V RGB connector.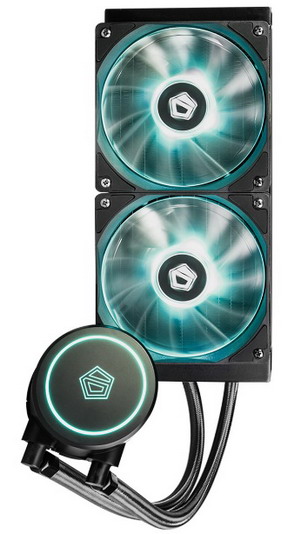 Solid connectors are used on both ends of the premium sleeved tubing, more reliable & performance efficient. Tubing length is 400mm. Inside the tubing is self-contained highly efficient and eco-friendly liquid coolant.
A pair of RGB fans are included. Fan blades are made of special lighting diffusing material to help spread the light evenly. Fan speed is PWM controlled from 700 to 1800RPM, pushing max. airflow of 74.5CFM each. Rubber dampeners on fan frame are provided to absorb vibration to lower operation noise.
The pump and two fans have separate RGB cables which can all connected to the RGB splitter, through which the RGB lighting can be controlled either by motherboard software or the included internal controller. The RGB splitter supports 4 devices at the same time, so users can add an extra RGB LED fan.
Universal mounting brackets are included. AURAFLOW X 240 is compatible with Intel LGA2066/2011/1366/1150/1151/1155/1156 & AMD TR4/AM4/FM2+/FM2/FM1/AM3(+)/AM2(+).
MSRP for AURAFLOW X 240: 79.99USD/79.99EURO.
---
| | |
| --- | --- |
| Mon: 11/26/2018 | Topic: Cooling / Heatsinks PermaLink |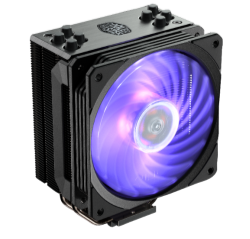 Cooler Master has announced the availability of two new air coolers. The Hyper 212 RGB Black Edition and the Hyper 212 Black Edition are the latest additions to join the company's legendary Hyper 212 series.
Originally designed and manufactured by Cooler Master in 2007, the Hyper 212 has evolved with the market over the past 11 years and has remained one of the most popular CPU air coolers available to consumers. The new Hyper 212 RGB Black Edition and Hyper 212 Black Edition both offer an improved installation process from previous models with the same best-in-class performance for an affordable price. Designed with PC enthusiasts in mind, the new Hyper 212 Black Edition coolers keep with the familiar four heat pipe design of the original Hyper 212 and continues to offer direct contact technology for more thorough heat dissipation.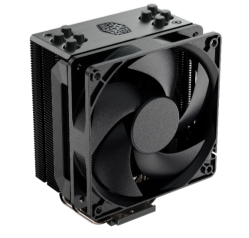 The updated brushed aluminum top cover, nickel plated anodized fins and heat pipes, and metallic heat pipe caps give the Hyper 212 Black Edition models a premium, aesthetic appeal. The Hyper 212 RGB Black Edition comes equipped with the new SF120R RGB fan and RGB LED controller for lighting customization, while the Hyper 212 Black Edition offers users a more simplified look via the all-black Silencio fan with exclusive Silent Drive IC technology.
Both the Hyper 212 RGB Black Edition and Hyper 212 Black Edition will be available for purchase in North America, November 5, 2018, for a starting MSRP of $39.99 USD (RGB Version) and $34.99 USD (non-RGB).
---
| | |
| --- | --- |
| Sat: 11/24/2018 | Topic: Cooling / Heatsinks PermaLink |
Scythe has updated their long running Ninja series with the Ninja 5. It offers a solid upgrade over the previous iteration, featuring quality of life improvements like its increased memory compatibility and updated mounting hardware. Pair that with solid performance and a nearly silent operation and you have a winning combination.
---
| | |
| --- | --- |
| Thu: 11/22/2018 | Topic: Cooling / Heatsinks PermaLink |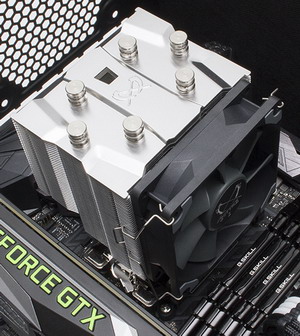 Japanese cooling expert Scythe presents the fifth generation of its popular all-round Katana CPU cooler. This new version comes with a revamped asymmetric heatsink design and total height of only 135 mm, offering unrestricted compatibility to mainboards and memory modules. The second generation of the Easy Clip Mounting System (E.C.M.S) assures a fast and easy installation process. Another key innovation of the Katana 5 is the newly developed Kaze Flex 92 PWM fan. It combines the high-quality Sealed Precision Fluid Dynamic Bearing with anti-vibration rubber spacers for silent operation and long lifespan.
The Katana series ever since the initial release aimed for great versatility. Scythe underlines this further with the release of the Katana 5, which offers optimum performance at compact dimensions and an advanced multi-socket mounting system at a competitive price. The fifth generation offers even more added value by incorporating a band new asymmetric heatsink design for unrestricted compatibility to both mainboard components and memory modules. In addition to that, all three high-quality copper heatpipes as well as the massive copper-baseplate have been nickel-plated for the fifth generation. This upgrade protects the copper from corrosion and lets Katana 5 look more unified.
Katana 5 is the first CPU Cooler that is bundled with the new Kaze Flex 92 mm PWM fan. This new fan is equipped with Scythe's high-quality Sealed Precision Fluid Dynamic Bearing (Sealed Precision FDB), offering more quiet running and a long life-span of 120.000 hours. Transmission of vibrations is prevented by incorporating special rubber spacers in the corners of the frame. The Kaze Flex 92 mm fan is well balanced in order to suite the high demands of the majority of users. Thanks to the PWM support, it is able to flexibly adjust the fan speed from 300 to 2.300 RPM while operating at amazingly low noise levels from 7,3 to 28,83 dBA. This exceptional quietness is achieved without compromising the airflow, as the Kaze Flex 92 PWM is delivering volumetric flow from 11,46 to 83,04 m³/h.
Being able to be easily installed on all major CPU sockets has been another key advantage of the Katana series. Katana 5 comes with already pre-installed Intel™ Push-Pin mounting clips, ready to be mounted on Intel™ sockets out of the box. Installation on AMD™ mainboards is equally simple, as users have to only replace the two brackets and the Katana 5 is ready to be fitted on the retention module. The improved second generation Easy Clip Mounting System (E.C.M.S) on Katana 5 assures a convenient and secure mounting process while supporting Intel™ sockets LGA775, LGA115X and LGA1366 as well as AMD™ sockets AM2, AM2+, AM3, AM3+, FM1, FM2, FM2+ and AM4. The package includes the Katana 5 with the mounting clips as well as thermal grease and one Kaze Flex 92 mm PWM fan with the mounting fan clips. The new Scythe Katana 5 with the Model-No. SCKTN-5000 is available as of today with the MSRP at 23,50€ (VAT/Taxes not included).
---
| | |
| --- | --- |
| Thu: 11/22/2018 | Topic: Cooling / Heatsinks PermaLink |
The new Cyberpower Hyper Liquid Threadripper RTX system features a Threadripper CPU and an Nvidia RTX 2080 ti graphics card. As it fits within the Cyberpower 'Hyper Liquid II' range it also features a hardline custom liquid cooling loop for the processor – to keep the AMD Threadripper 2950X's temperatures under control. The extreme 32 threads should make the Threadripper RTX system dominate in multi-threaded use cases like rendering, and paired with the 2080 TI should also excel at gaming, but does this parts selection justify the £3,900 premium price?
---
| | |
| --- | --- |
| Wed: 11/21/2018 | Topic: Cooling / Heatsinks PermaLink |
Featuring impressive looks thanks to both its RGB fans and pump and performance levels surpassing most AIO Liquid CPU Coolers released by Deepcool to date the brand new CASTLE 240RGB has nothing to fear from the competition
---
With Apple and non-Apple notebook vendors keen to launch slim models, magnesium-lithium alloy is expected to become an increasingly popular material for notebook casings, according to Jonathan C Lin, chief operating officer at Amli Materials Technology, a Taiwan-based supplier of light metals.

The growing adoption of magnesium-lithium alloy by notebook vendors is due mainly to distinct traits of the material, Lin said. He noted that magnesium is the world's lightest metal with a density of only 0.53 gram/per cubic centimeter, and magnesium-lithium alloy is the lightest commercial alloy, with density reaching only 1.48 grams/cubic centimeter, almost only half the figure of 2.72 grams/cubic centimeter for aluminum alloy.

Besides lightweight, magnesium-lithium alloy also boasts better intensity, extensibility, dissimilarity, and heat dissipation than magnesium alloy. The intensity of Amli's first-generation magnesium-lithium alloy adopted by Japan notebook makers reached 170Mpa, and that of its second-generation one has improved to 210-250 Mpa after incorporating aluminum, Lin disclosed, adding that the third-generation magnesium lithium alloy will be blended with rare earth to achieve even higher intensity.

But the cost for magnesium-lithium alloy is now still 2.5-3 times that of aluminum alloy, leading to lower penetration of the former in notebook production, according to Lin. But he said that the penetration of the new alloy is expected to pick up in 2019, when the cost gap may narrow significantly.

Magnesium-lithium alloy is also applicable to transportation vehicle and aerospace sectors, Lin said. Amli reportedly supplies the alloy to ISpace, a Japan developer of robotic spacecraft technologies, industry sources said."
---
| | |
| --- | --- |
| Wed: 11/21/2018 | Topic: Cooling / Heatsinks PermaLink |
We have just tested on OCinside.de the new Enermax T.B. RGB fan in 3 fan pack. The T.B. RGB fans are mainly based on the T.B. Silence ADV 120 fans, but they are enhanced by a stylish RGB lighting with its own controller, remote control and the possibility to synchronize them with the motherboard. We are interested to see how these fans will perform in practice.
---
| | |
| --- | --- |
| Tue: 11/20/2018 | Topic: Cooling / Heatsinks PermaLink |
Today we unwrap the Cooler Master Hyper 212 Black Edition, finished with a nickel plating for the black appearance, while also enhancing radiation of heat from the fins. The top of the cooler features a new look with a brushed, anodised aluminium finished in gunmetal black. Cooler Master also claim to have improved the installation procedure.
---
| | |
| --- | --- |
| Mon: 11/19/2018 | Topic: Cooling / Heatsinks PermaLink |
Corsair has been the market leader in the AIO liquid cooling market for a number of years offering a really varied range of not only smaller coolers for small form factor builds, but also much larger 280mm and 360mm variants for those chasing best performance. Lots of manufacturers are packaging LEDs, and RGB functionality into their cooler, Corsair being no exception, but the new Corsair Hydro Series H100i adds to their product "Platinum" which as with power supplies suggests an air of supremacy. Two versions are available – the 240mm H100i priced at £124.99, and 280mm at £139.99 but with slightly better compatibility. We decided to take a look at the H100i, so let's see how it holds up in our testing.
---
| | |
| --- | --- |
| Sun: 11/18/2018 | Topic: Cooling / Heatsinks PermaLink |
Corsair's H100i RGB Platinum closed-loop liquid cooler is the company's first with addressable RGB LEDs on its pump head and in its fan hubs. We put this cooler to the test to see whether its performance matches its striking looks.
---
| | |
| --- | --- |
| Sat: 11/17/2018 | Topic: Cooling / Heatsinks PermaLink |
Earlier this year our friends over at Corsair released three new all-in-one liquid CPU coolers with the "Pro" series and today they are introducing two brand new models in the "Platinum" series. The two new models are the Corsair Hydro Series H100i RGB PLATINUM and H115i RGB PLATINUM. The model that Corsair sent over for us to try out was the Hydro Series H100i RGB PLATINUM. Read on to see how it performs.
---
| | |
| --- | --- |
| Fri: 11/16/2018 | Topic: Cooling / Heatsinks PermaLink |
Engineers from the University of Pennsylvania demonstrated aluminum oxide film that is only tens of nanometers thick and is 10,000 times as stiff as a solid plate of the same mass. According to a report from the university, a square centimeter of the nanocardboard, as the engineers termed it, weighs less than a thousandth of a gram.
---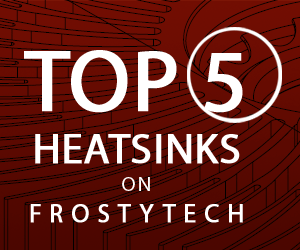 | | |
| --- | --- |
| Thu: 11/15/2018 | Topic: Cooling / Heatsinks PermaLink |
"Swiftech's latest all-in-one liquid CPU cooler pushes RGB illumination to the extreme by pairing their IRIS ALED system with Mayhems Pastel Nanofluid Coolant, which comes with various dyes. Add in the all-copper design and you have a cooler that makes standard AIOs look silly."
---
| | |
| --- | --- |
| Wed: 11/14/2018 | Topic: Cooling / Heatsinks PermaLink |
Corsair once again looks to take the closed-loop cooler crown with the new Hydro Series H115i Platinum. Sporting RGB ML series fans, a larger 280 mm radiator, and an improved mounting system, it received a slew of updates which translate into a solid performer that not only gets the job done, but looks the part as well.
---