| | |
| --- | --- |
| Sat: 08/26/2017 | Topic: Cooling / Heatsinks PermaLink |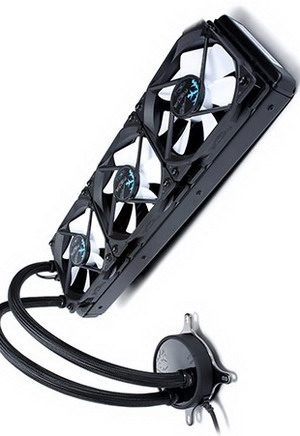 Fractal Design looks to take another stab at the expandable all-in-one liquid cooler market with the Celsius S36. Offering a 360 mm radiator and all-new features, like a built-in fan hub, it certainly has a lot to offer.
---
| | |
| --- | --- |
| Fri: 08/25/2017 | Topic: Cooling / Heatsinks PermaLink |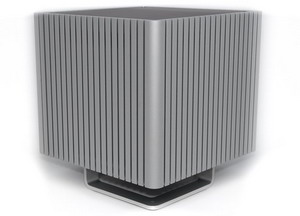 The sound of silence -- there's nothing like it, especially when it comes to a media PC. The last thing anyone wants while binging on the new season of Game of Thrones is the distracting drone of a fan or whir of a hard drive. Silence is precisely what the Streacom DB-4 chassis we'll be featuring here has to offer.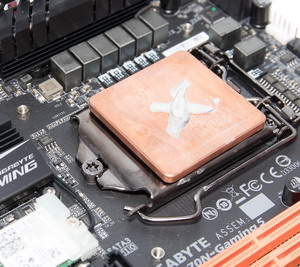 The DB-4 is not your average computer case. It houses precisely zero cooling fans. Streacom exchanges a traditional CPU heatsink and fan for a copper CPU block and heat pipes with aluminum heat sink mounts to whick away heat...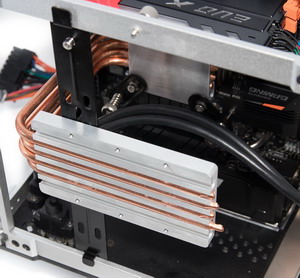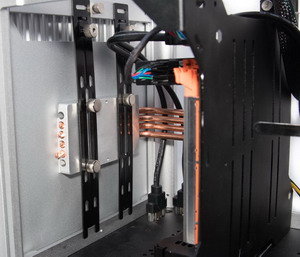 ---
| | |
| --- | --- |
| Fri: 08/25/2017 | Topic: Cooling / Heatsinks PermaLink |
"Generally speaking we PC users, hardware enthusiasts, nerds, like to have the highest performing parts we can get our hands on.
If I need a new GPU, I sort results by most expensive. Upgrading to HEDT, you bet we want that i9-7900X; at least until that i9-7980XE is available. And when it comes to keeping these parts cool, once again we find ourselves reaching for that custom watercooling loop or at least a big 360 rad AIO.
This pattern of excess is basically the hallmark of the hardware enthusiast and there is nothing wrong with it. On the other hand there are the occasional times where maybe all that over the top performance isn't required or maybe there are certain limits like budget or space holding you back. Today we're going to check out one of those products, the Cooler Master MasterLiquid Pro 140. While not the big gun feature item of the CM lineup, we are still quite curious to see just how this dual fan equipped 140mm AiO liquid cooler performs."
---
| | |
| --- | --- |
| Fri: 08/25/2017 | Topic: Cooling / Heatsinks PermaLink |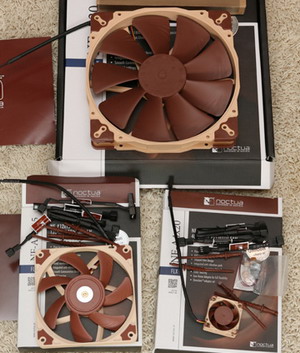 Very good quality fans, but I've heard plenty of (not so positive) comments about the plastic colour choice....
"The Noctua NF-A Series is a comprehensive line up of fans that will be great addition to many system environments."
---
| | |
| --- | --- |
| Fri: 08/25/2017 | Topic: Cooling / Heatsinks PermaLink |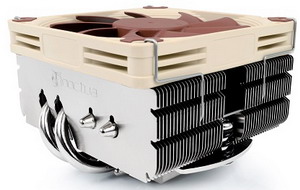 Was kann man über den kleinen Kühler sagen? Der NH-L9x65 ist ein kompakter, leiser Low-Profile Kühler, der für die Verwendung in kleinen Gehäusen und HTPC-Umgebungen entwickelt wurde. Dieses Modell wurde schon als NH-L9x65 vor knapp 2 Jahren vorgestellt und wurde für den AM4 etwas überarbeitet, von der Halterung kompatibel zum genannten Sockel gemacht. Der Kühler verfügt über eine in seiner Klasse hervorragende Kühlleistung, ist jedoch nicht für Overclocking geeignet und sollte auf Prozessoren mit mehr als 95W TDP (Thermal Design Power) nur mit Vorsicht eingesetzt werden. Da wir die AM4 Plattform mit einem Ryzen 7 1700 bestückt haben, eignet sich dieser Winzling hervorragend dafür.
Als Lüfter hat man hier einen kleinen 90 mm Lüfter verbaut, der sich NF-A9x14 PWM nennt. Dieser ist nur 14 mm stark und verwendet einen Regelbereich zwischen 600 ~ 2500 RPM ±10 %. Trotz der Platzsparenden Bauweise scheffelt der Kühler satte 57,5 m³/h bei nur 2.52 Watt Leistungsaufnahme. Der statische Druck beträgt gute 2.11 mm H2O. Wer mit der hohen Drehzahl nichts anfangen kann, hat die Wahl, den LNA Adapter zu verwenden. Dann dreht der Lüfter mit maximalen 1800 U/Min. Dank der kompakten Abmessungen kommt man so auf eine Gesamthöhe von nur 65 mm. Diese Höhe wurde bewusst gewählt, denn genauso hoch sind Low-Profile Erweiterungskarten. Damit eignet sich der Kühler ideal für den Einsatz in kompakten HTPCs oder Small Form Faktor Gehäusen, die wenig Raum für CPU Kühler bieten.
---
| | |
| --- | --- |
| Thu: 08/24/2017 | Topic: Cooling / Heatsinks PermaLink |
"Scythe is a company we've been covering for a while now and they make some of the best air-cooled CPU coolers out there. We consider them right at the top with Noctua and Cryorig in that regard. Today we are checking out one of their larger cooler in the Mugen 5. It has a single tower heatsink design with six large copper heatpipes and a 120 mm cooling fan. The actual heatsink of the cooler is quite larger as the heatsink fins are almost double the size of what we typically see these days. Will this cooler be able to match some of the top air CPU coolers we've tested in the past? Read on as we find out!"
---
| | |
| --- | --- |
| Tue: 08/22/2017 | Topic: Cooling / Heatsinks PermaLink |
All-in-one coolers are designed to be convenient, however they lack the flexibility available with custom loops. Even if modders are willing to void the warranty and swap out parts, it is far from ideal since most use an aluminum radiator with copper contact blocks to keep costs down. It works on AIO units since they use a formulated coolant and …
---
| | |
| --- | --- |
| Mon: 08/21/2017 | Topic: CPU / Processors PermaLink |
y expectations I had of a slower and less turbulent late summer and fall for the technology and hardware segments is getting shattered today with the beginning stages of Intel's 8th Generation Core Processors. If you happen to think that this 8th generation is coming hot on the heels of the 7th generation that only just released to the consumer desktop market in January of this year, you'll be on the same page as me. If you are curious how Intel plans to balance Kaby Lake, Coffee Lake, and Cannon Lake, all releasing in similar time frames and still use terms like "generation", then again, we are on the same page.
---
With the Meshify C, Fractal Design has added the next case to their portfolio. The interior strongly reminds of the Define C, which has been available for quite a while now. Apparently the Swedes have reworked the exterior, which is why we're finding an unusual lot of mesh on this case, allowing for excellent airflow. Overall we're curious to find out how this case is going to perform in our review and apart from that we want to know more about the pricing.
---
| | |
| --- | --- |
| Thu: 08/17/2017 | Topic: Cooling / Heatsinks PermaLink |
Thanks to its impressive performance and affordable price tag the latest Hydro Series 280mm H115i Liquid CPU Cooler by CORSAIR is the ideal choice for gamers, enthusiasts and professionals who place cooling efficiency and price before all else.
---
| | |
| --- | --- |
| Thu: 08/17/2017 | Topic: Cooling / Heatsinks PermaLink |
Chassis you can find in many models and designs, chassis for modding, chassis for the DiY enthusiast and testing however are more scarce. Hence I was looking for an easy to use chassis where we can pop on and off hardware components. I ended at the USA based PrimoChill, they have offered the Praxis series wetbench for a number of years now. We test the unit and see if there is more to it than meets the eye. Granted, it's not a suitable product for everybody, but if it applies to you we can wholeheartedly recommend that you check this article out.
---
| | |
| --- | --- |
| Wed: 08/16/2017 | Topic: Cooling / Heatsinks PermaLink |
Deepcool's product line has been incorporating several formerly disparate products into one convenient package. This was seen before with their Deepcool Genome case which integrates a chassis with an all-in-one liquid cooler. The new Captain 240EX RGB on the other hand, is an AIO liquid cooler which comes with an RGB LED controller and RGB LED strip. It is the …
---
| | |
| --- | --- |
| Tue: 08/15/2017 | Topic: Cooling / Heatsinks PermaLink |
Time for Frosytech to build a new synthetic thermal test platform for testing AMD Threadripper heatsinks!!!
Perhaps at a nice toasty 200W?
Sounds good, but the problem is the design of the AMD Socket TR4 processor. While the CPU's integrated heatspreader measures ~69 x 51mm in size, underneath that 2-3mm thick slab of copper are four relatively small, widely spaced silicon rectangles of about 22x9mm in size. But that's not all, on the AMD Threadripper CPU, only two diagonally opposite dies are actual heat-producing CPU dies.
The question at hand -- is it more useful to build a synthetic CPU interface die to match the dimensions of the integrated heat spreader on the AMD socket TR4 Threadripper CPU, or, a synthetic CPU interface die that just matches the outside perimeter of the four silicon dies?
In other words, a socket TR4 synthetic thermal test platform with a 200W slab of copper the same size as A. or a little skinnier like B.?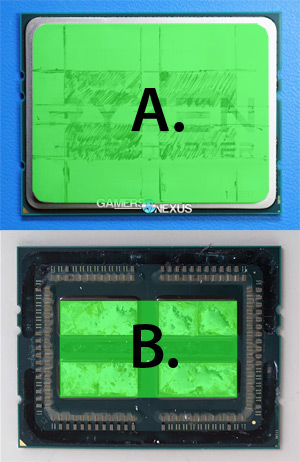 Drop me a line here and let me know your opinion... big test die (A.) or skinny test die (B.)?
*images courtesy of GamersNexus.net and Extremetech.com
---
| | |
| --- | --- |
| Sun: 08/13/2017 | Topic: Cooling / Heatsinks PermaLink |
The Bykski FR-N-GTX1080 is a full-cover water block component from Bykski's high-end FOUR series. It features an anodized aluminum top cover over an acrylic top, nickel-plated copper cold plate with split flow design, an included anodized aluminum back plate, and multiple color options for customizing your build.
---
| | |
| --- | --- |
| Fri: 08/11/2017 | Topic: Cooling / Heatsinks PermaLink |
It's no chart topper, but Scythe's new Byakko SCBYK-1000 CPU air cooler impresses when we take the asking price into consideration."
---
| | |
| --- | --- |
| Thu: 08/10/2017 | Topic: Cooling / Heatsinks PermaLink |
Thermaltake's new Floe Riing 360 TT Premium Edition CPU cooler gets fully examined today. Should it now be the AIO at the top of your list? Probably."
---
| | |
| --- | --- |
| Thu: 08/10/2017 | Topic: CPU / Processors PermaLink |
Today we're reviewing the Ryzen Threadripper 1950X, a 16-core behemoth which supports Simultaneous Multithreading for up to 32 independent threads and is priced at $999. Its MSRP is identical to that of Intel's 10-core, 20-thread Core i9-7900X, making them ideal sparring partners in our tests.
---
| | |
| --- | --- |
| Thu: 08/10/2017 | Topic: Cooling / Heatsinks PermaLink |
Quick video from Hothardware demonstrating how to install and remove the AMD socket TR4 Threadripper CPU and heatsink.
---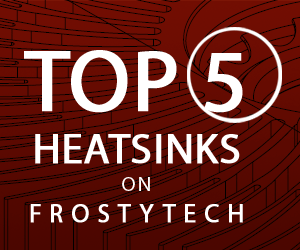 | | |
| --- | --- |
| Thu: 08/10/2017 | Topic: CPU / Processors PermaLink |
AMD's HEDT platform has finally arrived with the Ryzen Threadripper 1920X and 1950X. They're designed to go head to head against Intel's i9-7900X but can their performance match up?
---
| | |
| --- | --- |
| Tue: 08/08/2017 | Topic: CPU / Processors PermaLink |
With AMD's new Ryzen Threadripper samples at hand, we wasted no time pulling them out of their box to see how the 12- and 16-core beasts look in the silicon. A processor unboxing may sound like one of the most boring pieces of content possible but it certainly is not. AMD has pulled out all of the stops for making the review samples and retail packaging of its new Ryzen Threadripper processors unique and undeniably premium.
---