If you're in the market for a compact mATX/mITX tower ready with its very own AIO liquid CPU cooler, stylish liquid flow meter and RGB lighting then the latest Baronkase Liquid Cooling Case by Deepcool is certainly worth your attention.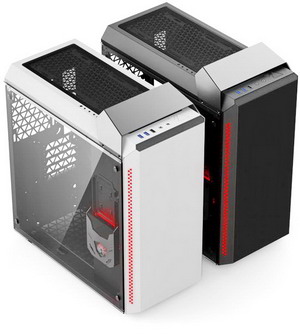 ---
The Cooler Master MasterCase H500 has some excellent features -- namely cooling -- but is it worth the frustration?
---
| | |
| --- | --- |
| Mon: 09/17/2018 | Topic: Cooling / Heatsinks PermaLink |
"Peer pressure is real and often times very useful. For some it pushes them to do things they shouldn't, just as often it can be the catalyst that pushes you to achieve goals and do things you would have never otherwise attempted. Whether it be personal or professional, peer pressure can be a tool of great power. In tech we see it most often resulting in imitation and trend following typically resulting in better products and technologies for the end user. This year we have seen the bar raised in AiO coolers; both aesthetically and in cooling performance. After massive innovations in their pump tech last year, Cooler Master is back this year with a big step up into the 360mm rad category. The MasterLiquid ML360R RGB is equipped with a big ol' 360mm radiator and a huge side serving of RGB lights to boot. But how well does the ML360R RGB do at following this trend? Follow along as we put this cooler through its paces."
---
| | |
| --- | --- |
| Sat: 09/15/2018 | Topic: Cooling / Heatsinks PermaLink |
You may have seen the previous Antec Mercury 240 with its blue, green or red lighting; this time around we get a full complement of colours, 256 to be exact, which illuminate the pump and both 120mm fans. The RGB can be controlled manually using an in-line remote or via the motherboard header to sync up multiple products within your case.
---
| | |
| --- | --- |
| Thu: 09/13/2018 | Topic: Cooling / Heatsinks PermaLink |
The be quiet! Dark Base Pro 900 Rev.2 is the newest member of the be quiet! mid-tower chassis family. This mid-tower case sports a tempered glass side panel, a fully modular design, and an abundance of water cooling support. The REV.2 part of the name represents some minor upgrades be quiet! has made to the chassis. The Dark Base Pro 900 Rev.2 comes in three trim colors: Orange, Silver, and Black. Benchmark Reviews will be inspecting the black trimmed variant of this case, model BGW15.
---
| | |
| --- | --- |
| Thu: 09/13/2018 | Topic: Cooling / Heatsinks PermaLink |
XSPC decided that they could do more than just compete for that extra decimal point of thermal performance improvement and have introduced an ultra-thin radiator with their new TX series. Measuring in at just 20.5 mm thick, it provides a compact heat dissipation solution for watercooled SFF builds.
---
be quiet! tells us the Silent Base 601 is a reworking of the original Silent Base 600 that we reviewed back in October 2015. This may well be true, up to a point, however we feel the Silent Base 601 has been changed from end-to-end and is effectively a new case. Primarily the case has lost the optical drive bays and gained a power supply cover but we feel it is best to approach the 601 as a new model rather than a 600 Rev. 2.
---
| | |
| --- | --- |
| Tue: 09/11/2018 | Topic: Cooling / Heatsinks PermaLink |
Today we are reviewing the new Deepcool Gamerstorm Castle 240 RGB AIO. This is the latest AIO cooler from the Beijing company known for their specialization in water-cooled and illuminated cases for the PC enthusiast. There's also a 280 mm version available, but we received the 240 mm one. RGB has become one of the most important factors currently accentuated by manufacturers.
---
| | |
| --- | --- |
| Mon: 08/27/2018 | Topic: Cooling / Heatsinks PermaLink |
EDITOR's Note - these fans are for industrical applications and not for CPU cooling. CPU heatsink fans run on 12V DC."Noctua today expanded its line-up of premium-grade quiet 5V fans with new 200, 140, 120, 92, 80 and 40mm models. The new 5V versions of the existing award-winning NF-A20, NF-A14, NF-A12x25, NF-F12, NF-A9, NF-A8 and NF-A4x10 designs will be available both in 3-pin and 4-pin variants, the latter supporting PWM-based speed control. All fans include a USB power adaptor cable that allows them to run on USB host devices, power banks or USB power supplies.

"We've seen a growing demand for 5V fans from our industrial clients, the 3D printing community and DIY customers who seek to replace noisy 5V fans in devices such as DVRs or network and storage solutions," explains Roland Mossig (Noctua CEO). "Several years ago, 5V was a niche market, but today there are more and more devices using 5V fans and our PWM-enabled 5V fans give engineers unique options to increase customer satisfaction by using sophisticated speed control in order to achieve quieter operation."

While the existing NF-A4x10 5V and NF-A4x10 FLX (12V) models have become a popular choice for 3D printer hot-end cooling and are now used in the latest Prusa i3 MK3 3D printer, the new 5V PWM and PWM (12V) versions are ideal for 3D printers that offer PWM-based speed control as well as all other 40mm applications with PWM support. By contrast, the new 5V and 5V PWM versions of the award-winning NF-A8 (80mm), NF-A9 (92mm), NF-A12x25 (120mm), NF-F12 (120mm), NF-A14 (140mm) and NF-A20 (200mm) are larger than any of Noctua's previous 40 and 60mm size 5V offerings and thus aim to open up new markets that range from bigger devices and home appliances all the way to cabinet cooling, green walls and room ventilation.

"With the abundance of power banks and compact USB power supplies for smartphones, using one of these to power a 5V fan has become one of the easiest ways to tackle your everyday cooling needs," says Roland Mossig (Noctua CEO). "Some extra ventilation for your A/V cabinet to protect that expensive home cinema receiver? Some extra airflow on your desk or in your bedroom? These are the everyday applications where our new, larger 5V fans step in!"

All of the new 5V models include a USB power adaptor cable that allows the fan to run on devices with USB host ports, power banks or USB power supplies such as those used by smartphones. When replacing existing 5V fans, the supplied OmniJoin™ adaptor set makes it possible to connect the new models to proprietary fan headers and, thanks to the integrated polarity protection, there's no risk of damaging them due to reverse polarity.

Like all Noctua fans, the new 5V and 5V PWM models feature an MTTF rating of more than 150,000 hours and come with a full 6-year manufacturer's warranty."
---
| | |
| --- | --- |
| Tue: 08/21/2018 | Topic: Cooling / Heatsinks PermaLink |
Cooler Master seeks to light up your life with their MasterLiquid ML360R RGB. This latest 360 mm all-in-one liquid cooler sets itself apart by offering addressable RGB LEDs on the pump and fans, with software and hub controller giving users complete control over their ARGB experience.
---
| | |
| --- | --- |
| Mon: 08/20/2018 | Topic: Cooling / Heatsinks PermaLink |
Digitimes gives us some insight into the state of the thermal solutions market with this interview of manufacturer Auras:

"Cooling module maker Auras Technology expects its third-quarter-2018 revenues to grow 15-20% sequentially with gross margin to also increase to 14-16%, up from second-quarter's 10%, thanks to robust demand for server and graphics card cooling solutions, according to company chairman Steven Lin.

Lin is also optimistic about the upcoming demand for smartphone cooling solutions as smartphones with 5G network support could consume up to 10-15W of power and generate a lot heat.

For this type of cooling need, the traditional graphite sheet solutions are able to dissipate heat via graphite's high thermal conductivity, but they are not able to decelerate the heat generation.

Heat pipes and vapor chambers are the most commonly use cooling solutions and vapor chambers' better heat dissipation ability has made the solution a popular design choice among smartphone vendors for their 5G devices, said Lin, adding that China-based Huawei is the most aggressive vendor adopting vapor chambers for its 5G smartphones.

However, vapor chambers are 300-500% more expensive than heat pipe solutions and therefore most vendors will only adopt the solution for their high-end 5G smartphones. With the 5G network estimated to begin operation in 2020, Lin expects vapor chamber demand to begin increasing in the second half of 2019.

As for competitions, Auras has advantages in technology, allowing it to be able to produce vapor chambers with a thickness of only 0.4mm.

Lin also noted that many server vendors have begun adopting Intel's Purley platform for their new systems in the third quarter and expects the platform to achieve a penetration rate of over 50% during the period.

Auras is expected to see rising demand for heat pipe solutions from the server industry in the third quarter as vendors are able to efficiently dissipate heat using vapor chambers for systems adopting Intel's previous-generation Grantley platform, but for the Purley platform, vendors are required to use heat pipes due to the platform's larger size.

As for Intel's next-generation Whitley server platform, which is estimated to be released in 2020, Lin expects demand to grow more significantly.

Nvidia is expected to unveil its new GPUs at the end of August and a new wave of demand for next-generation graphics cards is expected to benefit Auras' performance as demand from the gaming market is still growing strongly, Lin said."
---
| | |
| --- | --- |
| Mon: 08/20/2018 | Topic: Cooling / Heatsinks PermaLink |
The Corsair H100i Pro RGB is a self-contained water-cooling solution for those with a smaller case or less power-hungry CPU, with the intention of reduced temperatures and less noise.
---
| | |
| --- | --- |
| Thu: 08/16/2018 | Topic: Cooling / Heatsinks PermaLink |
It seems a little late in the game to be reviewing Arctic Cooling's Accelero Xtreme IV GPU cooler, so what gives? Well, I recently upgraded my ASUS ROG Strix GeForce GTX 1070 graphics card to an NVIDIA GeForce GTX 1080 Ti Founders Edition model, and while that is a solid GPU upgrade for sure, it is a downgrade acoustically and thermally. Some people prefer the blower style cooler that ships on Founders Editions cards. I am not one of them. My main system sits in an open air Thermaltake Core P5 chassis, so there really is not a benefit to expelling hot hair out of the rear of the case, as Founders Edition cards do...
---
| | |
| --- | --- |
| Thu: 08/16/2018 | Topic: Cooling / Heatsinks PermaLink |
In this review, we look at the Raijintek Orcus 240 AIO cooler. This new cooler from Raijintek is, on the surface, your fairly typical 240mm AIO liquid cooler. However, it brings a couple of fairly neat tricks to the party, that I will discuss in greater depth later.
---
| | |
| --- | --- |
| Thu: 08/16/2018 | Topic: Cooling / Heatsinks PermaLink |
"As is the way of things, Corsair has just about gotten their whole line of AiO coolers updated. If you've not already read our previous reviews of the H150i Pro and H115i Pro, check those out. In summary they are high performance coolers with great new looks and RGB effects. Today we are going to round out the group and finally add the recently released H100i Pro RGB to our stable. How will this 240mm cooler stack up against the rest of the family, how will it perform compared to the competition? Follow along as we put the H100i Pro RGB through its paces."
---
| | |
| --- | --- |
| Tue: 08/14/2018 | Topic: CPU / Processors PermaLink |
Today, AMD introduced the first 32-core desktop processor for the consumer market with the Ryzen Threadripper 2990WX 32-core, 64-thread behemoth. This processor is the successor to the AMD Ryzen Threadripper 1950X 16-core, 32-thread processor that was released just last year. In just one year we are witnessing the core count double on consumer processors and better yet, this is a drop-in replacement for the 1950X...
---
| | |
| --- | --- |
| Mon: 08/13/2018 | Topic: Cooling / Heatsinks PermaLink |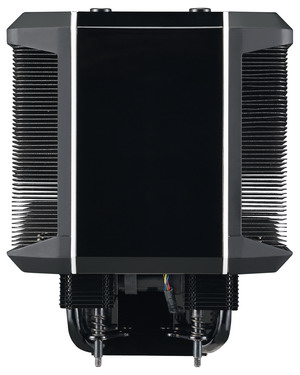 Cooler Master, a global leader in computer hardware and peripherals manufacturing, announces the Wraith Ripper, the official air cooler for the 2nd Gen AMD Ryzen Threadripper desktop processor, as part of an exclusive partnership with AMD. The Wraith Ripper is designed, specifically, to keep the 2nd Gen AMD Ryzen Threadripper cool under the most strenuous conditions and manage up to 250W TDP.
With content creators, developers and PC enthusiasts in mind, the Wraith Ripper is designed with dual tower heatsinks, a seven heatpipe array for advanced thermal conductivity and a large contact surface area optimized for the Ryzen Threadripper. Concealed under a specialized Wraith Armor, designed to help guide airflow, is a 120mm MasterAir Pro Servo fan. Mounted between the dual tower heatsinks, the MasterAir Pro Servo enables a push-pull configuration by pulling cool air though one heatsink and expelling through the other to maintain thermal integrity and maximum performance of the CPU.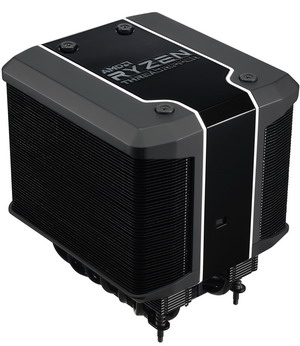 The Wraith Ripper's mounting system is the most straightforward installation on the TR4 bracket. Four long screws run from the top of the cooler to the bottom, enabling users to easily install the Wraith Ripper by tightening the screws at the top instead of struggling to mount the cooler at the base. In addition to its easy mounting system, the Wraith Ripper provides ends users with 44mm of RAM clearance, eliminating compatibility issues with most mainstream memory modules.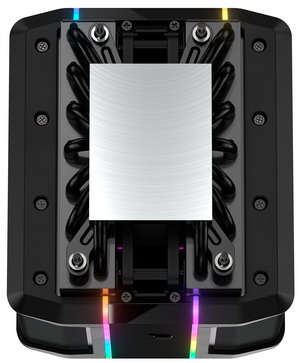 The Wraith Ripper's sleek, black design is complimented by the simple dual Addressable RGB LED strips that highlight the cooler and frame the backlit ARGB AMD Ryzen Threadripper logo on the top. Users can customize the speed, color and lighting mode of each LED through the built-in lighting control.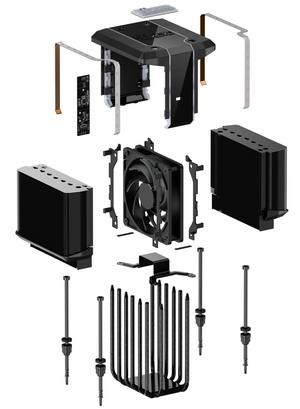 To achieve full lighting control, users will need to download the Wraith Ripper lighting software, available on the Cooler Master website.
The Wraith Ripper will be available for purchase in September, on Amazon and Newegg, for a starting MSRP of $119.99USD.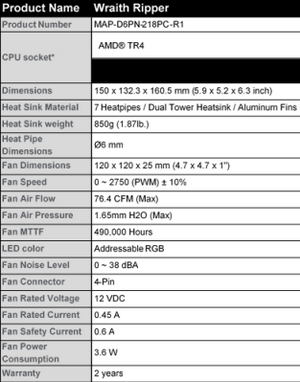 ---
| | |
| --- | --- |
| Mon: 08/13/2018 | Topic: CPU / Processors PermaLink |
"The embargo has expired now for talking about Threadripper 2 performance figures... First up are our initial Threadripper 2950X Linux benchmarks. In this article are the most interesting metrics for this 16-core / 32-thread processor while in the just-published AMD Threadripper 2990WX Linux Benchmarks are a lot more figures complemented by the 2950X and other CPUs plus power consumption numbers, etc. This article is most useful if specifically focused on the performance of the Threadripper 2950X that comes in at $899 USD."
---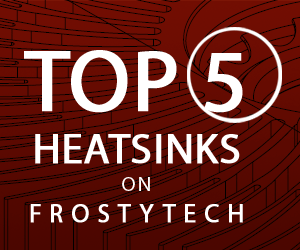 | | |
| --- | --- |
| Mon: 08/13/2018 | Topic: CPU / Processors PermaLink |
It's that time of the year where we will unleash some CPU fury, yes AMD today launches its new Threadripper Gen2 processors. We have two reviews ready for a read, one covering the 16 core / 32 threads Threadripper 2950X, and then there's, of course, that beast to rule them all, the 32 cores and 64 threads AMD Ryzen Threadripper 2990WX.
---
| | |
| --- | --- |
| Wed: 08/08/2018 | Topic: Cooling / Heatsinks PermaLink |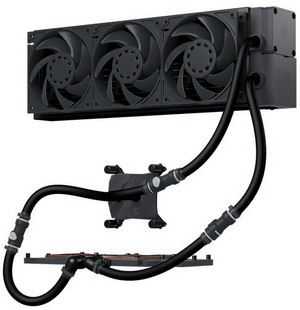 Following the massive success of the EK-XLC Predator line of AIO liquid coolers EK Waterblocks recently released the EK-MLC Phoenix line and on our test bench today we have the top of the line tri-fan 360 model.
---