| | |
| --- | --- |
| Thu: 07/17/2014 | Topic: Cooling / Heatsinks PermaLink |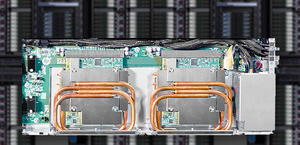 "Hewlett-Packard has introduced a new supercomputer server system cooled by warm water. HP describes its Apollo 8000 as "the world's first water-cooled supercomputer with dry-disconnect servers, delivering liquid cooling without the risk."
The technology is based on work HP did with the National Renewable Energy Lab (NREL) on the Peregrine supercomputer.
Water cooling is 1,000 times more efficient than air. According to HP, compared to air-cooled systems the Apollo 8000 can provide up to 4 times more teraflops per sq ft, 40 percent more FLOPS/watt and save more than 3,800 tons of CO2 annually."
---
| | |
| --- | --- |
| Thu: 07/17/2014 | Topic: Cooling / Heatsinks PermaLink |
"The fans I compared to the Pure & Silent Wings 2 are be quiet!'s direct competitors. The Noctua and Phanteks fans in the comparison are all meant to be very quiet at max RPM's and they are for the most part. The be quiet! fans do not out perform them in sheer power, but they do beat them where it counts: Noise to air ratio. The Silent Wings 2 have the highest airflow to noise ratio of any fan I have personally seen or used. They are more than enough to keep a CPU cool under decent overclocked settings while adding nothing to the accumulated noise. The competitors are noticeable when there are no other noise producing components in a system. In the event that you don't want noise unless you are gaming or otherwise noise occupied, there are PWM versions of the Silent and the Shadow fans allowing silence to occupy office work for those of more sensitive hearing and keeping everything cool when stressing the computer with gaming."
---
| | |
| --- | --- |
| Wed: 07/16/2014 | Topic: Cooling / Heatsinks PermaLink |
"Aftermarket CPU Air Coolers flood the market with many options and styles today. With the vast number of options, we know that competition is fierce. Today, we are going to be looking at the Enermax ETS-N30 CPU cooler that was designed for the mid-range users who aren't looking to spend a great deal of money. The Enermax ETS-N30 CPU Air Cooler sports a 92mm blue LED fan with a copper based heatsink that not only looks good, but also fits the bill for those in a budget crunch. Let's take a look at the Enermax ETS-N30 CPU Cooler and what is has to offer."
---
| | |
| --- | --- |
| Wed: 07/16/2014 | Topic: Cooling / Heatsinks PermaLink |
"Today we are looking at two liquid cooling units from Enermax that recently joined in on this market. We have the Enermax Liqtech 240 and Liqmax 120S AIO cooling units on the test bench. While choosing AIO units should be based on cooling performance, sometimes we find that aesthetics and software can be a deciding factor as well."
---
| | |
| --- | --- |
| Wed: 07/16/2014 | Topic: CPU / Processors PermaLink |
"Last month Intel launched their Z97 chipset, essentially an evolution of Z87, which in many cases brought new features such as SATA Express and M.2 compatibility to the mainstream desktop market. There was of course no new CPU at that time with the existing socket 1150 processors working without issue in the new boards. Since then though Intel launched (along with some lower spec models) the Core i7-4790K, a model which sits at the top of their mainstream platform. Today we see how it compares to various other models when installed on Gigabytes Z97X Gaming 5 and paired with PowerColors new dual core 290X Devil 13."
---
| | |
| --- | --- |
| Wed: 07/16/2014 | Topic: CPU / Processors PermaLink |
The Noctua NH-D15 is firmly footed in the excellent performance of the NH-D14 model. The NH-D15 is not a "new" air cooling technology but rather an evolution of the old. The new claim to fame with this heatsink unit is that it has an expanded heatpipe layout, plus some other bells and whistles that Noctua hopes make it king of the hill.
---
| | |
| --- | --- |
| Wed: 07/16/2014 | Topic: Cooling / Heatsinks PermaLink |
With the Apogee XL CPU Block, Swiftech is looking to cover all of the angles consumers are looking for in a new liquid cooling component. While Swiftech has historically used rather subdued styling, the Apogee XL features a unique design implementing an LED logo and design with four included color changes and is available with black or clear polycarbonate body."
---
| | |
| --- | --- |
| Sun: 07/13/2014 | Topic: Cooling / Heatsinks PermaLink |
"XSPC has been known to bring attractive product to the market usually at an equally attractive price tag. These two factors have made them very popular over the last few years. Radiators, reservoirs, tubing and fittings all were released with a good amount of fanfare. None of those came close to the buzz created by the Photon D5 combo. XSPC decided to follow up the incredibly popular Photon D5 with a sought-after DDC version. The smaller size, good head pressure and sturdy stain resistant glass has us excited to see what it can do and how well it can fit into a beloved small form factor case."
---
| | |
| --- | --- |
| Sat: 07/12/2014 | Topic: Tradeshows / Events PermaLink |
Upgrading your PC is a great way to boost your performance, but what if you could take your PC and make it look truly epic! Well thanks to the awesome team at Cooler Master you can give your system a gargantuan makeover with the modular Cooler Master HAF Stacker chassis, one of the biggest cases on the market today. One lucky winner will not only bag themselves the HAF, but also an extra section for the HAF, a powerful Vanguard 850W Fully Modular PSU and Nepton 280L high-performance CPU water cooler.
---
| | |
| --- | --- |
| Wed: 07/09/2014 | Topic: Cooling / Heatsinks PermaLink |
At Computex 2014, NZXT announced the next-generation of Kraken liquid coolers - the NZXT Kraken X31.
NZXT's 140mm platform saw compatibility as a sticking point for many smaller form factor cases, the Kraken X31 addresses this by downsizing to a 120mm closed loop liquid cooler.
The X31 includes the same integrated variable speed pump that keeps noise to a minimum during use. The Kraken X31 is also fully covered by our industry-leading six year warranty. In addition to the cutting edge hardware and a robust warranty, our legacy Kraken Control software has been replaced by the Kraken+ module within our new software suite, CAM.
The NZXT Kraken X31 is available immediately for pre-order exclusively at the NZXT Armory Store for $79.99 with an anticipated ship out date of mid-July.
---
| | |
| --- | --- |
| Tue: 07/08/2014 | Topic: Cooling / Heatsinks PermaLink |
"Today's high demanding games can cause serious heat issues with improperly cooled graphic cards, so what do we do when they start to overheat? Look into water cooling? Not if your graphics card uses a non-referenced PCB. The question is, what other options do we have in order to better cool the GPU and memory? Arctic has a solution with the Accelero Xtreme IV 280(X), which is an upgraded air cooling solution that cools the GPU and memory utilizing 5 heatpipes and a custom rear heatsink."
---
| | |
| --- | --- |
| Sat: 07/05/2014 | Topic: Cooling / Heatsinks PermaLink |
It's been some time since our last sample of this nature, but now V3 Components is trying its hands at thermoelectric air cooling. Let's take a close look."
---
| | |
| --- | --- |
| Thu: 07/03/2014 | Topic: Cooling / Heatsinks PermaLink |
DEEPCOOL, one of the leading manufacturers of computer cooling device has launched its high performance liquid CPU cooler under its sub-brand - GAMER STORM. DEEPCOOL is a company that built with vision of providing best thermal solutions for worldwide customers by constantly seeking for innovative breakthroughs. DEEPCOOL has brought its masterpiece to explore the liquid cooling era, which included The Maelstrom 120k, Maelstrom 120 & Maelstrom 240.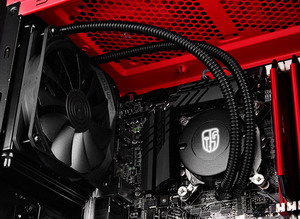 All the Maelstrom series are equipped with 0.2mm high-density water micro channel and cooper block to offer a highly efficient thermal conduct along with 120mm X 27mm Aluminum fin to maximize their cooling performance. Fan replacement is available with the standard built-in mounting holes. Innovative adoption of unique pump with closed impeller which offers bigger power and de-vibration. Long lifetime zirconia ceramic bearing is made to ensure 120,000 safe running hours. Meanwhile, all the maelstrom series are compatible with all sockets of Intel and AMD processor. Strong FEP tubing owned anti-bending, flat crush resistance are attached for easier and more stable installation. Bionic LED breathing light design of Maelstrom offers amazing visual presentation while operating.
Maelstrom - 120k
*Equipped with all the basic configuration of Maelstrom series, and the unique 20mm thickness PWM fan to save more space and fit in HTPC case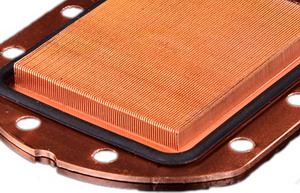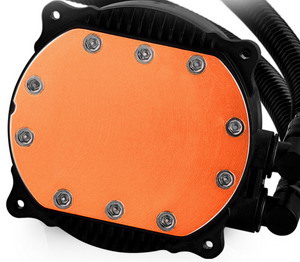 Maelstrom - 120
*Add-on with 120mm rubber-covered PMW fan with de-vibration design, unique FDB bearing owned a lower noise and longer lifetime.
*Patented detachable fan impeller easy to clear dust and lubricating oil recruited, DIY top priority mounting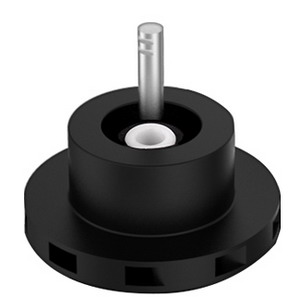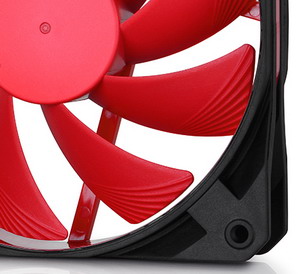 Maelstrom 240
*Add-on with 240mm radiator luxurious Aluminum fins to support maximum transfer efficiency for overclocking.
*Standard built-in mounting holes for new replacement of 120mm fan.
*Equipped with two rubber coated fans with PWM function, FDB bearing built up longer lifetime and lower noise.
*Patented detachable fan impeller easy to clean dust and lubricating oil recruited, DIY top-priority mounting.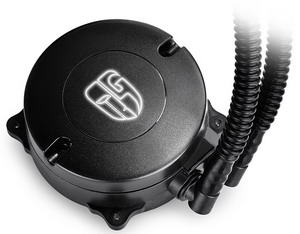 MSRP:
Maelstrom120k: $69 USD
Maelstrom120: $75 USD
Maelstrom240: $105 USD
Available in July, 2014 on EU/in August on NEWEGG, 2014

For more information, please log on to check the DEEPCOOL's official website:
www.deepcool.com
---
| | |
| --- | --- |
| Tue: 07/01/2014 | Topic: Cooling / Heatsinks PermaLink |
Description: It was roughly 2 weeks ago when we announced our plans to focus more in bringing all of you reviews of the latest low-profile CPU Coolers to hit the market and what better way to start than with the brand new and best-selling model by Thermolab that listens to the name ITX30 (available inside the EU under the Cooltek brand name)? Although quite tiny the ITX30 did pack a good punch and managed to come really close to the L9i low-profile CPU Cooler by Noctua in terms of cooling efficiency something which took us by surprise really. Well it seems that Thermolab actually launched yet another low-profile CPU Cooler at the same time as with the ITX30 called the LP53 and yes we've spend quite a bit of time testing it during this past week.
---
| | |
| --- | --- |
| Sun: 06/15/2014 | Topic: Cooling / Heatsinks PermaLink |
Austrian Noctua fans were a long waiting of update to flagship NH-D14 cooler. Finally the successor has arrived. Does the new Noctua NH-D15 fully answer to expectations?
---
| | |
| --- | --- |
| Sun: 06/15/2014 | Topic: Cooling / Heatsinks PermaLink |
Along with the Liqmax 120S and the Liqtech 120X, Enermax also offers a dual 120mm radiator solution this time following the Liqtech design influence."
---
| | |
| --- | --- |
| Wed: 06/11/2014 | Topic: Cooling / Heatsinks PermaLink |
ith every contest there are winners and there are losers. However, when it comes to CPU cooler ANY of the coolers listed above will do a good job of keep the CPU cool and going for years to come.
---
| | |
| --- | --- |
| Mon: 06/09/2014 | Topic: Cooling / Heatsinks PermaLink |
"BeQuiet's Shadow Rock Slim heatsink stands 159mm tall and has a footprint of 130x74mm so it will fit most motherboards where space between the memory slots and videocard is on the tight side. The Shadow Rock Slim heatsink weighs 730 grams and is constructed around four 6mm diameter copper heatpipes onto which are swaged raw aluminum cooling fins."
---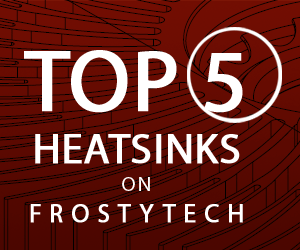 | | |
| --- | --- |
| Mon: 06/09/2014 | Topic: Cooling / Heatsinks PermaLink |
"In this review Frostytech is checking out the boxy BeQuiet's Shadow Rock 2 heatsink which stands 159mm tall and weighs in at 1120grams. This heatsink has a footprint of 122x122mm without a fan, 122x149mm with the supplied 1600-800rpm, 120mm PWM fan installed."
---
| | |
| --- | --- |
| Mon: 06/09/2014 | Topic: Cooling / Heatsinks PermaLink |
Enermax is most well know to computer hardware enthusiasts for a long standing tradition of building some of the world's best computer power supplies. Enermax comes to us today with its first All-In-One CPU water cooler, AKA, an AIO cooler. This cooler looks very promising as it hits all the right check boxes with a quality build.
---