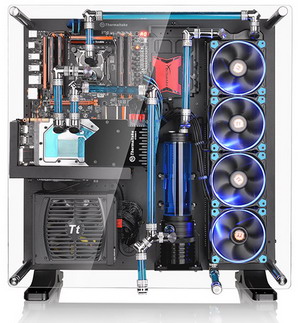 This is new. "The Core P5 wall-mount chassis is designed for use in three different ways: Wall-mount, vertical, and horizontal placement. Built for customization that reflects the makers' personality, it allows for adjustments to the look of the chassis while ensuring outstanding cooling performance. Users can hang it on the wall as decoration, take it to wherever they want and display their builds vertically or horizontally."

Core P5 wall-mount chassis enables users to build a complete high-end system, whilst supporting up to either 480mm radiator liquid cooling, or 140mm case fans, with a long graphic card at the same time, and simultaneously providing the best visual effects as well as increasing the CPU's case modding potential. Most importantly, it has the capability to deliver an outstanding cooling efficiency throughout the entire case."
---
| | |
| --- | --- |
| Sat: 01/23/2016 | Topic: Cooling / Heatsinks PermaLink |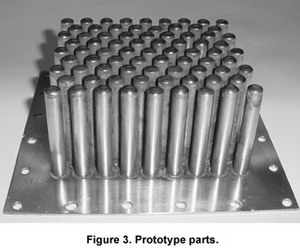 "A new vapor chamber heat sink with maximum fin efficiency is presented. The fins are hollow, so the vapor generated at the base flows up to the top of the fins. As a result, the heat sink is practically isothermal. A prototype of the hollow fin vapor chamber heat sink was built and tested. The prototype presented 20% less overall thermal resistance than conventional pin fin heat sinks with the same mass and volume. A theoretical model for the heat sink thermal resistance was developed and the agreement between the model and the experimental data is fair."
---
| | |
| --- | --- |
| Fri: 01/22/2016 | Topic: Cooling / Heatsinks PermaLink |
Founded in 2013, CRYORIG is a relatively new name in the world of high performance computer cooling, but the team has a lot of experience in the field, with many of them having worked previously at companies such as Thermalright, Phanteks, Prolimatech and more. Today we are going to look at the biggest, baddest, traditional heatsink that CRYORIG offers, the R1 Ultimate. The R1 Ultimate is designed to be used on various CPU sockets, though given it's $89.00 price and overall scope, we expect it to be used with high end CPU's from Intel on the X99, Z97 and Z170 platforms.
---
| | |
| --- | --- |
| Thu: 01/21/2016 | Topic: Cooling / Heatsinks PermaLink |
It may not look as great but the TD02-E AIO Liquid CPU Cooler by SilverStone retains the same excellent build quality as its predecessor the excellent TD02 and although much thinner it still manages to stay very close in performance.
---
| | |
| --- | --- |
| Wed: 01/20/2016 | Topic: Cooling / Heatsinks PermaLink |
If you happen to be into water cooling and you're looking for the ideal tower then you really should consider grabbing the latest WaCoolT Black Owl by Phobya.
---
| | |
| --- | --- |
| Tue: 01/19/2016 | Topic: Cooling / Heatsinks PermaLink |
Arctic - formerly Arctic Cooling - has 15 years of experience in PC cooling. This time we test the brand-new Arctic Freezer i32 from the Swiss company, which looks rather common at first glance. With its angular design and 120mm fan it really does not stand out of the huge mass of CPU coolers. But while testing we could find some traits which really make this cooler to something special. This i32 variant is only suitable for Intel systems, but AMD users can buy the almost identical Arctic Freezer A32.
---
| | |
| --- | --- |
| Tue: 01/19/2016 | Topic: Cooling / Heatsinks PermaLink |
Versarien is an 'advanced engineering material group' which focuses on thermal management. The 40th Annual Electronic Products' 'Product of the Year' Awards have just been announced and Versarien's LPH00xx low-profile heatsink offering has been cited among the winners.
These awards acknowledge products capable of transforming electronics design. The magazine's editorial team assessed thousands of entries, covering all aspects of the global electronics business. 12 different companies received awards and Versarien was unique in being the only British company to be a recipient.
Versarien's LPH00xx series of low-profile heatsinks are targeted at passive cooling within space constrained environments. These products are based on the proprietary VersarienCu™ microporous copper foam material. The structure of this material, which consists of a homogenous distribution of tiny interconnected pores, presents a very large surface area through which superior heat dissipation capabilities can be derived. The heatsinks provide a compact and cost-effective way to efficiently cool modern high density electronic systems where ICs are packed closely together.
"This award shows that Versarien has the ability to take game-changing material technology and apply it to commercially viable products offering major operational benefits to the electronics engineering community," states Neill Ricketts, CEO and Founder of Versarien. "The combination of limited space and higher component counts have serious implications for thermal management. The LPH00xx series is helping to bring things back in engineers' favour."
---
| | |
| --- | --- |
| Mon: 01/18/2016 | Topic: Cooling / Heatsinks PermaLink |
"Be quiet's Dark Rock line of CPU coolers are their high-performance line meant to handle the most extreme processors and thermal loads out there. While most of the coolers in the line are tower coolers there is one that is different, it is the Dark Rock TF. The Dark Rock TF or Dark Rock Top-Flow is a C-type cooler that features two powerful nickel-plated aluminum heat sinks and two 135 mm SilentWings cooling fans. Be quiet calls this cooler a compact cooler, but it is one of the larger C-type coolers that we've seen. It is supposed to offer one of the best performance-to-noise ratios in its class. Let's get it installed and see what it can do!"
---
| | |
| --- | --- |
| Mon: 01/18/2016 | Topic: Cooling / Heatsinks PermaLink |
This time we review the Frio Silent 14 tower cooler from Thermaltake. This cooler uses a 14cm fan to achieve high air flow at low noise level. We will show you how this affects the cooling and whether this design is practicable in our detailed test.
---
| | |
| --- | --- |
| Mon: 01/18/2016 | Topic: Cooling / Heatsinks PermaLink |
Notcua, the PC cooling markets masters of sublime build quality and ultra-quiet performance, are back on eTeknix once again today. I'll be taking a look at their new NH-D9L cooler, and while it may seem a little small and not particularly special, it's certainly got a few promising features that I'm looking forward to testing. Despite the compact design, measuring just 111mm tall! The D9L features a dual tower design, yet still provides perfect clearance for RAM modules, as well as keeping clear of any PCIe expansion cards. It's small enough to fit in a mini-ITX system build, but for the more professional hardware enthusiast, it'll be perfect for 3U systems too. Noctua build quality is world-famous, and to support their confidence, the D9L comes with a whopping six-year warranty! That's confidence in their products right there.
---
| | |
| --- | --- |
| Fri: 01/15/2016 | Topic: Cooling / Heatsinks PermaLink |
EVGA have showcased a new prototype gaming case that targets the high-end of the market with an emphasis on liquid cooling and multi-GPU configurations, while aiming for mainstream price points.
---
| | |
| --- | --- |
| Thu: 01/14/2016 | Topic: Cooling / Heatsinks PermaLink |
If you've been reading our news then you probably know that a few hours ago EK Waterblocks announced a recall of their EK-XLC Predator 240/360 Pre-filled CPU Xpandable Liquid Coolers since according to their stats 1 out 10 showed signs of leakage due to faulty O-Rings. We know it will not be easy for EKWB to recall all these units but what really matters is that they didn't try to sweep this issue under the rag so a big bravo to them for this. Leaving out such unfortunate and rare incidents however AIO liquid CPU coolers are not only very safe and have gone a long way since their initial introduction in the market roughly 7 years ago but they are also considered especially ideal for use in small cases with not so good airflow levels. ARCTIC is one of the very first companies to enter the PC cooling market back in 2001 (back then it was Arctic Cooling) and perhaps the only manufacturer that has been providing air and liquid GPU cooling solutions to a large number of graphics cards manufacturers. Today with us however we have their latest AIO Liquid CPU Cooler for overclockers called the Liquid Freezer 120.
---
| | |
| --- | --- |
| Mon: 01/11/2016 | Topic: Cooling / Heatsinks PermaLink |
"Now that you've had a little bit of time with your shiny new gear, opened every box, checked every fitting, I bet you can't wait to start installing parts! Well hold on for just a minute there cowboy. Before we can start the real fun there are few chores that must be done to prepare those brand new parts for use. Of course you could throw caution to the wind and skip this whole article but I wouldn't recommend it. As nice and shiny as those parts appear on the outside, due to the manufacturing processes involved the insides are not usually so pristine. So welcome to Water Cooling 101 Episode 4; where we help you get your parts ready for use."
---
| | |
| --- | --- |
| Mon: 01/11/2016 | Topic: Cooling / Heatsinks PermaLink |
No matter how we try to see it i think we've finally reached a point in time where commercial CPU cooling technology has finally come to a standstill. Sure we have newly designed air and liquid CPU coolers make their debut all the time but nothing is really new in terms of the technology all those products are based on. Luckily we don't need something new since current products are more than enough to keep temperatures in check so with that in mind lately manufacturers have been doing their best to reduce the size of CPU coolers in an effort to cover the needs of every consumer out there. A while back Noctua released their very good NH-C14 low-profile model which combined very good cooling efficiency while at the same time offering compatibility with many HTPC oriented cases. Well Noctua is known to stick with their popular models a little bit longer than others by performing slight "tweaks" and so today with us we have the brand new NH-C14S model.
---
| | |
| --- | --- |
| Fri: 01/08/2016 | Topic: Cooling / Heatsinks PermaLink |
"Using microfluidic passages cut directly into the backsides of production FPGAs, and combining it with fluid connection that operate through structures in the cooling passages, Georgia Institute of Technology researchers are cooling die a few hundred microns away from where the transistors are operating."
---
| | |
| --- | --- |
| Fri: 01/08/2016 | Topic: Cooling / Heatsinks PermaLink |
Last year Corsair introduced the Bulldog small form factor PC at Computex 2015. The CPU and GPU were cooled by their own in-house branded Hydro all in one closed circuit cooling units. The GPU cooling units were also separately available back then. Early this week our H5 SF CPU cooling unit arrived, exclusively aimed to be used with mITX sized motherboards inside a small form factor enclosure. Today we bring you only a preview as we encountered some minor installation woes with our test bed and the latest Hydro release.
---
| | |
| --- | --- |
| Thu: 01/07/2016 | Topic: Cooling / Heatsinks PermaLink |
" Like Ver.1, the Cooler Master GeminII S524 Ver.2 CPU Air Cooler is a great product at an affordable price, but offers better performance and is quieter. With five 6mm copper heatpipes, many aluminum fins, a great fan and ample ground clearance, it's definitely worth considering. "
---
| | |
| --- | --- |
| Wed: 01/06/2016 | Topic: Cooling / Heatsinks PermaLink |
"Scythe has really made a name for themselves in the DIY PC cooling market since being founded back in 2002. Over the years they have had some really great CPU coolers, many which we have reviewed. The Ninja series has primarily been reserved for the top of the line coolers from Scythe and the cooler we have on the review block today definitely fits that bill. It is the Ninja 4, which is the 4th major revision of the famous Ninja cooler. This very large CPU cooler features 4 heatsink stacks, 6 heatpipes, and a 120 mm cooling fan. Can it compete with some of the other larger CPU coolers out there? Read on as we find out!"
---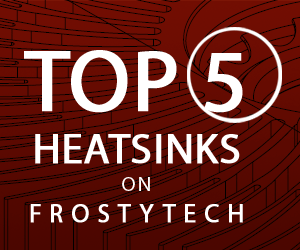 Personalization and innovation, this is the vision of Cooler Master by bringing you the MasterCase 5. This ATX mid-tower is appealing from the box in. The concept brought to us in the MasterCase is that Cooler Master wants your chassis to look and function under your complete control. In our opinion it's a big step in the right direction.
---
| | |
| --- | --- |
| Tue: 01/05/2016 | Topic: Cooling / Heatsinks PermaLink |
" Now let's talk about performance. It does not matter how nice a cooler looks if it can't tackle the heat. You need the combination of a properly sized heat sink and an efficient, capable fan. The Justice RC-1204 works well with the thermal load of normal daily use. The stock performance is just fine. The Justice RC-1204 can also handle the heat that accompanies overclocking and it keeps the temps under control. Fan noise is pretty much nonexistent - especially when the case fans spool up. If you are looking for this cooler in the U.S., it is somewhat difficult to find. In fact, I could not find it on Amazon, Newegg, TigerDirect, NCIX, or MicroCenter. List price is a very reasonable $54, but you may have to go to Europe to find one."
---