| | |
| --- | --- |
| Mon: 05/15/2017 | Topic: CPU / Processors PermaLink |
Ryzen 5 1400 SKU is the least expensive processor from the series you can get right now, which does come with half of the L3 cache, a base clock of 3.2GHz, an all-core clock of the same 3.2GHz, a 2-core boost of 3.4GHz while the single-core boost does add 50MHz over this frequency. The processor does still feature a 65W TDP, is overclocking unlocked and on retail we can see it shipped along with the Wraith Stealth CPU cooler."
---
| | |
| --- | --- |
| Fri: 05/12/2017 | Topic: CPU / Processors PermaLink |
AMD already told us the details of the new product line including clock speeds, core counts and pricing, so there is little more to talk about other than the performance and capabilities we found from our testing of the new Ryzen 5 parts. Starting with the Ryzen 5 1600X, with 6 cores, 12 threads and a $249 price point, and going down to the Ryzen 5 1400 with 4 cores, 8 threads and a $169 price point, this is easily AMD's most aggressive move to date. The Ryzen 7 1800X at $499 was meant to choke off purchases of Intel's $1000+ parts; Ryzen 5 is attempting to offer significant value and advantage for users on a budget.
---
| | |
| --- | --- |
| Thu: 05/11/2017 | Topic: Cooling / Heatsinks PermaLink |
When it comes to water cooling EVGA isn't exactly new to the scene. While they haven't been making CPU AIO's they have been using them with their Hybrid coolers for GPUs and their Hydro water cooled GPUs as well. They have also had heatsinks in the past as well. So it wasn't a big stretch when they introduced their CLC line of coolers at CES this year. They showed off a big variety of coolers but at launch, they only had a 120mm design and a 280mm design and today I have the CLC 280 with a 280mm radiator in to check out. I've been testing it out on our video card testbench and today I'm going to talk a little about the cooler as well as how it performed so check it out.
---
| | |
| --- | --- |
| Wed: 05/10/2017 | Topic: Cooling / Heatsinks PermaLink |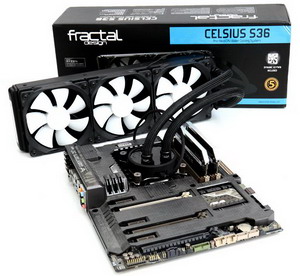 Fractal Design today launched their Celsius series liquid cooling (AIC). We review their new 360mm radiator based model. These liquid cooling kits are pre-fitted with a single loop and ready to install straight out of the box. Armed with pretty nice looks, sleeved tubing and an attractive price, FD offers a competitive model in the massive LCS kit arena.
---
| | |
| --- | --- |
| Wed: 05/10/2017 | Topic: Cooling / Heatsinks PermaLink |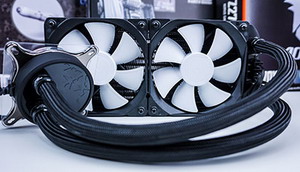 When you hear the name Fractal Design you instantly think PC Case, which you should. Fractal Design came on the scene with their PC cases, many of which we've reviewed over the years. Back in 2014 Fractal Design entered the all-in-one liquid cooling market with their Kelvin line of coolers. Well it is 2017 and Fractal Design is releasing a new line of all-in-one liquid CPU coolers. The Celsius series builds upon proven technology with cutting edge advancements and premium sound dampening materials to deliver extreme cooling performance with minimum noise output. Fractal Design in launching the Celsius Series with the S24 (240 mm) and S36 (360 mm). These coolers have some features that you just won't find on other AiO's out there. We are taking a look at the S24 today, let's jump in!"
---
| | |
| --- | --- |
| Wed: 05/10/2017 | Topic: Cooling / Heatsinks PermaLink |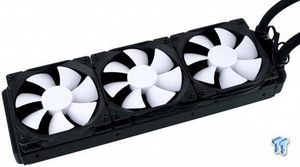 Fractal Design's AMD Ryzen-ready Celsius S36 liquid CPU cooler gets fully examined as we determine if it's one to add to your shortlist or not."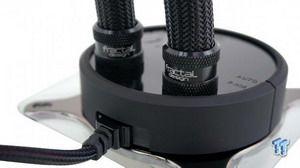 ---
| | |
| --- | --- |
| Wed: 05/10/2017 | Topic: Cooling / Heatsinks PermaLink |
Fractal Design is changing direction with its new duo of Celsius liquid coolers that consists of the 240mm Celsius S24 and 360mm Celsius S36. We have previously reviewed
Fractal Design Kelvin which is based on a copper radiator and technology from Alphacool and now it's the turn for Celsius which uses an aluminium radiator and is made by Asetek.
This liquid cooler uses the latest 5th Generation Asetek technology which is used by other companies such as NZXT and EVGA however Celsius S24 is unlike any other liquid cooler we have seen before.
---
| | |
| --- | --- |
| Wed: 05/10/2017 | Topic: Cooling / Heatsinks PermaLink |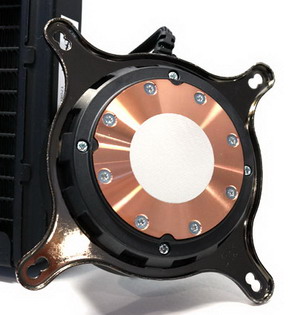 The Fractal Design Celsius S24 is a solid performer, while also allowing one to experiment with added components in the loop if so desired.
---
| | |
| --- | --- |
| Wed: 05/10/2017 | Topic: Cooling / Heatsinks PermaLink |
Out of the box Fractal Design's Celsius S24 is a well built, extremely quiet liquid CPU cooler that offers pretty good performance. While the Auto setting suffered under heavy loads, simply controlling the CPU fan profile manually (with the PWM pass-through setting) allows performance to be increased significantly, while tailoring the fan speeds to individual noise preferences.
If you are willing to play around with fan profiles a bit with your motherboard I highly recommend using the S24 cooler that way, as it was not a great performer for a 240 mm AiO cooler with the Auto setting."
---
| | |
| --- | --- |
| Wed: 05/10/2017 | Topic: Cooling / Heatsinks PermaLink |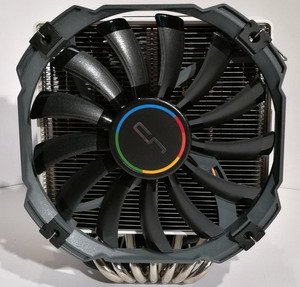 Today, a new reader review has been published. Berserkus is testing the Cryorig R1 Universal CPU cooler in our PC Forum. In the following Cryorig R1 review we will see how the air cooler beats compared to a Cooler Master Saidon 120XL AIO Cooler on a powerful AMD CPU.
---
| | |
| --- | --- |
| Wed: 05/10/2017 | Topic: Cooling / Heatsinks PermaLink |
"The XP3 Light CPU block's performance with the kit was puzzling, especially given its decent performance under stock and overclocked conditions when paired with the XSPC Photon kit. There are several differences between the two kits including tube diameter (ID / OD), pump flow rate, and fan speed while both kits share similar thicker 60mm radiators. The Alphacool NexXxos Cool Answer 360 D5/UT kit uses a weaker D5 pump, in terms of flow rate (350 L/h vs 1200 L/h), slower fans (1200RPM vs 1650RPM), and thinner tubing (3/8" ID vs 7/16" ID). The differences between the two kits seemed to collude to create coolant flow and heat dissipation issues for the Alphacool kit. The lower flowrate produced by the D5 pump causes coolant to flow more slowly through the CPU block, decreasing the block's heat dissipation potential."
---
Raijintek is one of the coolest chassis makers out there today. Not only do they offer a great range of stylish and well-made products, but they continue to do so at incredible price points, making them very appealing to many system builders who want great products, but don't want to pay a fortune for them. The new Thetis takes what we know and love from their existing product ranges, and gives it some new life with the help of a pair of tempered glass side panel windows, and one of their new O-Type LED fans. What's most impressive is you get stunning aluminium construction, and all that tempered glass for just £86.99; a lot less than you'll pay for Phanteks, Lian-Li and more!
---
| | |
| --- | --- |
| Tue: 05/09/2017 | Topic: Cooling / Heatsinks PermaLink |
When you think of be quiet! air coolers, you probably think of their massive coolers, such as the Dark Rock or Dark Rock Pro. The Pure Rock Slim is a different beast entirely, though, as it is a minuscule air cooler that boasts just 3 heatpipes and a 92mm fan. Is there a market for something like this?
---
The Raijintek Asterion is a lovely looking chassis, it is crafted from aluminum and inside there is enough physical depth to install a CPU cooler up to 180mm high. There is also the option for either a closed liquid cooling loop or even custom loop with space at both the top and front with room for a 360mm Radiator. The Asterion Plus features a hinged door system for ease of access on both sides of the case, something we delve into later in the review.
---
| | |
| --- | --- |
| Mon: 05/08/2017 | Topic: Cooling / Heatsinks PermaLink |
Gelid's Tranquillo 4 heatsink is a 152mm tall tower cooler with a few subtle refinements that enable it to eke out good thermal performance at low cost. If you're simply searching for a straightforward CPU heatsink, the Tranquillo 4 will get the job done admirably for around $45.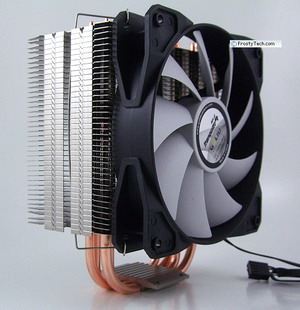 Gelid's Tranquillo 4 heatsink ships with a single 120mm PWM fan rotating at 1600-750RPM that moves upwards of 65CFM at 2.18mmH2O pressure, according to manufacturer specs. The fan is held in place with good reliable metal spring fan clips and an extra set is supplied so users can install their own second fan if desired. Finally, Gelid supply a small syringe of Gelid GC-Pro thermal paste.
---
| | |
| --- | --- |
| Thu: 05/04/2017 | Topic: Cooling / Heatsinks PermaLink |
"Unlike typical PC cases where you have a wide variety of options to choose from the test bench category is very limited. Having a test bench is great, it allows you to easily switch out hardware, monitor components and much more. We have two different test benches here at ThinkComputers and when we were building out our Z270 test system it was time to get third. Both of our previous test benches got the job done, but had certain things that we did not like. After doing some research the PrimoChill Praxis WetBench was at the top of our list. The motto for the Praxis is "A testbench with watercooling in mind" which definitely caught our attention. The biggest thing about many test benches is that really do not have radiator support, which is very disappointing as we use AiO's for our test systems. Let's jump in and see if the Praxis is the perfect test bench for us!"
---
| | |
| --- | --- |
| Tue: 05/02/2017 | Topic: Cooling / Heatsinks PermaLink |
"Deepcool is a company that was built with the vision of providing the finest PC DIY solution for worldwide customers by constantly seeking innovative breakthroughs. Building on the successful achievements in its previous Aio liquid coolers, today Deepcool launches another amazing product in the Captain EX lineup, featuring synchronized RGB lighting system - Captain EX RGB Series.

Captain EX RGB retains all the key features of the Captain EX Series, now integrating the latest RGB variable lighting system which incorporates waterblock and LED strip for a more excellent visual experience.

With the RGB waterblock and an attached RGB LED strip, the aesthetics of your whole rig can be easily enhanced in a flash. All you need to do is customize the LED lighting to match your system with the included wired controller.

Captain 120EX RGB – 99.99 USD

Captain 240EX RGB – 129.99 USD"
---
| | |
| --- | --- |
| Tue: 05/02/2017 | Topic: Cooling / Heatsinks PermaLink |
Global power and cooling specialist, FSP, is pleased to announce the new Windale series of supremely effective, ultra-quiet, heat pipe equipped fan-cooled PC heatsinks. The Windale 6 (AC601) and Windale 4 (AC401) bring a combination of extreme cooling performance with very low noise and vibration to a huge range of Intel and AMD CPUs – including the newest Core i7 and Ryzen processors. These new PC coolers are ideal for gamers, performance enthusiasts, and overclockers, as well as for general users who need quiet, reliable cooling and long CPU life.
Both the Windale 4 and Windale 6 feature CPU direct contact technology to remove heat from the CPU with maximum efficiency, protecting the valuable CPU and extending its lifespan. As their names suggest, the Windale coolers feature four and six heat pipes respectively, to spread that heat through the cooling fins. These louver fins are assembled with a patented solder-less technique which ensures unhindered heat transfer, unlike traditional soldered fins. Finally, the large, quiet 120mm cooling fan drives up to 60 cubic feet per minute (CFM) of air through the fins to dissipate the heat and keep the CPU running safely at optimum speed.
These advanced design and manufacturing features allow the Windale 4 to achieve a thermal design power (TDP) of 180W and thermal resistance of 0.11° C/W, while the larger Windale 6 reaches a TDP of 240W TDP and brings thermal resistance down to only 0.09° C/W in the most demanding scenarios. This allows the Windale series to keep CPU temperatures well below those provided by competing CPU coolers.
Designed with a focus on noise reduction and user comfort, the Windale's optimized low-noise sleeve bearing PWM fan spins at a low speed, variable from 1600 RPM down to only 1000 RPM to provide almost silent operation, but its wide 120 mm size ensures the fan blades can move more than enough air to keep the hottest CPUs running safely. The heatsink's anti-vibration rubber mounting pins help isolate it from the motherboard and chassis to prevent noise and vibration.
Despite its unobtrusive and quiet performance, a Windale cooler can still be an eye-catching feature of any PC, thanks to its sleek, stylish design. The Windale 4 exposes the natural metallic sheen of its aluminum alloy fins and copper heat pipes, while the Windale 6 sports a cool black plated exterior coating and features an alluring blue LED effect.
Supports a wide range of AMD and Intel CPUs The FSP Windale series offers outstanding compatibility with a huge range of CPU sockets, including Intel's Socket LGA 775, 1150, 1155, 1156, 1366, and 2011, and AMD's socket FM1, FM2, FM2+, AM2, AM2+, AM3, AM3+, and AM4. CPUs supported by these sockets include the latest Intel Core i3, i5 and i7 CPUs, and AMD Ryzen – as well as many other Intel and AMD CPUs.
Product Highlights
Up to 240W thermal design power (TDP)
Up to six direct heat pipes for better cooling performance
Optimized low-noise 120 mm cooling fan design
Anti-vibration rubber mounting pins minimize noise and vibration
CPU direct contact technology to release CPU heat more efficiently
Patented solder-less louver fin assembly to increase heat pipe effectiveness
Universal mounting bracket is compatible with the latest Intel and AMD sockets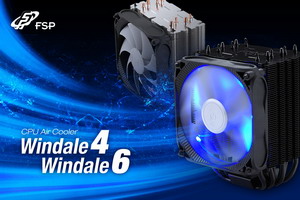 ---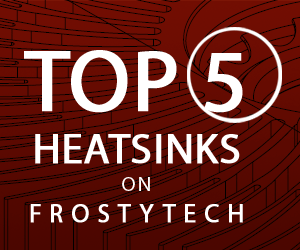 | | |
| --- | --- |
| Tue: 05/02/2017 | Topic: Cooling / Heatsinks PermaLink |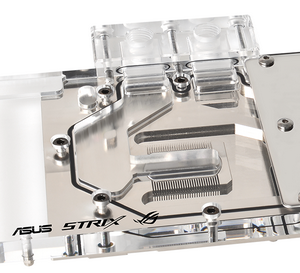 Thermaltake an industry leader in PC Cooling is excited to collaborate with ASUS, to introduce the new Pacific V-GTX 1080Ti Transparent, the latest full-cover water block for ASUS ROG STRIX GTX 1080 Ti graphic cards. Aimed toward heavy gamers and Virtual Reality (VR) gaming systems, this high-performing water block is engineered with anti-corrosive CNC machined copper base, premium-quality 4mm thick backplate, unique micro-channel structure as well as high water flow design. In addition, the water block fits most G1/4 fittings, and utilizes a universal mounting mechanism that offers tool-less installation along with compatibility for custom PC builders.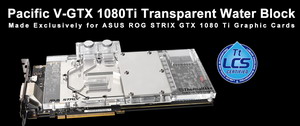 With those advanced reliability and cooling features, the water block guarantees to bring superb cooling performance for gaming, overclocking, and other GPU intense tasks. The new Thermaltake Pacific V-GTX 1080Ti Transparent Water Block will be available soon to order from TT Premium online shop. The product availability and price vary by country and region, please contact the local Thermaltake sales representative for further information.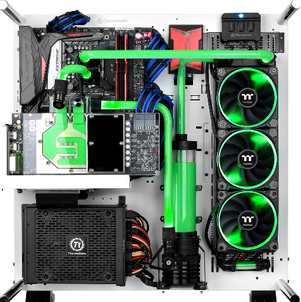 ---
| | |
| --- | --- |
| Tue: 05/02/2017 | Topic: Cooling / Heatsinks PermaLink |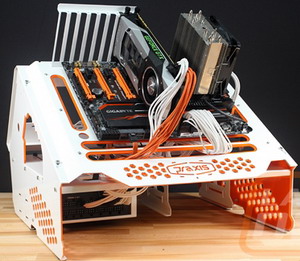 Typically when it comes to open air cases you have crazy one-off builds that are really only useful for tradeshows and then you have testbenches. The testbenches are normally plain looking and lack much more than the ability to add a fan or the bare minimum components needed for a testbench. A few years ago Primochill introduced their Wetbench line and they have revised it to the current iteration with huge changes in the design. I've been following it for a while but its allure finally got me after seeing it all over the internet on tech YouTube channels and websites so I reached out and surprisingly they were happy to send over a nice orange and white Wetbench for us to check out. If you follow us on Facebook or Twitter or my personal Instagram you have most likely seen the Wetbench in action recently. Well, it's about time to sat down and spoke a little about the overall experience.
---