"Corsair continues its flow of liquid cooler releases..."
---
| | |
| --- | --- |
| Wed: 05/27/2015 | Topic: Cooling / Heatsinks PermaLink |
While the NH-L9x65 is much more compact than the typical CPU cooler, it isn't as small as many others. The key benefit of coolers like the ITX30 and NH-L9i comes from their height... I would not be able to fit the NH-L9x65 in to the Mini-ITX cases that I use (Minibox M350), but the other two (as well as the Titan cooler) do fit. If I had a system with just enough room for a 65mm cooler and demanded the best cooling, the NH-L9x65 would be the choice among those tested.
---
| | |
| --- | --- |
| Wed: 05/27/2015 | Topic: Cooling / Heatsinks PermaLink |
"We have had a few Noctua coolers on the bench over the last year or so, but this low profile cooler has just been released and looks like it is making a name for itself. We have had this for a while now and have used it to test a mid range or maybe even a Server build, but certainly a set up that requires a low profile cooler."
---
| | |
| --- | --- |
| Tue: 05/26/2015 | Topic: Cooling / Heatsinks PermaLink |
Today Chad tells us about ID-Cooling's SE 214X CPU air cooler. It may be old school in design, but Chad is impressed about what you get for the price."
---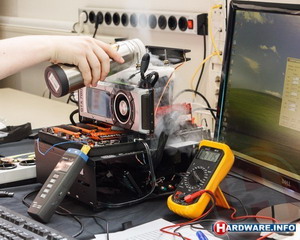 ASUS, ASRock, Gigabyte and MSI all claim that they have the ultimate motherboard for extreme overclockers. Hardware.Info wanted to see what board is actually the best, so last year we locked Hardware.Info Pro OC members Joost 'Rsnubje' Verhelst and Bauke 'Nedernakker' Caspers in our test lab for 48 hours with a Intel Core i7 4790K "Devil's Canyon" processor, gallons of liquid nitrogen and the motherboards that lay claim to being the best at overclocking from all four manufacturers. Their mission was to find our which of these motherboards is actually the best at overclocking and, more importantly, which motherboard is the easiest to overclock with?
---
| | |
| --- | --- |
| Tue: 05/26/2015 | Topic: Cooling / Heatsinks PermaLink |
"We have another cooler for review and today it is a bit special (at least for me!). On the bench today is the Scythe Mugen MAX CPU Cooler, and why is that important? Well, they are a name that has been around for a very long time, and before everyone got their act together, Scythe were ahead of the game."
---
| | |
| --- | --- |
| Tue: 05/26/2015 | Topic: Cooling / Heatsinks PermaLink |
With the Kraken X61, NZXT has an all-in-one watercooler in its portfolio, which comes with the a rather slim radiator and two 140 millimeter fans. At a first glance the design is looking good while you get a black radiator and fans with white rotor. Overall we're now curious to find out what this cooler can do in terms of cooling and noise levels.
---
| | |
| --- | --- |
| Tue: 05/26/2015 | Topic: Cooling / Heatsinks PermaLink |
The Dark Rock TF heatsink is built around six 6mm diameter heatpipes which link a large primary aluminum fin stack and smaller secondary set of aluminum cooling fins to a chunky copper heatspreader below. The 135mm PWM fans are arranged in a push-pull configuration, exhausting downwards so related motherboard CPU VRM components benefit from the cooling air flow.
---
| | |
| --- | --- |
| Mon: 05/25/2015 | Topic: Cooling / Heatsinks PermaLink |
The Hydro Series H80i GT is a closed loop cooler which adheres to the 120mm specification. This CPU cooler is supplied with two SP120L fans and is configured to offer digital functionality via Corsair LINK software – allowing the user to modify performance, noise and LED lighting.
---
Water cooling and graphics cards are two things that go perfectly together. EVGA's GTX 980 HYBRID combines both elements into a new card that features insane clock speeds, near silence and awesome performance.
---
| | |
| --- | --- |
| Sun: 05/24/2015 | Topic: Cooling / Heatsinks PermaLink |
Frostytech receives a lot of questions about a where such-and-such heatsink can be purchased, so today we're listing a few north american online computer stores that have a decent selection of heatsinks for sale. European readers, please let me know what stores in your neck of the world are good when it comes to performance heatsink shopping.

Specialty Cooling Shops - just heatsinks and cooling


Overclockers.co.uk




The Big Computer Stores

UK / European Computer Stores

Feel free to contact Frostytech with your suggestions for North American based stores, AND European heatsink retailers.
---
| | |
| --- | --- |
| Sun: 05/24/2015 | Topic: Cooling / Heatsinks PermaLink |
HardwareOverclock.com has just posted another review. Last week we have taken a look at the Fractal Design Kelvin S24 all in one water cooler. The Kelvin Series water cooling systems are constructed from enthusiast class components. Both the CPU block and the radiator are made from pure copper, for maximum performance and an increased product life span with zero maintenance required.
---
| | |
| --- | --- |
| Thu: 05/21/2015 | Topic: Cooling / Heatsinks PermaLink |
The Versa H15 is the latest case from Thermaltake, which features a compact form factor as well as space for high-end graphics card. Despite its small dimensions, there is actually enough space for a custom watercooling setup and therefore it might be a case that offers some rather interesting options. The street price of the Versa H15 in quiet interesting and is only 35 euro.
---
| | |
| --- | --- |
| Tue: 05/19/2015 | Topic: Cooling / Heatsinks PermaLink |
It is always great to hear about small companies making the headlines in the computer market, but we have seemed to miss a note here. Although Benchmark Reviews has been around long enough to review cooling solutions from most manufacturers in the market, this is the first time we look at a product from Cryorig; a company that has gotten a lot of momentum since it's first release back in 2013. Today, we take a look at the Cryorig R1 Ultimate, Cryorig's first attempt of impressing us with a product they claim is an accumulation of years of design and research.
---
| | |
| --- | --- |
| Tue: 05/19/2015 | Topic: Cooling / Heatsinks PermaLink |
The NZXT formula for creating the Noctis 450 appears to be quite straightforward. Take the impressive H440 (which was built primarily for low noise), enhance the LED lighting with the Under Glow strip lights we saw on the H440 Razer edition and finish the whole thing off with front and top panels that have been lifted from the NZXT Phantom.
---
| | |
| --- | --- |
| Tue: 05/19/2015 | Topic: Cooling / Heatsinks PermaLink |
All-in-one liquid coolers, while being an incredibly easy way to get to liquid cool your CPU, are also generally boring when it comes to aesthetics, offering not much more than a plain black radiator and pump design. However, the subject of this review seems to breakaway from the norms.
---
| | |
| --- | --- |
| Tue: 05/19/2015 | Topic: Cooling / Heatsinks PermaLink |
Not that long ago CRYORIG sent us their flagship R1 Ultimate CPU cooler, which not only impressed us, but had a lot of cool technologies and other things we had never saw on a CPU cooler before. Now we are moving on to their H5 Universal CPU cooler, which as the name suggest is a cooler that will give you 100% memory clearance on mainstream sockets. While the R1 Ultimate was a dual-tower cooler, the H5 Universal has a single tower, but still retains much of the surface area of the R1 with its large fin design. The cooler itself features CRYORIG's Hive Fin structure design, Jet Fin Acceleration System, Heatpipe Convex-Align System, and XT140 140mm cooling fan. Will this cooler be able to live up to the performance of the R1 Ultimate? Let's get it in our system and find out!"
---
| | |
| --- | --- |
| Tue: 05/19/2015 | Topic: Cooling / Heatsinks PermaLink |
Noctua today announced two new additions to its portfolio of premium-quality, quiet CPU coolers with 140mm fans. Whereas the NH-D15S is a high-compatibility single fan version of the elite-class dual tower model NH-D15, the NH-C14S replaces the proven top-flow cooler NH-C14. Both the NH-D15S and NH-C14S feature an asymmetrical layout in order to avoid blocking the …
---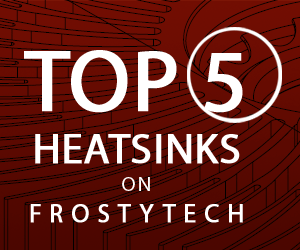 | | |
| --- | --- |
| Tue: 05/19/2015 | Topic: Cooling / Heatsinks PermaLink |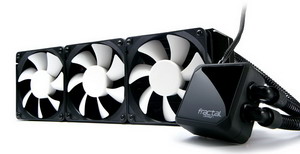 Swedish Fractal Design already revealed its upcoming Kelvin CPU water cooling series way back at CeBIT 2014 in Hannover. At last year's Computex we saw the same prototypes again, scheduled for a summer release. Finally in December 2014 the retail versions popped up; Fractal Design added three AIO models to their Kelvin AIO line-up: a 120mm radiator T12 Kelvin, the S24 being the 240 radiator version and the flagship S36 as the triple fan version. Today we have a look at the latter version, the Kelvin S36. The AIO market is already pretty saturated with versions from Antec, Corsair, Cooler Master, Enermax and Swiftech. What makes this Fractal Design S36 stand out from the crowd? Time to explore the Sweed's high end product.
---
| | |
| --- | --- |
| Mon: 05/18/2015 | Topic: Cooling / Heatsinks PermaLink |
Spring signals the fore-coming of summer, but to Benchmark Reviews, it also means time for some cooler reviews. The first manufacturer in our 2015 list is SilverStone. Last week, we reviewed the SilverStone TD03-E, a 120mm all-in-one CPU cooler which served as an update to the already aging TD03. Today we take a look at it's bigger brother, the SilverStone Tundra TD02-E, an astonishingly stylish 240 mm all-in-one CPU cooler.
---