| | |
| --- | --- |
| Sun: 01/25/2015 | Topic: Cooling / Heatsinks PermaLink |
"A novel technology to improve the heat transfer of high-power heat sinks used in aerospace for military applications. We integrated an array of self-oscillating reeds (SORs) in between the channels of a heat sink in order to improve thermal performance.
Figure 4 shows several images of the 2.5mm x 10mm reeds before and after integration in a full scale heat sink – click for video. The reeds are fabricated using laser micro-machining techniques out of polyester because of its low density and ability to flutter using only a small amount air. The SOR is mounted and constrained as a cantilever beam. As air passes over them, they flutter creating turbulence which minimizes the boundary layer and increases the heat transfer coefficient. "
---
| | |
| --- | --- |
| Sat: 01/24/2015 | Topic: Cooling / Heatsinks PermaLink |
"unlike tradition vapor chamber that spread across the base, heatpipes are connected to the heatsink for the cooler master variation."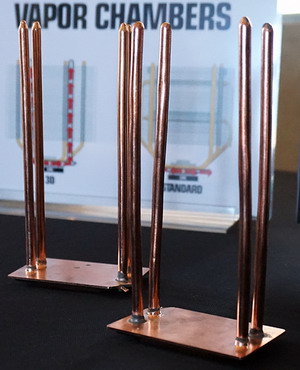 ---
| | |
| --- | --- |
| Sat: 01/24/2015 | Topic: Cooling / Heatsinks PermaLink |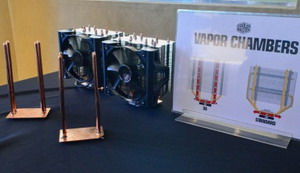 "The Kinetic cooler uses solid metal rotating heatsinks to dissipate heat, essentially combining fan and heatsink into one. CoolChip representatives were on hand to demonstrate that their Kinetic cooler prototype is not only quieter, but much more efficient than a traditional heatsink+fan combination of the same physical footprint. It can also be implemented anywhere where a traditional fan is used today.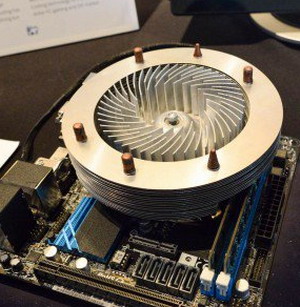 Next to the CoolChip demo bench, Cooler Master also showed off their new 3D Vapor Chamber. Compared to today's vapor chamber designs where the heated vapor stays at the base of the cooler, Cooler Master's new 3D vapor chamber lets the vapor rise all the way to the top of the heatpipe."
---
| | |
| --- | --- |
| Sat: 01/24/2015 | Topic: Cooling / Heatsinks PermaLink |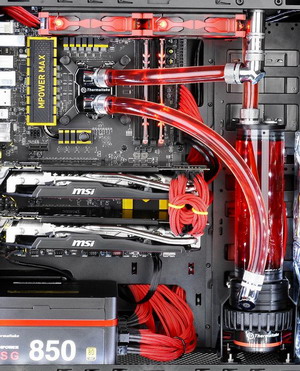 Thermaltake, an industry leader in computer chassis, thermal solutions, and power supply units, has unveiled a spread of highly engineered DIY liquid cooling solutions at the world-renowned International Consumer Electronics Show 2015. As part of its 'hardcore' spirit towards the ultimate in custom PC water cooling configuration, Thermaltake has launched the new Pacific RL240 Water Cooling Kit, a limited-edition LCS combo unit, the kit consists of CPU water block, D5 pump and reservoir, 240mm radiator, fittings, Luna 12 LED red fan, tube, coolant, and other accessories. Also, Thermaltake will release a full collection of LCS components such as D5 pump, T Series reservoirs, PT Series pump with tube reservoir set, and various sizes of radiators and fittings – compressions, fill ports and plugs, ID barbs extenders, and rotary adapters – in chrome and black, allowing enthusiasts to build up superior water cooling system from an aesthetic standpoint as well as incorporate externally-modular upgrades for their chassis. Together, these provide exceptional performance, unrivalled reliability, and styling to DIY enthusiasts.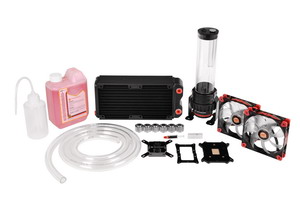 ---
The invention of the HIS R9 290X Hybrid IceQ was likely inspired by AMD's reference design for the R9 295X2 which featured a similar closed-loop liquid cooling system. The results are just as impressive, as we have ended up with a high-end Radeon that overclocks well and stays relatively cool while generating almost no noise.
---
| | |
| --- | --- |
| Thu: 01/22/2015 | Topic: Cooling / Heatsinks PermaLink |
"While the Pure Rock comes in at a lower price point, it still includes an award winning Pure Wings 2 120mm fan. The PWM Pure Wings 2 offers 51 cfm at 1500 rpm, while emitting only 26.8 dB while mounted on the cooler. The body of the of the Pure Rock uses four 6mm heatpipes through an aluminum fin array with an overall height of 155mm."
---
The C3 is a small case from Cooltek and it has been made from aluminum entirely. It allows the installation of mATX as well as miniITX motherboards in combination with ATX power supplies. In addition there is enough space in order to create a small HTPC, file server or even a small gaming system with "mini" cards.
---
"The Carbide 330R has a ton of great features, some of which is necessary to be considered a good chassis. None the less, let me cover a few major selling points and explain the difference between the Titanium and original edition. First up, having support for nearly every aftermarket CPU cooler is a major advantage. I have time and time again given advice for purchasing a cooler, only to find out that a height limit is an issue. At 175mm and a good amount of surrounding space, there isn't much that will not fit. Going along with the CPU cooler; having space up to 450mm for a single video card allows for any video card to fit. Installing a second card is limited because of the inability to remove the hard drive cage. Have no fear though, since the space is enough for any standard video card on the market today."
---
| | |
| --- | --- |
| Tue: 01/20/2015 | Topic: Cooling / Heatsinks PermaLink |
This is a neat video showing the fundamental difference in heat conductivity between solid copper and a heatpipe. Picked this up at Computex a while back. Note how quickly the top of the heatpipe increases to 56.1C in the 60seconds after submersion into the cup of hot water!
.
---
| | |
| --- | --- |
| Mon: 01/19/2015 | Topic: Cooling / Heatsinks PermaLink |
ID-COOLING, a cooling solution provider focusing on thermal dissipation and fan technology research and production for over 10 years, releases a newly developed Vapor Chamber CPU Cooler for Mini-ITX system: IS-VC45.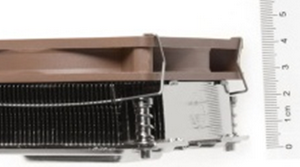 When small PC systems get more and more power hungry and house much more top-tier hardware including the CPU, effective CPU cooling is in demand. With a vapor chamber base to draw heat immediately from the processor, IS-VC45 is able to handle TDP130W CPUs. Measuring 94×92×45mm, this cooler can fit into Mini-ITX systems easily.
High density aluminum fins are soldered to the vapor chamber base to help disperse the heat. Equipped with a slim 92mm FDB(Fluid Dynamic Bearing) fan, IS-VC45 can dissipate heat efficiently while keeping at a decent quite operation. The speed is regulated between 600 to 2500RPM with PWM function.
Using metal screws and back plate installation, this cooler will stay safely on your motherboard. Intel Socket LGA1150/1155/1156 and Socket LGA2011 are supported.
MSRP for IS-VC45 is $44.99. For more information about this product or any other products, you can visit www.idcooling.com.

About ID-COOLING Originally, ID-COOLING was a cooling solution provider focusing on VGA heatsink research and production for over 10 years. Accumulated extensive experience in thermal solutions, ID-COOLING releases a full set of product portfolio ranging from CPU cooler, VGA Cooler, Case fan and customized heatsinks, and SFF cases. Through years' determination in thermal design, ID-COOLING developed many innovative cooling ideas, including heatpipe, vapor chamber, cold plate technology.
---
"The German team has updated and designed even more premium features into this generation of the Straight Power series, which make the Straight Power 10 800W CM more silent than ever and a clear 'Best Choice' for new systems and as a replacement in existing systems."
---
| | |
| --- | --- |
| Mon: 01/19/2015 | Topic: Cooling / Heatsinks PermaLink |
"When I think of be quiet! CPU Cooler their Dark Rock Pro series comes to mind. These coolers are made to handle the highest thermal loads and are quite large. Not everyone is going to need this type of cooling and for that reason be quiet! has released the Pure Rock CPU cooler. This cooler is designed for the essential or entry-level systems to provide a great price-to-performance ratio. The Pure Rock has a single tower design that should not interfere with memory or other components, four 6 mm copper heatpipes and a 120 mm cooling fan. Let's see what this cooler can do!"
---
| | |
| --- | --- |
| Fri: 01/16/2015 | Topic: Cooling / Heatsinks PermaLink |
"Today Chad takes us on a full tour of Thermaltake's latest non-interference CPU cooler, the NiC L32. Come on in and take a look."
---
| | |
| --- | --- |
| Fri: 01/16/2015 | Topic: Cooling / Heatsinks PermaLink |
The Hyper D92 is a compact tower-style cooler with dual 92-mm fans. We tested its performance on stock-clocked and overclocked CPUs to see how it stacks up.
---
| | |
| --- | --- |
| Thu: 01/15/2015 | Topic: Cooling / Heatsinks PermaLink |
The company Antec is mainly known for their high-performance power supplies. Antec recently published this AIO water cooling, which is remarkable for its design. Can the cooling performance satisfy and are all other results of the Antec H2O 1250 Liquid CPU cooler optimally solved ? We will see in this Antec Kuhler H2O 1250 review and even listen to sound examples.
---
| | |
| --- | --- |
| Wed: 01/14/2015 | Topic: Cooling / Heatsinks PermaLink |
Our seventh article in this season's new quiet gaming PC build guide series is our first complete discrete liquid cooled system, featuring the VisionTek CryoVenom R9 290 Limited Edition Graphics Card. This 450W beast of a system gets tamed to a cool, soft purr.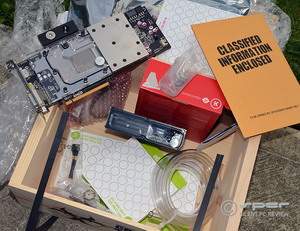 ---
| | |
| --- | --- |
| Wed: 01/14/2015 | Topic: Cooling / Heatsinks PermaLink |
Thermaltake has had one of the most impressive showings at CES 2015 with amazing offerings to consumers and enthusiasts alike. The scope at which Thermaltake is approaching the watercooling market is nothing to ignore, they are offering the entire package with its entire line up of reservoirs, CPU water blocks, custom non-rebrand radiators, and housings for all popular pumps. The fun doesn't stop there, take a look at the new keyboard in the Poseidon lineup with its innovative space-bar touch sensor that is 100% macroable as well as the customization heavy Core X chassis lineup that is perfect for any enthusiast and casual system builder.
---
| | |
| --- | --- |
| Wed: 01/14/2015 | Topic: Cooling / Heatsinks PermaLink |
DeepCool has some crazy plans for their Maelstrom 120; at $75 it's supposed to go head to head against the likes of NZXT's X31 and Corsair's H60. They'll need more than luck to pull that one off.
---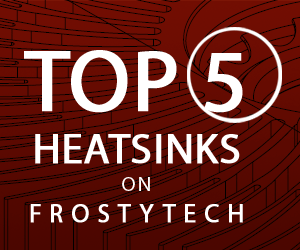 | | |
| --- | --- |
| Wed: 01/14/2015 | Topic: Cooling / Heatsinks PermaLink |
"While Cryorig has been noted for their Enthusiast Class R1 and C1 coolers, the same type of quality is evident in their new H7 Universal, which marks their first delve into the budget friendly category. The H7 Universal shares much of the same technologies that have made Cryorig's higher line pieces so popular, and simply puts them into a smaller form factor that has zero RAM interference."
---
| | |
| --- | --- |
| Wed: 01/14/2015 | Topic: Cooling / Heatsinks PermaLink |

PCPerspective.com video from the floor of CES 2015. Images below are taken from the this video.
Cooler Master, a leading creator, innovator and manufacturer of desktop components and peripherals, and CoolChip Technologies(TM), a leading fabless technology house of thermal management solutions, today announced a partnership to bring kinetic cooling technology to the multi-billion dollar PC gaming and DIY markets.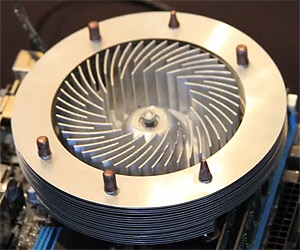 The increasing demand for more powerful devices in ever-smaller form factors creates concentrated heat loads that are difficult to cool, especially in gaming electronics. With the introduction of CoolChip's Kinetic Cooling technology, now there is the opportunity to deliver up to 50% improvement in cooling and achieve a 2x smaller form factor at significantly lower noise levels - critical elements in today's high-density electronics world.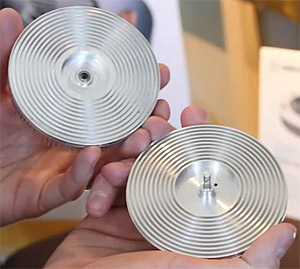 With Kinetic Cooling Engines powered by CoolChip Technologies, Cooler Master is able to develop products that offer critical protection for the underlying electronics that deliver the high-quality computing experience that consumers demand. Cooler Master's retail products will benefit from more efficient, smaller form factors, lower thermal resistance, and reduced noise levels.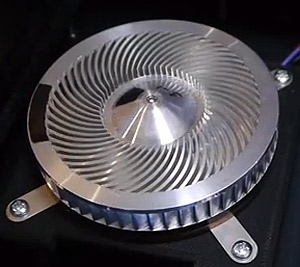 "Over the last four decades, everything in the computing industry has changed exponentially," said Will Sanchez, Co-Founder and CEO of CoolChip Technologies. "However, fan cooling technology simply hasn't kept pace. Today's partnership announcement with Cooler Master is the first step in rendering the traditional heat-sink plus-fan approach obsolete in the power hungry gaming console industry."
"CoolChip Technologies is solving the computing industry's multi-million dollar efficiency problem," said Dr. Howard Lin, head of retail thermal division of Cooler Master. "By using Kinetic Cooling Engines versus traditional cooling methods, consumers will see dramatic improvements in thermal performance at significantly lower noise levels. Additionally, the potential for smaller form factors using Kinetic Cooling Engines will save critical space and allow for design innovation. These benefits ultimately will allow our customers to create products that deliver a superior consumer experience."
-- Demonstrations of the CoolChip Technologies/Cooler Master product will be available at CES at the Palms Hotel from January 6th to January 9th.
To schedule a demo or briefing, please contact Kelly Reeves at Kelly@klrpr.com
About CoolChip Technologies
CoolChip Technologies was founded by Dr. William Sanchez, Steven Stoddard, and Dr. Lino Gonzalez, peers at MIT. They came together with one goal in mind: Transform the electronics cooling space.
CoolChip Technologies is set to disrupt the multi-billion dollar thermal management industry by delivering a state-of-the art Kinetic Cooling Technology to OEMs and ODMs. By partnering with CoolChip Technologies, consumer electronics and enterprise manufacturers now have the opportunity to unleash innovation and deliver next-generation products for their customers. For more information, please visit: www.coolchiptechnologies.com
About Cooler Master
Cooler Master was founded to provide the best thermal solution to our customers worldwide. Since its establishment over two decades ago, we continue to invest in product development in order to provide the leading-edge innovations to people and businesses. Cooler Master's line-up includes heat sinks and fans, chassis, power supplies, and accessories. Cooler Master is headquartered in Taipei, Taiwan, with branch offices located in Europe, America and APAC. For more information on Cooler Master, please visit www.coolermaster.com
---