| | |
| --- | --- |
| Thu: 12/25/2014 | Topic: Cooling / Heatsinks PermaLink |
BitFenix has been making enclosures for the PC market since 2010 (with the massive Colossus E-ATX case), and came to prominence a couple of years later with the introduction of the Prodigy enclosure. While the company has expanded to produce power supplies and peripherals they are still primarily a case manufacturer, as evidenced by the now 31 different models on their product page. Not content to iterate on their existing designs, BitFenix has consistently introduced new chassis ideas for different form-factors and needs.
---
The company SilentiumPC was established in 2007 in Warsaw, Poland. Their main objective is to offer quality products at a very affordable price level; the latter is achieved by applying cost-cutting in banners, promo gear, packaging... however not in the quality of the product itself. The SilentiumPC lineup consists of cases, CPU air coolers, power supplies, fans, notebook cooling and other accessories. Today we introduce you to the SilentiumPC Aquarius X90: a mid-tower case, designed specifically for the liquid cooling enthusiasts in mind. SilentiumPC labels it as the ultimate choice for high-end gaming systems with compact dimensions and at an amazing value.
---
| | |
| --- | --- |
| Thu: 12/25/2014 | Topic: Cooling / Heatsinks PermaLink |
Frostytech receives a lot of questions about a where such-and-such heatsink can be purchased, so today we're listing a few north american online computer stores that have a decent selection of heatsinks for sale. European readers, please let me know what stores in your neck of the world are good when it comes to performance heatsink shopping.

Specialty Cooling Shops - just heatsinks and cooling


Overclockers.co.uk




The Big Computer Stores

UK / European Computer Stores

Feel free to contact Frostytech with your suggestions for North American based stores, AND European heatsink retailers.
---
This $100 enclosure from Cooler Master can house an ATX motherboard along with a generous assortment of storage drives and and cooling contraptions. It's also got acoustic foam a go-go, and it ships with plastic covers to block up unused vents. Is it the case to get for enthusiasts with golden ears?
---
The be quiet! Silent Base 800 uses a steel chassis with plastic panels that carry plenty of sound deadening material. At the front of the case there are stealth doors that cover the optical drive bays and main air filter.
---
| | |
| --- | --- |
| Wed: 12/24/2014 | Topic: Cooling / Heatsinks PermaLink |
Noctua have been around for 9 years now and from the very start they have been producing cooling hardware for enthusiast rigs across the world. Their cooling fans are instantly recognisable due to their unique colour scheme, often a topic of conversation. We already have some Noctua gear in our Home server in the shape of a Noctua NH-L12 Low Profile Cooler and we are very pleased with its performance. Noctua pride themselves in making the humble cooling fan and taking the detail to the extreme. The result tends to be top quality in ways you would not imagine. Today we are reviewing three versions of the same fan the NF-S12A. We have the PWM, FLX and ULN, here is some information from the Noctua website"
---
| | |
| --- | --- |
| Wed: 12/24/2014 | Topic: Cooling / Heatsinks PermaLink |
The latest addition to Noctua's line are perfectly suited for smaller spaces with 92mm, 80mm and 40mm A-series variants featuring the signature Noctua tan and brown colors and extensive packaging. The new A8 and A9 fans in particular replace the discontinued R8 and B9 series fans with streamlined designs and optimized noise-performance ratios.
---
| | |
| --- | --- |
| Wed: 12/24/2014 | Topic: Cooling / Heatsinks PermaLink |
LEPA is moving into CPU air cooling and we have its first cooler for review today, the LV12. LEPA claims that its new louvered fin designed gives it an advantage and surely we will test that. It also claims that the it supplies "Silence with High Performance." Let's see if LEPA can give us our money's worth.
---
| | |
| --- | --- |
| Wed: 12/24/2014 | Topic: Cooling / Heatsinks PermaLink |
We kick things off today with a look at one of the latest chassis designs from Akasa. Akasa have established a solid reputation for themselves over the years as a cooling manufacturer, and while the Euler mini-ITX Thin chassis I'm reviewing today may not sound like their typical product range, its passive cooled design certainly does. The HTPC market has great demand for silent and compact chassis designs that not only perform great, but also look great. Of course this being a small form factor chassis means that it's a prime choice for HTPC loving consumers, but there will no doubt be interest from the digital signage market, or those who are simply limited on space in general. There are two models of the Euler available right now, one with a 120w power adapter suitable for mini-ITX slim motherboards, and one without, for those who many have already gotten a PSU supplied with their motherboard. The model we have here today is the AK-ITX05-BK12, the model with the DC power pack included.
---
| | |
| --- | --- |
| Wed: 12/24/2014 | Topic: Cooling / Heatsinks PermaLink |
"So what makes the 240M stand out from the others? The longer, heavier FEP tubes on the 240M allow flexibility when installing the radiator. And those thumb screws - wow, they really make the installation process much easier. You can quickly get the radiator and fans in position without fumbling around dropping screws into the case. The new retained screws on the pump mount make installing the pump a breeze. And of course, the new Silencio 120mm PWM fans are up to the task of moving plenty of air while not sounding like a leaf blower. The splitter power cable for the fans also makes it nice to control both fans from one fan header, and it provides for a cleaner cable routing since you can run the fan cables and the splitter behind the motherboard tray and keep them out of sight."
---
| | |
| --- | --- |
| Wed: 12/24/2014 | Topic: Cooling / Heatsinks PermaLink |
Thermaltake currently has three key models in the Thermaltake Water 3.0 All-in-One (AIO) liquid cooling solution product line. The smallest are a pair of 120mm radiator coolers called the called the Water 3.0 Performer and Water 3.0 Pro. The next step up from there is the Water 3.0 Extreme S with a 240mm radiator and then sitting at the top of the product stack is the Thermaltake Water 3.0 Ultimate that is one of the very few kits on the market that features a massive 360mm radiator!
---
Tesla H is one of a dozen fanless "heatsink" cases offered by Akasa. This one is for the Haswell NUC and can house two 2.5" drives in a wider, sleeker design. Thermally, it's a winner, too. Market pricing vis a vis NUC kits and boards is its real challenge.
---
| | |
| --- | --- |
| Wed: 12/24/2014 | Topic: Cooling / Heatsinks PermaLink |
The Swiftech H240-X is an interesting high-end open loop liquid CPU cooler that's also pre-assembled/filled and plug-and-play like all-in-one units.
---
| | |
| --- | --- |
| Tue: 12/23/2014 | Topic: Cooling / Heatsinks PermaLink |
Synopsis: "Magnetocaloric materials heat up in a magnetic field and cool down again when they are drawn out of the field. Therefore a heat-pump based on magnetocaloric materials may be an ideal alternative for traditional cooling cycles. An additional benefit is that the system based on a magnetic cooling cycle can be relatively small. This makes them ideal for many applications ranging from the cooling of electronic components to refrigerators and air conditioners."
This prototype Magnetic refridgerator developed by the EnSys group (www.EnSys.ca) at the University of Victoria is pretty fantastic to watch.
There's more on Frostytech's Facebook page if you're interested.
---
The Silent Base 800 is be quiet!'s long awaited entry into the case market. Rumors were confirmed at Computex 2014 with the case making its first official appearance, and after more than 12 months in development, it is finally available. The resulting Silent Base 800 may just be the start of a great new product line by be quiet!.
---
| | |
| --- | --- |
| Mon: 12/22/2014 | Topic: Cooling / Heatsinks PermaLink |
Corsair®, a worldwide leader in high-performance PC hardware, today announced the immediate availability of the Hydro SeriesTM HG10 A1 Edition GPU liquid cooling bracket for AMD RadeonTM R9 290X and 290 graphics cards. Both a bracket and a heatsink, the HG10 allows the users to attach a Corsair Hydro Series liquid cooler to their graphics card to cool the GPU and other critical circuitry, unlocking a new level of performance and cooling for their GPU.
The black anodized aluminium HG10 bracket combined with a Corsair liquid cooler is a full-coverage GPU liquid cooling solution which cools the graphics card's GPU as well as the heat-producing voltage regulator module (VRM) and video memory. The HG10 utilizes the graphics card's original cooling fan, ensuring improved compatibility with the card's fan speed and temperature monitoring features.
Paired with any Corsair Hydro series liquid cooler, the HG10 is able to easily dissipate large amounts of heat from the graphics card, dropping peak temperatures by as much as 50 degrees Celsius and at significantly lower noise levels. The extra cooling on offer can open up substantial overclocking headroom, allowing enthusiasts to extract every bit of performance from their card. In addition, the improved cooling largely eliminates the graphics card's thermal throttling of performance, resulting in a card that not only runs quieter and cooler, but faster as well.
The Hydro Series HG10 A1 Edition GPU liquid cooling bracket is designed to support all stock reference versions of AMD Radeon R9 290X and 290X graphics cards. A full list of compatible cards can be found at corsair.com. New HG10 editions compatible with NVIDIA® GeForce® Titan, 7 Series, and other GPUs will be available in early 2015.

The HG10 A1 Edition is priced at $39.99 and is immediately available from corsair.com and Corsair's worldwide network of authorized resellers. It is backed with a limited 2-year warranty.
---
| | |
| --- | --- |
| Mon: 12/22/2014 | Topic: Cooling / Heatsinks PermaLink |
Fractal already revealed its upcoming Kelvin water cooling series at CeBIT 2014 in Hannover; at Computex we saw the same prototypes again. Back than the launch date was foreseen for mid-summer. Now on the 9th of December 2014 it is D-day for the new breed of All In One water cooling setups. Fractal proudly announces three AIO models today: the 120mm radiator T12 Kelvin, the S24 being the 240 radiator version and the flagship S36 will be the triple fan version. Today we have a look at the smallest version, the Kelvin T12; this might be together with the S24 the most enclosure compatible version as not all PC cases support a big 360 radiator. It must be said the AIO market is already pretty saturated with versions from Antec, Corsair, Cooler Master, Enermax and Swiftech. What makes this little Kelvin T12 stand out from the crowd ? Time to explore Fractal's latest release.
---
| | |
| --- | --- |
| Mon: 12/22/2014 | Topic: Cooling / Heatsinks PermaLink |
"In looking at the new Nemesis 360GTX, I saw a lot of buzzwords thrown out there by Hardware Labs; "Stealth", "Supercruise", "Dark Matter". Buzzwords usually scare me a bit, as it seems they usually turn out to be a gimmicky name for something either underachieving or completely irrelevant. Thankfully, that is not the case with the Nemesis 360GTX."
---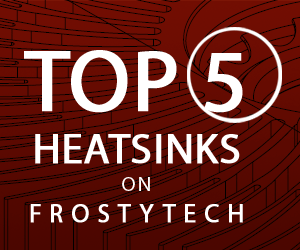 | | |
| --- | --- |
| Mon: 12/22/2014 | Topic: Cooling / Heatsinks PermaLink |
For the most part the market is filled with medium to large sized Tower CPU coolers which thanks to their high cooling efficiency are suitable for use by gamers, professionals and overclockers and small to medium sized top-down CPU coolers which offer good performance levels for their size and are mostly targeted towards people with limited space in their systems such as HTPC owners. However from time to time we do see small tower type CPU coolers which can fit everywhere and usually land between the above mentioned solutions in terms of performance. The only problem with this type of coolers is quality since most of the time we see models by manufacturers who mostly care about keeping a low cost. Noctua is amongst a handful of manufacturers that put quality and performance before cost for their products and their latest NH-U9S is one such bright example.
---
| | |
| --- | --- |
| Thu: 12/18/2014 | Topic: Cooling / Heatsinks PermaLink |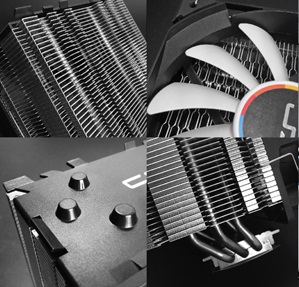 CRYORIG, innovator of PC thermal peripherals, is preparing the second model in the H Series lineup, featuring H series standard HiveFin™ technology. Besides moniker HiveFin™ technology, the CRYORIG H7 will also incorporate Zero RAM Interference and many other great features found in previously announced CRYORIG cooling solutions. The CRYORIG H7 will be targeted at mainstream PC systems with limited CPU cooler height. Thanks to the total height of 145 mm, H7 will be able to fit almost all mid-tower cases.
The H7 will also kickoff CRYORIG's new line of 120 mm QF120 PWM fan series. New QF120 line of system fans will feature CRYORIG's proprietary Quad Air Inlet™. The Quad Air Inlet™ is a system of four aerodynamic intake holes strategically placed on the four corners of the fan frame. It allows extra air intake from the sides of the fan frame to increase the total air output. CRYORIG's QF120 line will be released right after the H7 in three different configurations, such as "Silent", "Balanced" and "Performance." The Balanced version with the maximum fan speed of 1.600 rpm is included with the H7.
---