| | |
| --- | --- |
| Tue: 07/28/2015 | Topic: Cooling / Heatsinks PermaLink |
Scythe might not be one of the big names you hear of when it comes to air CPU coolers. Their coolers typically do not have over-the-top designs or are all that flashy, but when it comes to performance they have always been solid, and of course that is what is most important when it comes to CPU coolers. Today we will be taking a look at a rather inexpensive CPU cooler from Scythe, their Tatsumi. It is only $38.99 at my favorite online retailer and is a very compact cooler made to fit in pretty much any system. Let's take a look and see what it can do."
---
| | |
| --- | --- |
| Tue: 07/28/2015 | Topic: Cooling / Heatsinks PermaLink |
"I've said it before and I guess I'm saying it again; I have reviewed a lot of AiO coolers. As the resident AiO guy at ThinkComputers if there's a new closed loop product on the market it finds it's way to me. As you might imagine I have seen everything from coolers that are basically bone stock, slap the company logo onto it and call it good, to very unique, well thought out and inventively engineered designs. It's the later that keeps me going, because every once in a while a sample will come along that you can tell some love and creativity was poured into the design. Today we'll be taking a look at the Silverstone TD02-E. While Silverstone is far from being a one-off boutique brand, their products in general carry a certain feeling of quality and pride in the design. Follow along as we find out if the TD02-E has the genes of its counterparts or if it's simply a generic design with a logo slapped on as an after thought."
---
| | |
| --- | --- |
| Tue: 07/28/2015 | Topic: Cooling / Heatsinks PermaLink |
"Building upon the multiple award winning Assassin model, the new Assassin II keeps the nickel plated heatsink, 8 heat pipe twin tower design and mirror finished copper base, but updates the two fans to the new Deepcool GF 120 and GF 140 mm editions."
---
| | |
| --- | --- |
| Tue: 07/28/2015 | Topic: Cooling / Heatsinks PermaLink |
Last week, we reviewed the Noctua NH-D15S. Now it is time for the latest C-series cooler from Noctua. How will the latest NH-C14S step up against the original NH-C14?
---
| | |
| --- | --- |
| Tue: 07/28/2015 | Topic: Cooling / Heatsinks PermaLink |
"The be quiet! Shadow Rock LP Cooler arrived Technic3D. See you in the following Review the new LP with one 120mm Pure-Wings 2 PWM-Fan and four 6mm Heatpipes compared with many other Cooler on a Intel Core i5 4670K CPU."
---
| | |
| --- | --- |
| Mon: 07/27/2015 | Topic: CPU / Processors PermaLink |
"The Intel Broadwell processor has a 14nm die, some microcode and memory controller changes as well as the addition of an L4 cache and the new Iris graphics processor. With a base frequency of 3.3 GHz we can't consider it a speed bump since the Haswell 4770K has a frequency of 3.5 GHz. "
---
| | |
| --- | --- |
| Fri: 07/24/2015 | Topic: Cooling / Heatsinks PermaLink |
"The mainstream priced low profile cooler has become an item in large demand, and it makes perfect sense that be quiet! would join the ranks given their position in the top tier of air cooling."
---
| | |
| --- | --- |
| Fri: 07/24/2015 | Topic: Cooling / Heatsinks PermaLink |
The Noctua NH-D15 is one hell of a CPU cooler. The improvements over the NH-D14 is appreciated since it allows installation of taller heatspreaders. But when I reviewed motherboards like Gigabyte X99-UD4, I found that the space between the CPU cooler and the first PCIe x16 slot is non-existent when I mounted Zotac GTX 780Ti Extreme AMP! Edition. Yikes!!! At that point, I felt that motherboard makers should be more 'friendly' with larger CPU cooler especially with an Intel X99 platform with up to 4x PCIe x16 slots. Yeah right. Easier said than done with an ATX form factor. Noctua NH-D15S has an offset design which helps to provide a bit more space. It should help a lot of users to have a good enough clearance between the CPU cooler and any add-ons cards. Noctua also bundled one less fan with this, possible to make more affordable but did provide extra fan clips. With a dual fan setup, does the offset design change anything?http://www.hardwarebbq.com/noctua-nh-d15s-dual-tower-cpu-cooler-review/
---
Almost exactly six months ago the Swedish company Fractal Design presented with the R5 their latest midi tower case. Now they launched the Define S which should be the next step in evolution of their Define series cases. Unlike the previous model, the new S model is a case designed for custom watercooling builds. There is a lot of space available for radiators and there are mounts for reservoir and pump.
---
| | |
| --- | --- |
| Thu: 07/23/2015 | Topic: Cooling / Heatsinks PermaLink |
Not all those who buy better CPU coolers overclock. This is in reference to Cooler Master Hyper 103 CPU air cooler. A CPU cooler with 3x copper heatpipes and a 92mm CPU cooler with a total height of 5.5 inches. As always, we'll see how good it performs, and if it provides some cooling for minor overclocks.
---
| | |
| --- | --- |
| Thu: 07/23/2015 | Topic: Cooling / Heatsinks PermaLink |
"We previously tested the DeepCool Captain 240 liquid CPU Cooler and weren't very impressed with the results. As it turns out neither was DeepCool when they saw our results so they decided to send us a second test unit after all. Fortunately this one arrived from Hong Kong with the thermal paste intact so we got to work immediately retesting."
---
Things may have been a bit quiet on the case front with Zalman, but they still offer a wide range of products, including the Z11 NEO, which surprises. The Z11 NEO looks bulky and comes with a great feature set on paper and a small price tag. Having reviewed Zalman cases quite some time ago, it is now time to figure out what the Z11 NEO brings to the table.
---
| | |
| --- | --- |
| Wed: 07/22/2015 | Topic: Cooling / Heatsinks PermaLink |
Noctua sent a very good looking CPU cooler- the NH-C14S. This is a C-type CPU cooler which has a top-down airflow design. The CPU cooler can accommodate up to 2x 140 x 140 x 25mm fans, but with a choice of a single fan, you can either mount it towards the top for having high clearance required for tall spreaders and even maybe some sinks on the motherboard (you'll be surprised). I am keen on reviewing this since this does provide some level of low-profile height with a full-size heatsink design, making it look good even for few small form factor DIY desktop systems.
---
| | |
| --- | --- |
| Wed: 07/22/2015 | Topic: Cooling / Heatsinks PermaLink |
Aside from the inclusion of a variable speed pump, the NZXT Kraken X61 improves from it's predecessor by including a massive 280 mm radiator with a desner fin array which accounts for 36% more surface area. NZXT has also given the Kraken X61 extended tubing to ensure compatibility with all installation environments. Included with the Kraken X61 are two FX140 V2 PWM fan which according to NZXT are more powerful, quite, and durable than the inclusions of it's predecessor. Most importantly, the Kraken X61 has a 6 year warranty, which just goes to prove how confident NZXT is of the Kraken line.
---
| | |
| --- | --- |
| Wed: 07/22/2015 | Topic: Cooling / Heatsinks PermaLink |
"Deepcool's original Assassin CPU cooler came out in 2013 and one one of the largest and best performing coolers available. 2014 brought in the Lucifer, which we tested and it proved to be one of the best coolers available at the time. It is now 2015 and Deepcool has released the successor to the original Assassin, the Assassin II. This massive air cooler features a dual tower design, two cooling fans (140mm and 120mm), 8 nickel-plated copper heatpipes and its own 4-port fan hub. Can this cooler reign supreme like Deepcool's previous two coolers? Read on as we find out…"
---
| | |
| --- | --- |
| Tue: 07/21/2015 | Topic: Cooling / Heatsinks PermaLink |
The EK-Vardar family of fans is built specifically for computer liquid cooling systems, namely radiator cooling. The 7-fin fan blade design is optimized for high pressure operation while maintaining the low noise profile throughout the whole operating range of the fan. Vardar's design and construction is also very suitable for high-performance heat-pipe air coolers.
---
The XFX R9 380 4GB arrived at the lab in a plain, for once, undamaged cardboard box with the part description on the side on a large piece of white paper. Happy dances ensued for about 2 minutes then in a flurry of ripping and tearing befitting a Great White Shark we opened the box. The bountiful box contained an XFX R9 380 4GB sporting a core clock of 990 with 4GB of GDDR5 running at 1425 MHz and effective clock on that is 5700 MHz. Boasting 1792 Stream processors channeling data to the GDDR5 across a 256-Bit Bus. It's still based on the Tonga Pro core but the technology around it has had time to mature and AMD and their vendor partners have put that time to good use developing better technologies to surround that core with. As long as the GPU competes with other GPU's at its price point we don't care if it's dressed in a grass skirt and serving drinks on a plane.
---
| | |
| --- | --- |
| Mon: 07/20/2015 | Topic: Cooling / Heatsinks PermaLink |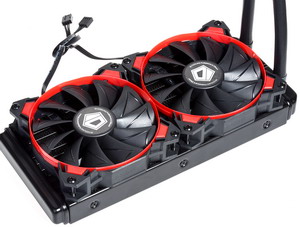 ID-COOLING has released the world's first integrated AIO water cooler for CPU & GPU called the HUNTER DUET; the cooler features one radiator and a two pump design. Along with this heat sink, ID-COOLING is going to launch a full product line of water cooling under FROSTFLOW series.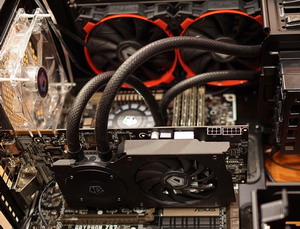 HUNTER DUET CPU+GPU liquid cooler is equipped with a 240mm radiator mounted with a pair of SF-12025 high static pressure fans. Fan speed is PWM controlled from 800 to 2000RPM, pushing max. airflow of 84.5CFM each. On all four corners of the fan are rubber dampeners to absorb operating vibration.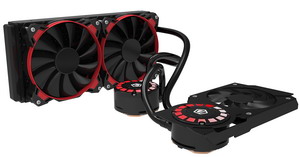 The two pumps are designed with comet-tail LED lighting on the top. Bearing type is Ceramic, the pump speed is set at 2500RPM. Copper base contacts CPU/GPU to help the heat transfer. Micro fin submerged design increases the heat dissipation surface. The dimension of the whole water block is 65×36mm.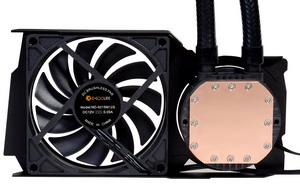 EPDM Rubber tubes connected water blocks and radiator together. From CPU water block to GPU block, tube length is 250mm; GPU to radiator length is 380mm; radiator to CPU length is 250mm. Inside the tubing is a self-contained highly efficient and eco-friendly liquid coolant.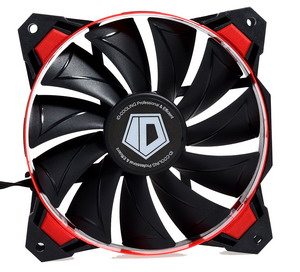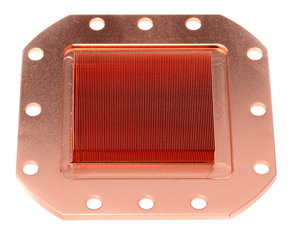 Universal mounting brackets are included. HUNTER DUET is compatible with (CPU) Intel LGA2011/1366/1150/1155/1156/775 & AMD FM2+/FM2/FM1/AM3(+)/AM2(+) processors. For the GPU, the mounting kit supports three sets of mounting holes: 58.4*58.4mm; 53.3*53.3mm; 51*61mm.
The MSRP for HUNTER DUET is $139.99.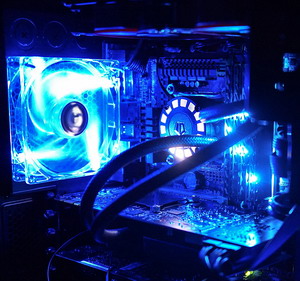 For more product information, you can check http://www.idcooling.com. You're also invited to like ID-COOLING on Facebook: www.facebook.com/idcooling.global.
---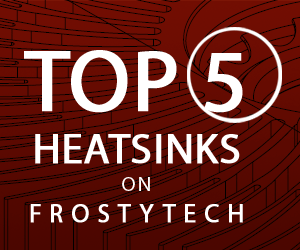 | | |
| --- | --- |
| Mon: 07/20/2015 | Topic: Cooling / Heatsinks PermaLink |
"At first the sheer size of the upper dissipation fin array and stacked design of the Dark Rock TF gave me some reservations over how it would fit into a compact case, but after mounting I found it ended up sitting lower in my test case that most of my previous tower coolers. With the removal of the top Silent Wings fan, you could even fit it into some mini sized cases."
---
| | |
| --- | --- |
| Mon: 07/20/2015 | Topic: Cooling / Heatsinks PermaLink |
"So, you come out with the best air cooler on the market as a follow up to what was the reigning king of air cooling for many, many years, what could you possibly do next? Well, make it more compatible with the trend of SFF and ITX builds without sacrificing performance, of course."
---