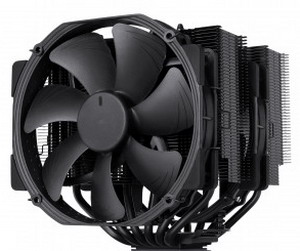 NH-D15 chromax.black

"Noctua today introduced the long awaited all-black versions of its award-winning NH-D15, NH-U12S and NH-L9i CPU coolers. Staying true to the successful formula of the original models, the new chromax.black versions with their black fans and black coated heatsinks combine the same signature quiet cooling performance with a sleek stealth look. The NH-D15 chromax.black and NH-U12S chromax.black will initially be exclusively available in a Linus Tech Tips limited edition that includes extra orange anti-vibration pads and custom fan stickers.

"Our customers have been asking us for all-black coolers for a long time, but we're soldering the fins to the heatpipes in order to guarantee optimal performance over many years of usage and this production process is difficult to combine with coatings," explains Roland Mossig (Noctua CEO). "It took a lot of time and engineering work to find an appropriate coating material and production process that gave us satisfactory thermal performance and consistent visual appearance. Now, we're proud with the end result and confident that the new chromax.black coolers will meet the high standards Noctua users have come to expect."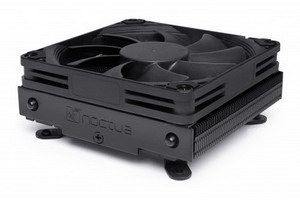 NH-L9i chromax.black
The new NH-D15 chromax.black, NH-U12S chromax.black and NH-L9i chromax.black are identical to the regular models except for the colour: Featuring black coated heatsinks, black fans with black anti-vibration-pads, black fan clips or fan screws and black mounting parts, they are literally black from head to toe. Thanks to thoroughgoing optimisations of the coating material and process, the chromax.black models provide the same, renowned quiet cooling performance as their regular, non-coated counterparts.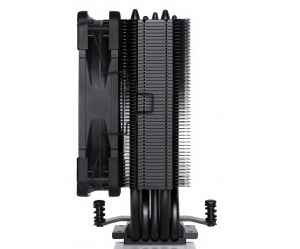 NH-U12S chromax.black

Teaming up with popular youtuber Linus Sebastian from Linus Tech Tips, the first 5000 pieces of NH-D15 chromax.black and NH-U12S chromax.black sold through Noctua's official Amazon and eBay stores will be an exclusive Linus Tech Tips limited edition that includes extra orange anti-vibration pads and custom Linus Tech Tips fan stickers. The Linus Tech Tips limited editions have a strictly limited volume and will only be available via Noctua's official Amazon and eBay stores while stock lasts. The non-limited versions of the NH-D15 chromax.black and NH-U12S chromax.black will start selling via Amazon as soon as the Linus Tech Tips limited editions are sold out and via other sales partners at the end of October.

"I've always had the deepest respect for Noctua's unwavering dedication to ease-of-use, quality and performance… I'm just not a big fan of their original colour scheme", says Linus Sebastian (CEO Linus Media Group). "So, with that in mind, I'm incredibly excited to be partnering with them to launch the chromax.black versions of some of their most legendary coolers. I know you'll love them as much as I do!"

In addition to the three new chromax.black cooler models, Noctua also introduced the new NA-SAVP3 anti-vibration pads in black, blue, green, red, white and yellow. These pads are compatible with all NF-A15 line fans such as those pre-installed on the NH-D15 chromax.black, thereby enabling users to colour-customise their coolers for individual build cooler schemes. The NF-F12 fan on the NH-U12S chromax.black can be colour-customised using the existing NA-AVP1 pads. In addition, both models are compatible with the NA-HC1/NA-HC2 (NH-U12S) and NA-HC3/NA-HC4 (NH-D15) heatsink covers as well as chromax line NA-EC1 and NA-YC1 cables that allow for further visual customisation.