This is new.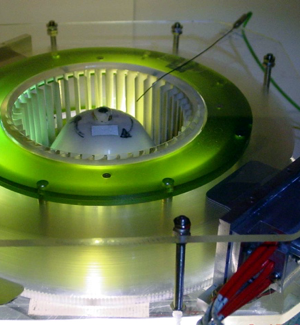 A UK engineering firm named ACPI have invented a novel new approach to heat transfer, called Foil and Slot Thermal Transfer (FASTT).
"The core of ACPI's technology comprises solid foils passing slowly through a slotted thermally conductive base. Heat is absorbed as the foils pass into a conductive zone and rejected in a convective transfer zone."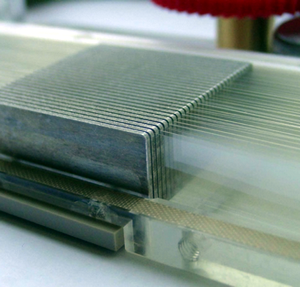 "The size, number and arrangement of the foils can vary according to the application... ...the foils can be polymeric, metallic, ceramic or composite. The slotted thermally conductive baseplate(s) can also be varied in number, material composition and number of fins/slots... Multiple stacked foils increase the surface area over which heat transfer and dissipation to air can be achieved. The gap between the foils and the slots determines the thermal resistance from the foil and the slot."
The root of the technology - heat transfer between very two very closely spaced, but not touching, plates - kind of reminds us of the underlying principle to the Sandia cooler; Though of course, the Sandia cooler is functionally quite different.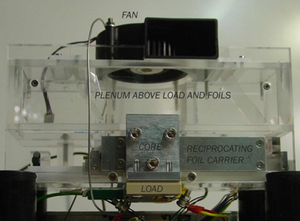 ACPI have a couple images of prototypes on their small website, one resembling a typical round fan heatsink and a second very novel linear heatsink. According to the company the first prototype achieved a performance of 815W. The linear form prototype, comprised of a reciprocating pack of polymeric strips, achieved 135W.
Conceptually, it sounds like ACPI's technology is roughly akin to moving a heat spreader constantly over the entire surface of the cooling fins, which are then convectively cooled to the ambient air (or gas) environment. Put another way, the heat transfer mechanism sort of reminds us of slowly moving a bright light back and forth over a strip of glow in the dark tape to get it to light up... if light was the heat energy. :-)
(All images copyright www.acpilimited.co.uk)