Noctua today introduced NT-H2, the second generation of its hybrid thermal compound. Combining the NT-H1's proven features, ease of use and long-term stability with a fine-tuned formula of microparticles, NT-H2 is an enthusiast-grade paste. At the same time, Noctua also presented a large 10g pack of NT-H1 as well as NA-SCW1, a set of 20 cleaning wipes that are ideal for removing thermal compound in a quick, clean and efficient manner.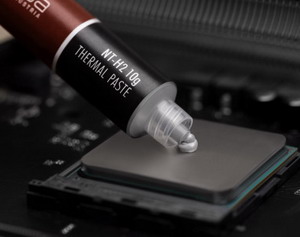 NT-H2 uses a new mixture of metal oxide microparticles for lower thermal resistance and reduced bond-line thickness at typical mounting pressures. In Noctua's standardised internal testing at various platforms and heat loads, up to 2°C lower temperatures were attained.
NT-H2 thermal compound does not require a break-in period and due to its long-term stability, it can be used on the CPU for up to 5 years. Both pastes are electrically non-conductive and non-corroding, so there is no risk of short circuits and they're safe to use with all types of heatsink.
NT-H2 thermal compound will come in standard 3.5g and extra-large 10g packages that include three (3.5g) and ten (10g) NA-CW1 cleaning wipes for easy cleaning. Pre-moistened with a custom detergent mixture, these wipes are ideal for cleaning CPUs, GPUs and the contact surface of heatsinks in a quick and efficient manner. For enthusiast users who take off and install their coolers frequently, the NA-CW1 wipes are also available separately in a set of 20 (NA-SCW1).
In addition to the new NT-H2 and NA-SCW1 cleaning wipes, Noctua also introduced a 10g package of NT-H1. While, so far, the popular paste has only been available in a 3.5g package, the new 10g version is ideal for power users or for large processors such as AMD's Threadripper (TR4) or Intel's LGA3647 that require higher volumes of thermal compound.

All compounds are available from Noctua's official Amazon and eBay. Other sales partners will receive stock shortly. The suggested retail prices are as follows:
NT-H2 3.5g: 12.90 EUR/USD
NT-H2 10g: 24.90 EUR/USD
NT-H1 3.5g: 7.90 EUR/USD
NT-H1 10g: 14.90 EUR /USD
NA-SCW1: 7.90 EUR/USD