Thermal Straps (a.k.a. Heat Straps) are flexible thermal linkages used to dissipate high heat loads via natural conduction paths provided by the high thermal conductivity linkage material. Their flexibility also serves to mechanically decouple sensitive components from vibrations. NASA often use these simple but exotic thermal devices to remove heat from cryogenically cooled devices.
Technology Applications Inc. of Boulder Colorado, manufacture thermal straps in a variety of materials, suited to different mechanical loads, from simple braided copper wire rope or copper sheets pressed into copper blocks, to bonded Pyrolytic Graphite sheets, bundled Graphite fibers and even Graphine Foil. For reference, the strap conductance of Graphine foil typically hovers around 0.86 W/K.
Neat stuff.
Bundled Graphite fibers
Pyrolytic Graphite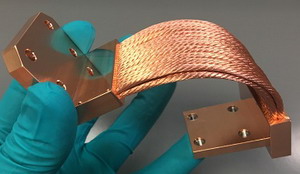 Copper Wire Rope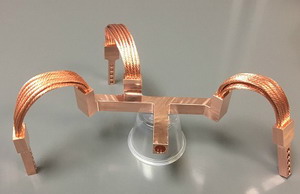 Copper Wire Rope
All images: TAI inc.