Arctic has released a new heatsink for the AMD Ryzen Threadripper CPU called the Freezer 33 TR - this cooler is designed specifically for Threadripper and has been tested by AMD and approved for all versions of 8 to 16 cores.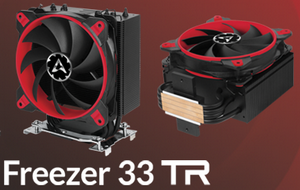 Says Arctic; "The CPU cooler is based on the award-winning Freezer 33 and convinces with a recommended TDP up to 200 watts. The Freezer 33 TR comes in a new design and is equipped with the especially powerful and newly developed BioniX F120 fan. The extremely silent three-phase motor convinces, among other things, through a low coil temperature and cools the up to 180 Watt of the 1900X, 1950X and 1920X processors extremely efficiently."
The Freezer 33 TR is now available in limited quantities in the ARCTIC Webshop at a price of $ 47.99. Compatibility of ARCTIC watercoolers
"For the Ryzen Threadripper processors, the Liquid Freezers 240 and 360 have been confirmed as AMD Ryzen Threadripper compatible CPU coolers up to 180 W TDP and the Liquid Freezer 120 up to 140 W TDP."