Time for Frosytech to build a new synthetic thermal test platform for testing AMD Threadripper heatsinks!!!
Perhaps at a nice toasty 200W?
Sounds good, but the problem is the design of the AMD Socket TR4 processor. While the CPU's integrated heatspreader measures ~69 x 51mm in size, underneath that 2-3mm thick slab of copper are four relatively small, widely spaced silicon rectangles of about 22x9mm in size. But that's not all, on the AMD Threadripper CPU, only two diagonally opposite dies are actual heat-producing CPU dies.
The question at hand -- is it more useful to build a synthetic CPU interface die to match the dimensions of the integrated heat spreader on the AMD socket TR4 Threadripper CPU, or, a synthetic CPU interface die that just matches the outside perimeter of the four silicon dies?
In other words, a socket TR4 synthetic thermal test platform with a 200W slab of copper the same size as A. or a little skinnier like B.?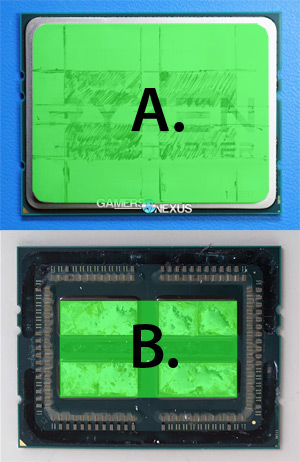 Drop me a line here and let me know your opinion... big test die (A.) or skinny test die (B.)?
*images courtesy of GamersNexus.net and Extremetech.com