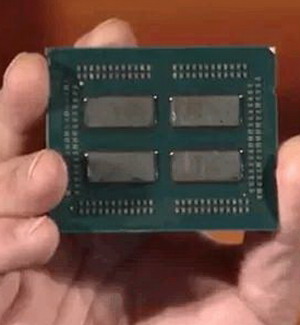 "During the AMD Computex 2017 press conference, AMD revealed details of the AMD Ryzen Threadripper processor. AMD is gearing up to launch the 16-core AMD Ryzen Threadripper processor and Socket TR4 platform this Q3'2017. Paired with the X399 chipset and the new Socket TR4, it will offer quad memory channels and support up to 2 TB of DDR4 memory, as well as 64 PCI Express 3.0 lanes!
-AMD will launch two Threadripper processors on 27 July 2017.
-The top-of-the-line processor will have 16 cores, capable of handling 32 simultaneous threads.
-There will also be a 12-core processor, capable of handling 24 simultaneous threads.
-There will eventually be 14-core and 10-core versions as well.
-All AMD Threadripper processors will support quad DDR4 memory channels and 64 PCI Express lanes.
-They are rumoured to use a solder thermal interface material (TIM).
-TDP is estimated at this time to be 155 Watts.