Ever wondered where to get a heatsink made? Came across a company called MyHeatSinks.com today that essentially fullfills that role.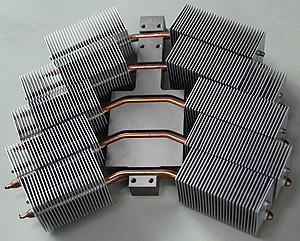 The companies' website has a neat video of skivved heatsinks being cut along with tons of resources in their learning center, including this fin heatsink calculator. Fantastic resource for general understanding of modern heatsink design methods... the company even covers standard heatsink mounting hardware.

Video of Skivved Heatsink fins being cut
"MyHeatSinks is a Singapore and China-based heat sink manufacturer that design and develops high performance heat sinks, heat pipes and advanced thermal solutions. Headquartered in Singapore, MyHeatSinks have a manufacturing facility in Guangzhou, China. The industries we serve include semiconductor, electronics, computer, telecommunication, automotive, aerospace, LED lighting and medical equipment.
We have a highly-skilled engineering team consisting of thermal, mechanical and manufacturing engineers...many of our engineers have advanced engineering degrees and/or training certificates from Mentor Graphics (FloTHERM) and Ansys (Icepak)."