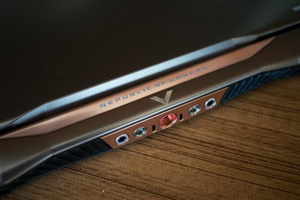 The Asus ROG GX700 has been introduced as the world's first liquid-cooled gaming laptop. The liquid cooling system is split in half to solve the problem of needing room for pumps and radiators, and the GX700 only has a few extra components including "water-channels and water for the coolant to pass through," while the aforementioned components are found inside the liquid cooling dock, TechRadar.com reports.
Yu explains, "The water cooling section interacts with the existing heat pipes thermal system inside the laptop, so those two work in tandem together. […] But now the water cooling part will take away, [and] offload the heat away from the system toward the radiators [on the dock]." The laptop has also been equipped with a water-tight seal to prevent spills or leaks.
Aside from liquid cooling, Yu said Asus is researching other systems, including a 3D vapor chamber that it recently introduced in its ROG G752 laptop. There are also older iterations of the GX700 that are still on the drawing board. "We actually have several iterations of a quad-cooling module," Yu said. "Some of our earlier ones were even bigger than what it is right now, but we are trying to constantly tweak it to get to the right size with the right performance."