Every now and then I wonder who reads Frostytech - in the past I've seen geographic locations from truly remote locations like Antarctica (btw, if you're in Antarctica now and reading this, say hi!) and possibly even once, the International Space Station... though I can't back that one up with stats. Today, out of curiosity I looked in on Frostytech's Google Analytics stats... and sure enough, in the past year we've received two visits from North Korea!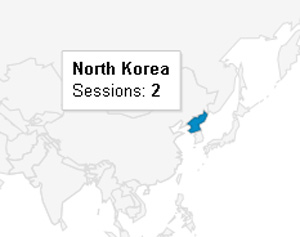 Those sessions spanned about 4 pages, so perhaps Frostytech's heatsink reviews didn't pass muster or the individual wasn't fluent in English. Still, just when you think the internet is old hat, you're reminded that words written here can be read anywhere on the globe. That's still pretty amazing.
Happy 2014 everyone, here's to a great 2015!