The second feature of this heatsink is the 80mm Delta fan and slim-line fan adaptor shown below. We picked up this as-of-yet unreleased slim-line adaptor at Comdex from the OCZ folks and while the heatsink and fan are separately very impressive, we had a few concerns about the adaptor.
The main concern was that the flow of the 80mm would be too severely restricted and redirected in too small of a distance, leading to ineffective cooling.
The next issue that gave us reason to rase an eyebrow was the stepped transition. Obviously, with a 2-axis milling machine this is the easiest way to make the 76mm to 58mm transition that the fan and heatsink work with. From the view of air resistance this just doesn't seem like an ideal solution yet.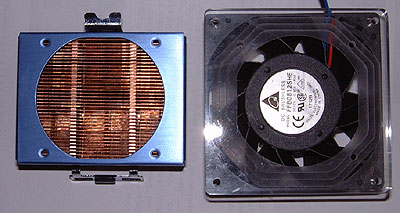 The purpose of the adaptor is to convert the exhaust size from the 80mm fan down to the smaller intake in the fan shroud on the Goliath. While it does to this, we have a few concerns that flow resistance may be unnecessarily high.
Goliath Heatsink with 80mm Adaptor