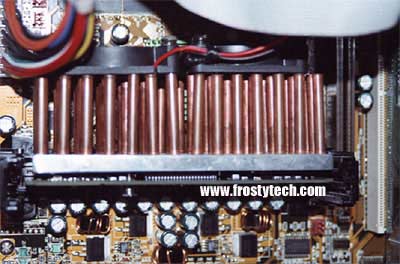 So what is the final result? The ACPsink was able to keep the overclocked Athlon cool, and the copper pipes did appear to move the heat from the aluminum plate well enough, but we were unable to keep the Athlon close to room temp. So while we are satisfied that the ACPsink can easily replace a standard OEM heatsink on an athlon, the degree to which it was capable of cooling is only moderately better, at least in terms of overclocking.
If we end up trying this technique again, we'll make a few changes to the general layout and diameter of the pins. Smaller copper pipes would allow us to more closely pack them on the surface of the heatsink and increase surface area. Also, in the current configuration the L2 cache is not connected to the heatsink by any spacers or even a big blob of thermal goo (as AMD does with its heatspreaders). Additionally some copper pipes directly over the core would be an asset as long as the holes were not drilled completely through.
What do you think? Speak your minds in the forums.