As we set about putting our test computer back together we were curious as to what effect, if any the increased surface area would impart. Would the ACPsink run our Athlon cooler? Would it be able to absorb the increased temperatures of the overclocked Athlon and still keep it reasonably cool? To find out, we attached a thermistor right above the core.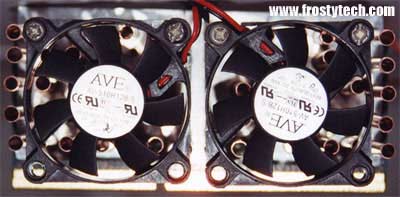 The first test involved an Athlon 550Mhz (0.18 micron core). The processor was run on a Gigabyte GA7VM with a Leufken GFD. We took a temperature measurement with the standard Taisol heatsink on board prior to our test. At 550Mhz it was running at 30.6 degrees C. With the ACPsink strapped on, and the Athlon overclocked to 600Mhz it was running at a cool 29 degrees C.
Ultimately we were able to overclock the Athlon 550 to 700Mhz before we would just get Bios posts, and could go no further. At 150Mhz faster then its listed clock speed that Athlon ran at 33.3-34.3 degrees C with the ACPsink. Not room temp, but only an increase of about four degrees over the norm. Not bad at all. The same overclocked speed, with the normal OEM heatsink, and the Athlon ran at a toasty 36.0-37.2 degrees C. Definitely hotter, if only by a few degrees.
| | | |
| --- | --- | --- |
| Heatsink being tested | Speed of processor | Temperature |
| OEM | 550@550 | 30.6 C |
| ACPsink | 550@600 | 29 C |
| ACpsink | 550@650 | 32.4 C |
| ACPsink | 550@700 | 33.3-34.3 C |
| OEM | 550@700 | 36.0-37.2 C |
Once again we can see that the ACPsink was able to out perform the OEM heatsink AMD ships with its processors, and keep the temperature of our overlcocked processor at a nice 33 degrees C. Not quite close enough to room temperature for our liking but not too bad either.