Final assembly of the CopperSinkr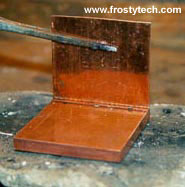 The first fin of the CopperSinkr was held in place with a tweezer stand while being soldered. This fin was the only one to be soldered to the base plate with copper solder. Due to problems with flow temp's and fin migration, all subsequent fins were attached via a secondary, albeit more complicated, method.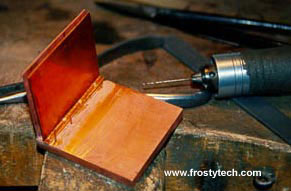 Although the next fin has already been installed the steps illustrated here are identical. The four holes were drilled in the fin tab, their respective positions marked on the base, and then drilled out with a 1mm dia. bit. Finally, small copper posts of the same diameter were tapped into the holes.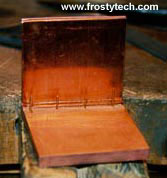 It is a bit difficult to see here, but the posts have been soldered to the base, along with the previously riveted posts using a very small amount of solder (to preserve the surface flatness). In our case we used a very small oxy-propane flame, and a titanium pick to properly position the solder where we wanted it.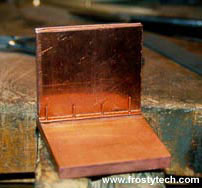 Lastly the fin is placed over top the four soldered pins till it's flush with the base plate. The excess material from each pin will be cut away, leaving about 2mm standing above the 3mm tab. Using a riveting hammer (small hammer with a thin flat head) the heads of each pin will be hammered down to form the rivet.