Rather then cutting slots in the base plate by hand (which would have been too inaccurate to serve any purpose) we decided to attach the fins via a small tab. To accomplish this, a 3mm tab (90 degrees to the rest of the surface) was formed on the 50mm side of each fin to facilitate attachment. One attempt was made to affix the blades with a copper-based solder. The second attempt was not successful, so a combination of rivets and tin-solder became the procedure of choice for the subsequent 13 fins.
Making the 3mm tab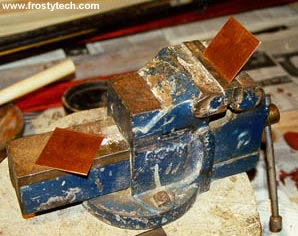 With the fourteen fins cut from the 1/32" sheet of copper, we set about making one 3mm tab on the 50mm side of each fin. To do this, a line 3mm from the edge was scored on the copper with a scratch awl. The fin was inserted in-between the jaws of a vise up to the 3mm line, and the metal bent slightly by hand at first.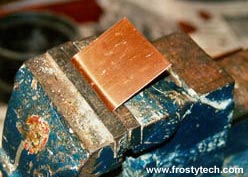 With the intent of putting a sharp bend in the copper, we bent each fin as much as possible by hand at first. To create a true 90 angle of small radius we needed some tools. While bending by hand we made an effort to keep the body of the fin as flat as possible. Thus, we tried only to bend the region close to the vise's jaws.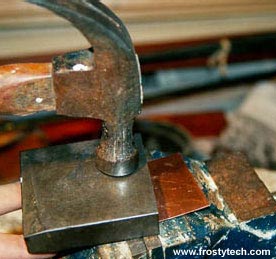 In this case, a hammer and a small steel block were all that was necessary to impart a small radius, 90 angle in each of the fourteen copper fins. This was done by placing the block atop the bend, and gently hammering along the entire length.

The final fin is shown here standing on its head to illustrate the 3mm tab we worked so hard to make. The vise helped to ensure that the small tab was of constant width, and more importantly, flat along its entire length.
Why rivets and solder? Well, we found that the rivets held the fins in place while the adjacent fins were being soldered (and the entire plate had reached flow temp...). They also served to introduce more copper into the thermal transition region of the base plate and fin. The pins also added a bit of mechanical stability to the joint, and helped to eliminate any gaps between the two mating surfaces by the tension they enacted. Granted, the entire joint is not as good as a direct copper-to-copper swaged contact would be, but it's at least better then having a copper-air-copper contact because of really poor technique.