Thermaltake Active Memory Cooling Kit Review
---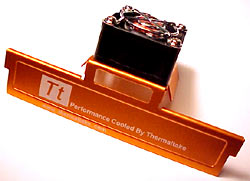 Thermaltake have always managed to introduce innovative and colourful cooling products into the marketplace which serve the needs of performance users and case modders alike. The active memory cooling kit is designed for use on DDR and SDRAM, and will cool up to four slots.
The main component of the kit is a special heat spreader with a stubby 40mm fan attached to it. The fan is made by a manufacturer called Evercool and draws 0.13A. The little memory cooling fan has a protective grill over the intake, but is essentially noise free.
This orange section of the kit is attached to the leading stick of memory so that the fan overhangs the other two or three sticks.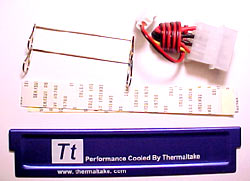 The memory heatspreaders are mounted to the memory chips by double sided thermal tape, and small spring clips. The clips help to ensure that pressure is consistently applied to the heatspreader and a good as possible interface is maintained.
The little 40mm fan plugs into a standard fan header, or with the pass through cable included with the kit, to a standard molex power connector.
In practice the effect on the temperature of the memory modules is variable on the load the the computer is putting on them at any one instant. In the case of SDRAM we found the temperatures to average around 27 C when no cooling was applied. With that memory cooling kit installed, and the small cooling fan running away the temperature dropped a minor amount to 25.5 C.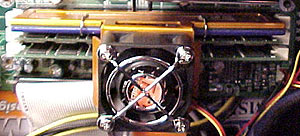 The effect was pretty small, but then again we were only dealing with SDRAM in this instance. Most of all, I would say that case modders with side windows would be most interested in this unit. When installed, the unit does look rather cool, and as always a little extra cooling can't hurt.