Thermaltake Memory Cooling Kit Review
---
Memory modules sometimes get quite hot after extended periods of use. As the temperature of the memory rises, there is a greater likelihood of errors occurring.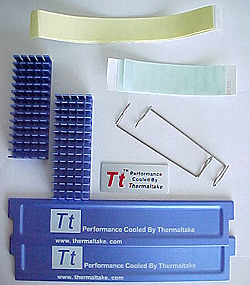 In general, memory becomes slower at higher operating temperatures so it is always a plus to keep them down. On possible way of doing this has just come from Thermaltake. They have come up with a memory cooling kit designed especially for memory.
The kit comes with two heatspreaders for DDR memory, two fined heatsink sections for video card memory, and an assortment of clips and sticky interfaces to hold it all in place. For the die-hard Thermaltake fans, the kit even includes a small aluminum case badge.
Our attention focused on the heatspreaders and the fined heatsinks. Our test bed was a stick of particularly warm-running Mitsubishi RAM. The test bed for this stick of memory, and the Thermaltake memory heatsinks was a very unique piece of equipment we recently brought into the lab.
We can't go into too much detail at the moment, but what the test-bed does is send a special waveform through the memory to heat it up.
After a few minutes the memory achieved a stable temperature rating of about 37.2 degrees Celsius. We mounted a thermistor directly on one side of the stick to record our temperature readings through out all of the tests.
Test one: Heatspreader in place on one side.

The first test we conducted was with only one heatspreader on the stick of Mitsubishi memory. The kit comes with two of these heatspreaders which are made from stamped sheets of 1mm thick aluminum which has been anodized blue. A small strip of adhesive interface is applied to the rear of the aluminum and the heatspreader positioned in place.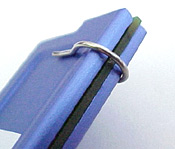 To ensure that it doesn't come loose over time, a set of spring clips are attached to keep it firmly in place.
In some cases it may be necessary to install both heatspreaders on one stick of double sided memory. In that case, the same rules apply and the clip is still used to hold each plate firmly in place.
Regardless, in our tests we used only one heatspreader and recorded a temperature of 36.5 degrees Celsius, down about 1 degrees from the bare memory tests as best we could measure.
Test two: Finned heatsinks and heatspreader

In this test we tried out the memory with the heatspreader on one side and the finned heatsinks on the opposite side. It was a bit difficult to get an accurate temperature reading during this second test since each memory chip, on each side of the PCB was generating heat. Anyway, with thermistor in hand, we once again inserted the memory stick into the test-bed and set about heating up the memory modules.

The spring clips were used to hold both the finned heatsinks and the heatspreader in place but they are not shown in the picture above.
With the second test concluded we saw a temperature of 35.0 degrees Celsius recorded (again, as best we could). Based on those numbers, the cooling kit in this configuration resulted in roughly a 2 degree drop in temperature. Keep in mind that this is a passive cooling solution so no fans are involved.
The finned heatsink sections measure 21x59x13mm and can also be used for video card memory instead of sticks of RAM. By using the same adhesive thermal interfaces, the two short sections of finned heatsink can be attached to the video card as ramsinks.
Overall the memory cooling kit is a nifty little set of gear for both sticks of RAM, and devices like video cards with on-board memory cooling requirements.